Putting BMW's New Z4 Through Its Paces
Jack Ewing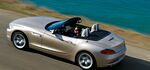 There are times when journalism is a really tough profession—long hours, deadline pressure, readers who post scathing comments about your stories on the Internet. But then there are those rare days when work becomes so cushy that you're a little embarrassed to be demanding a salary. The day I went to Munich to test-drive the new BMW Z4 sports car was one of those days.
A lone security guard received me at a gray, corrugated metal building in the Munich suburb of Garching where BMW (BMWG.DE) stores its test vehicles. The guard fetched the keys and car documents from a locker, then led me to a warehouse-size garage full of brand-new BMW sedans and sports cars. Then he left me alone.
A Dream Come True
This is what it must feel like to be a billionaire with a collection of expensive cars, I thought. Off to the side were two polished Z4s. Mine was the light-colored one—a sort of sparkly beige that BMW calls "Orion silver." I'd seen the new Z4 half a year earlier when BMW gave journalists a briefing on the new cars we could expect in 2009. I'd even spent a few moments in the low-slung driver's seat, and I remember thinking what a shame it was I couldn't go for a spin right then and there.
So I already knew what most separates this latest edition of the Z4 from its predecessors: the retractable hardtop. With a push of a button, the aluminum roof folds back into the trunk. When it's too cold for topless driving, the hardtop makes the Z4 a more comfortable all-season roadster than its soft-top predecessors. There's even an optional hatch behind the seats that opens up from the trunk compartment to allow you to carry a pair of skis inside the car.
Even though it was a sunny, 84-degree (29 degrees Celsius) day, I didn't push the top-down button just yet. I wanted to get out into the countryside first. An electronic door opened in one wall of the BMW garage and I carefully steered the Z4 to a nearby autobahn. As I merged into traffic, the six-cylinder, 306-horsepower engine effortlessly pushed the Z4 to the local speed limit of 80 mph (130 kph). But this is a BMW, after all; snappy pickup is a given.
Getting the Roof Down
As promised, the automatic double-clutch seven-speed transmission upshifted so smoothly that the gear changes were all but imperceptible. Control freaks may want to use the thumb-operated shifting paddles mounted on the steering wheel to calibrate their own gear changes, but I was happy to let the car do the work for me.
The way the suspension registered irregularities in the highway surface reminded me that the Z4 is, first and foremost, a sports car tuned for handling more than pure comfort. Lane changes hardly challenge a car like this; it belongs on roads with curves and hills. So as soon as warehouses and mini-malls gave way to rolling Bavarian boondocks, I chose an exit more or less at random and pulled off the highway.
At a supermarket parking lot I pushed the button to lower the roof—and it didn't work. After consulting the owner's manual and puzzling for a few minutes, I determined that I needed to pull out a partition that separates the luggage compartment from the space used to store the roof. The mechanism isn't quite as automatic as I would have hoped.
Still, once I figured out how to work the roof, it folded into the trunk within the promised 20 seconds. I put on a baseball cap to protect my face from the sun and stepped on the gas. Behind me I heard a throaty roar which I at first took to be an approaching truck. But no, it was the Z4 engine springing to life, unmuffled by the hardtop.
On the Open Road
Though Bavaria is now one of Germany's most prosperous states, thanks to employers like BMW and Siemens (SI), traditionally it was a farming region. Once you get away from greater Munich, it still is. I drove past hay fields that, thanks to an unusually warm spring, had already yielded a harvest. The roads were narrow, often without shoulders, but even in curves it was easy to maintain the default speed limit of 60 mph (100 kph) that applies outside of populated areas in Germany. Air swirled comfortably in the open cockpit, just enough to let me know I was in a cabriolet but not enough to knock my cap off my head.
My new sports car might have turned heads as I motored slowly through the villages of white stucco houses with wooden balconies. But it was early afternoon and the streets were all but deserted. Alas, there were no heads to be turned.
Looking for open road, I followed signs to a forest area, where sharp curves and steep hills brought out the Z4's best qualities. I'm not exactly Formula One material, but the Z4, which went on sale worldwide May 9, seemed to accommodate my modest driving skills without patronizing me. I never had to fight for control. Despite being able to reach 60 mph in 5.1 seconds (in the $51,650 sDrive35i version I drove), the Z4 is also economical for its class, with an EPA rating of 24 mpg (9.8 liters/100km) on the highway and 17 mpg (13.8 liters/100km) in the city.
A Pit Stop, and Back to Reality
With only a few hours before I had to catch a plane to Vienna en route to Slovakia on business, I was loath to make any stops. But hunger got the best of me. All the local eateries seemed to be closed, so I settled for a McDonald's (MCD). It felt a little strange to be driving a $50,000 car to buy a $7 meal, but what the heck. As I pulled out of the parking lot, I thought I drew some playful looks from the young ladies half my age eating at the outdoor tables. Memo to self: If wife ever files for divorce, buy Z4.
The clock was ticking until I had to catch my flight. With only a vague idea of where I was, I set the on-board navigation to "avoid autobahn" and let it guide me over the back roads to the BMW garage.
Later that night, when I arrived in Slovakia in a much more prosaic, rented economy car, I got lost trying to find my hotel in Bratislava and a pair of local cops shook me down for €60 ($85) for an alleged traffic violation. They took off without giving me a receipt, and I'm pretty sure the "fine" never found its way to the national treasury. The stress level was back to normal, and I was earning my salary again. But at least the Z4 had provided a few hours of sunshine and escape.
Before it's here, it's on the Bloomberg Terminal.
LEARN MORE