Jocks' Names Can Help You Sell
Amy Barrett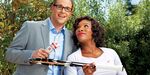 Josh Shaw had his 15 minutes—and he wants more. In April 2005, Shaw, then chief operating officer of tooth whitening company GoSMiLE, competed on The Apprentice. Six weeks later, the Donald handed him his walking papers. But now Shaw's angling to get back in the limelight with Mission Skincare, a seven-person company he founded in 2007. His hook: getting marquee athletes such as tennis star Serena Williams and golfer Sergio García to sign on, help develop products, and endorse like crazy. "There is an opportunity here to create the Nike or Gatorade of skin care," Shaw insists.
Shaw, 33, has certainly been quick off the mark. Mission has deals with 15 athletes, including Williams. Those players get a stake in Mission, a co-founder title, and royalties from the products they help develop. Up to 10% of the company's profits get donated to charities of the athletes' choosing. Williams helped Mission develop a long-lasting pomegranate lip balm that bears her name. A trial run of five products last summer in 200 outlets, including Lady Foot Locker, racked up $2 million in sales. Now Shaw is rolling out the brand—including sunblock that doesn't sting the eyes—in more than 5,000 stores, including CVS Caremark, Lady Foot Locker, and GNC. "This company has ramped up faster than most I've seen," says Dennis Baldwin, managing partner at Boston's Breakaway Ventures, which led the company's recent $6 million funding round.
Still, Mission's race won't be easy. It's up against Asics and Vaseline, which have also introduced new skin care products. Gary Stibel, CEO of New England Consulting Group, warns not to move too fast. "If you are everywhere, you can't be special," he says. "Trying to be in every retail outlet on day two is a terrible strategy." He suggests limited distribution and premium pricing.
But Shaw says that makes no sense given the star power behind him. And prices now range from to $4 to $10—trial prices were as high as $20. Feedback convinced him Mission needed to play up its athlete endorsements more, so packaging now features athletes' faces, which increased Mission's cost of goods sold by about 20%.
Shaw clearly loves the world of startups. In 1994, as a sophomore at University of Albany-SUNY, he launched Albany Trader, which gave students discounts at local stores, and sold it the next year to national discount membership club Student Advantage for about $250,000 in stock. In 2002 he co-founded GoSMiLE with Dr. Jonathan Levine, who had a new system for whitening teeth.
The idea for Mission Skincare came about in 2007 when Shaw, no longer at GoSMiLE, met Charlie Engle, a long-distance runner who complained about a lack of skin care products for high-intensity athletes. Three months of market research convinced Shaw of the same thing. Products such as Mineral Ice for pain relief and Gold Bond body powder "were old, staid, and hadn't been touched in 20 years," he says.
With his own savings and an investment by Student Advantage founder Ray Sozzi, Shaw raised $1 million and contracted with four independent labs to develop new products. Shaw also approached Bob Wright, ex-chairman of NBC Universal, whom he'd met when filming The Apprentice. Wright invested, joined the board, and helped Shaw get a meeting with Foot Locker Chairman Matthew Serra. Says Wright: "[Shaw] has an ability to translate his passion into a business plan. Most people can't do that."
Then Shaw began lobbying pro athletes to sign on. He inked his first star, Phoenix Suns player Steve Nash, in early 2008 after Shaw flew to Phoenix and the two had dinner at the encouragement of Nash's agent. "I thought there was a great need for these products," Nash says, "and the whole doing-well-by-doing-good model, I wanted to be a part of that." Retailers also see a fit. "That celebrity and charity combination is powerful," says Mike Bloom, CVS senior vice-president of merchandising. Even the Donald would have to agree.
Return to the BWSmallBiz June/July 2009 Table of Contents
Before it's here, it's on the Bloomberg Terminal.
LEARN MORE