GM: Marketing in the Time of Bankruptcy
By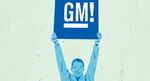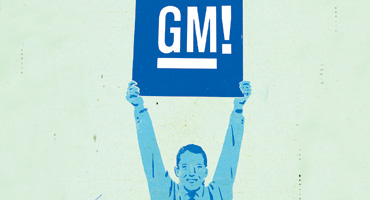 As General Motors begins its perilous course through bankruptcy, its marketing team is working overtime on the company's other biggest challenge: repairing GM's crumpled image.
Led by many of the people who helped revive Cadillac nearly a decade ago, the team has been frantically developing a pair of campaigns aimed at buffing up GM and the four brands that will survive bankruptcy—Buick, GMC, Chevrolet, and Cadillac. Susan Docherty, vice-president of Buick and GMC, says she is working seven days a week, sometimes scheduling conference calls at 10 p.m. "I tell my staff: 'If you're not comfortable with the pace, get with it or get out,' " she says.
The first priority is convincing Americans the company has changed. Eric Hirshberg, whose Deutsch Los Angeles agency is handling the campaign, says "the public needs to believe that GM acknowledges it's paying for past mistakes." That's why the ads now appearing online, in newspapers, and on TV telegraph repentance. The message, says CEO Frederick A. "Fritz" Henderson, is that "the GM that let too many of you down is history."
In mid-June, GM will pivot to plugging Buick. The primary focus is on hooking younger buyers who have zero loyalty to GM vehicles. Buick, while popular in China, has come to be considered a fogy brand at home (average buyer age: 66). Americans love a makeover, so that is the theme Buick has latched on to. One ad has a plastic surgery spin with the catch line: "Nip. Tuck. Weld." To reel in younger buyers, ads for Buick's curvy new LaCrosse sedan will feature its array of Lexus-caliber gadgetry, including a hard drive for music, a system that alerts drivers if someone is in their blind spot, and a retractable rear sunshade. And where Buick used to advertise alongside televised golf games—watched mostly by middle-aged people—it will buy time during National Football League games, which skew younger. "We need to be relevant, and we aren't today," says Docherty.
TWITTER CAMPAIGN
GM plans to double down online, dedicating 25% of its ad budget to Web marketing. In one initiative, the company is asking customers who ditched their imported wheels for a GM vehicle to recount their stories on Twitter and Facebook. "Someone who bought a car is worth a lot more than a 30-second [TV] ad," says Jay Spenchian, GM's North American marketing chief.
Can GM repair its reputation? Much depends on how long it lingers in bankruptcy. If the proceedings drag on longer than the expected three months, says James N. Hall of industry consultant 2953 Analytics, then people will be reminded of the company's troubles. But if GM can get through bankruptcy quickly, as the feds predict, then the strategy of splitting the automaker in two—with the to-be-liquidated brands in one company and the four survivors in the other—could conceivably convince people GM is worth another chance.
The automaker is not stinting on marketing dollars to make its case. In three years or so, GM's ad budgets will match those of Toyota Motor (TM). The company is also praying that its humiliating comedown will kindle empathy among consumers. Mark LaNeve, GM's North American sales and marketing chief, says he hopes that "Americans will root for us as an underdog."
Before it's here, it's on the Bloomberg Terminal.
LEARN MORE