Wal-Mart Moves Upmarket
By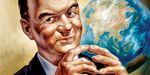 When he stepped into the chief executive job at Wal-Mart Stores (WMT) in February, Michael T. Duke looked like the luckiest retailer in America. Duke, 59, inherited a rigorously efficient company that rang up $401 billion in sales and $13.4 billion in profits last year. Rivals are struggling to stanch losses while Wal-Mart's U.S. same-store sales grew 5% in April.
Duke, who will make his public debut at the company's annual shareholder meeting on June 5, now must figure out how to keep the momentum going. More than a quarter of Wal-Mart's sales increase has come from new shoppers, more than half of whom have household incomes of at least $50,000. Wal-Mart execs say that higher-income group spends an average of 40% more per visit than the typical shopper. "Wal-Mart is becoming increasingly relevant to a growing proportion of households," says William Blair analyst Mark Miller. As Wal-Mart's U.S. marketing chief Stephen F. Quinn puts it: "We are being reassessed."
Sprucing Up
The question is whether Duke can hold on to that more affluent demographic once the economy improves. Wal-Mart's reputation for humdrum goods and aggressive labor tactics has made it tough for the chain to gain a following among wealthier customers. To help keep them, Duke is expanding the presence of brands such as Dell (DELL) and Apple, putting pressure on manufacturers to advertise more in stores, and aggressively ramping up an initiative called Project Impact.
The effort's goal: to remodel most of the chain's 3,600 U.S. stores (it has 7,900 worldwide) and make them more inviting. Duke is spending $1.6 billion to upgrade 600 stores this year, on top of 300 that were recently redone. He is also continuing a push to reduce the number of items in stores, which means less clutter but less variety for customers. And despite Wal-Mart's growth, he has laid off 800 staff at the Bentonville (Ark.) headquarters and slashed other costs to keep the chain lean.
Such moves suggest Duke is taking a bolder role than expected by industry experts, who paint him as a caretaker CEO. They see his main mission as keeping Wal-Mart steady until execs such as 43-year-old international head C. Douglas McMillon get seasoned. Morgan Stanley (MS) analyst Gregory Melich calls Duke "the keep-it-going" leader.
But insiders say he's taking a big hand in moving Wal-Mart upscale while continuing to emphasize its low-price mantra. Aisles are being widened, lighting improved, and shelves lowered to give the stores a more sophisticated feel. Even the well-trafficked corridor known as "Action Alley" is no longer packed with pallets of random merchandise.
The spruced-up aisles provide a more inviting home for brands that previously had little exposure in Wal-Mart but are now desperate to find customers. Newer offerings range from Danskin apparel to gadgets from Dell, Palm (PALM), and Sony (SNE). Dell Vice-President Michael Tatelman says the two-year-old partnership is expanding fast: "Some were skeptical of whether it would benefit us, but it has." The home department now features brands such as KitchenAid and Dyson, and a new line of products endorsed by celebrity chef Paula Deen.
Executives have learned some lessons from the last time Wal-Mart tried to shift its identity upmarket. In 2006 the chain went after Target's (TGT) "cheap chic" customer by launching Metro7, a line of fancier apparel. Despite a splashy ad campaign, the clothes failed miserably. They simply weren't hip enough to attract a new style of buyer or cheap enough to appeal to the old one.
Last year, Wal-Mart moved its apparel-buying unit from Bentonville to New York City to stay closer to fashion trends. Designer Norma Kamali, who launched an exclusive line of women's clothing with the retailer in September, says she's impressed with the "professionalism" of her Wal-Mart partners. "They know how to service clients and yet are big enough to have the power to sell low prices," says Kamali.
Some suppliers find themselves on the losing end of the chain's attempts to increase its appeal. Analysts estimate Wal-Mart's push to simplify merchandise will reduce the total number of distinct products by up to 15% in remodeled stores. That move has been devastating to vendors such as CCA Industries (CAW), which makes health and beauty products in East Rutherford, N.J., and generated 44% of its fiscal 2008 sales from Wal-Mart. CCA learned earlier this year that Wal-Mart was dropping its Plus+White toothpaste, eliminating a chunk of its Wal-Mart business. (CCA won't say exactly how much.) "There's not much you can say," says CCA analyst Maggie Cornell, who works on the Wal-Mart account.
Vendors who remain may well be asked to do more. A recent JPMorgan Chase (JPM) report says Wal-Mart wants manufacturers to spend more on promotions and ads that appear on the retailer's in-store TV network. "Failure to participate could have meaningful consequences," the report concluded. Paul Boitman, head of the global Wal-Mart team at Atlanta consumer-products maker Newell Rubbermaid, denies being asked to spend more, but another vendor concedes that it's happening. CMO Quinn insists that "any increase [in spending] is because there is value on both sides."
Easier to Complain
With fewer items to restock, employees can, in theory, devote more time to helping customers. To drive home what Wal-Mart calls its "fast, friendly, clean" message, store managers' bonuses are now based partly on scores of customer surveys. Until this year, only profits mattered. The manager's office is being moved to the front of the store from the back, making it easier for customers to register a gripe.
While Wal-Mart reports higher sales, faster inventory turnover, and happier shoppers in remodeled stores, retail experts are divided on whether it will retain higher-end shoppers. "If the recession ended tomorrow, they would lose a lot of them," says Ryan Mathews of Black Monk Consulting, which works with retail clients. "But the longer the recession goes, the smarter Wal-Mart will be about holding on to those customers."
Newcomers such as Sarah E. Bowman appear to be converts. The 39-year-old legal recruiter, who makes about $130,000 a year and lives in Hagerstown, Md., says she used to have "negative feelings" about the world's biggest retailer. In January, to save money, she began grocery shopping at a local outlet. She discovered a dress for her daughter, bathroom items, and even a tungsten wedding band, for $48, to replace the one lost by her husband. "He gets compliments on it," she says, adding she's "only told a few people" where it's from. Asked where she'll shop when the economy rebounds, Bowman replies: "I think I'm going to stick with Wal-Mart."
Before it's here, it's on the Bloomberg Terminal.
LEARN MORE