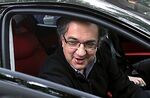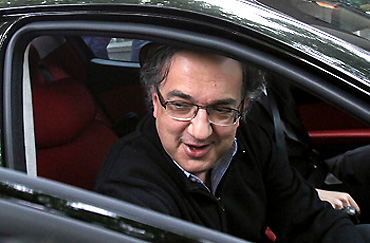 What's the next move for Fiat (FIA.MI) Chief Executive Sergio Marchionne, now that General Motors' European operations have slipped through his fingers? Marchionne himself probably doesn't know the answer to that question yet. But it's clear that his quest to secure Fiat's future has gotten a lot more complicated.
Marchionne could seek a tieup with another automaker—France's PSA Peugeot Citroën (PEUP.PA), for example, or Germany's BMW (BMWG.DE), or the remaining pieces of GM's overseas empire, including its Latin American operations and Sweden's Saab.
But none of these options looks nearly as appealing as GM Europe, which would have boosted Fiat's annual production to 5.5 million vehicles, the minimum Marchionne has said is necessary to ensure its survival in the fast-consolidating auto industry. And, if he hadn't been outfoxed by Canadian auto parts maker Magna (MGA) and its Russian partners, Marchionne might have gotten GM's Opel and Vauxhall operations without putting up any cash, as he did when he grabbed control of crippled U.S. automaker Chrysler.
Next Target: Peugeot Citroën?
While Marchionne has expressed interest in Saab, it's a minuscule player that sold fewer than 100,000 cars last year. BMW is much bigger, with 1.5 million cars sold in 2008. But as a luxury carmaker, it seems like an awkward fit for Fiat—and the sorry history of another such tieup, Daimler's (DAI) ill-fated merger with Chrysler, does not inspire confidence. Nor does BMW's disastrous foray with Britain's Rover in the mid-1990s.
GM's Latin American unit certainly looks tempting. It sold more than 1 million cars last year, and it has remained profitable even in the recession. But that creates a problem for Marchionne, because GM won't want to sell it on the cheap. Fiat's cash pile has dwindled as sales have slumped in the global downturn, and its debt ratings have been slashed to junk status. Moreover, Latin America could pose antitrust problems for Fiat, because together with GM it would have some 40% of the market, says Massimo Vecchio, a Milan auto analyst at Mediobanca (MDBI.MI).
That leaves PSA Peugeot Citroën, which many analysts think is Marchionne's most likely target. With sales of more than 3 million cars, it would give Fiat the bulk Marchionne wants. Since both companies make small to midsize cars, they could achieve cost savings by sharing technology and building on common platforms. What's more, PSA has said repeatedly in recent months that it's open to a possible alliance with another automaker.
Merger Obstacles
But a partnership with PSA poses a couple of big problems. Unlike Chrysler and GM Europe, it is not desperate for a tieup. Given PSA's size, it "would have to be a merger of equals," Vecchio says. PSA's current market capitalization is only $7.5 billion, compared to $12.1 billion for Fiat, but the Italian company includes other businesses besides the core automaker. Although Fiat lacks cash, Vecchio thinks it could finance a PSA tieup by spinning off its auto division, which in turn would sell new shares to raise money.
There are still other problems, though. Fiat and PSA are both saddled with manufacturing overcapacity—and most of their excess capacity is in Western Europe, where factory closings are political dynamite. Indeed, Germany chose Magna as Opel's savior largely because of fears that a deal with Fiat would lead to greater job losses. What's more, politicians in both France and Italy would likely put up objections if a merger appeared to be handing control of a prized industrial giant to foreign owners.
Marchionne isn't one to give up easily. Indeed, he told a press conference in Canada last week that even after the loss of the GM Europe deal, "life will move on." The questions now: Move where, and with whom?
Before it's here, it's on the Bloomberg Terminal.
LEARN MORE