business
GM Bankruptcy: What It Means for Asian Rivals
Ian Rowley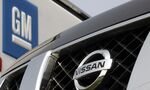 As confirmation finally arrived that General Motors (GM) would, as widely expected, file for bankruptcy, the market reaction in Asia was anything but gloomy. In Japan, home of Toyota (TM), Honda (HMC), and Nissan (NSANY), the Nikkei 225 stock index continued its recent recovery on June 1, closing up 1.6%. All of the Japan Big Three rose. In Korea, home of Hyundai, the benchmark Kospi index rose 1.4%. "Anything that clears up some of the uncertainty is a positive," says Andrew Phillips, an analyst at KBC Securities in Tokyo, explaining the market response in Asia.
Whether GM's woes will favor Asian automakers in the longer term, though, is much harder to gauge. Sure, in the U.S. market the likes of Toyota and Hyundai, with new models and relatively healthy finances, are well positioned to benefit as GM follows Chrysler into the bankruptcy courts. In Hyundai's case, that's already happening. The Korean automaker and its small-car arm, Kia, increased U.S. market share to a record 7.5% in the first quarter of this year, up from 5.1% at the end of 2008. Toyota, like its archrival Honda, is hoping new hybrids, starting with the launch of the new Prius this month, will pep up battered sales in the U.S.
But GM's problems also throw up plenty of risks as the U.S market, still the world's largest, enters an unprecedented period of reorganization. Analysts say that bankruptcy at two of the Detroit Three will have Asian auto executives worrying about everything from the financial health of suppliers to the wider impact on the economy and fears over a backlash against import brands. Further into the future, there will be additional concerns that a leaner, more competitive GM underpinned by a stronger lineup of cars may prove a more formidable rival than its ailing predecessor. "Longer-term, GM's portfolio of smaller and more fuel-efficient cars will only strengthen competition in the segment where our forte lies," says Oles Gadacz, a spokesman for Hyundai in Seoul.
Risks to Supply Chain
In the coming weeks the biggest priority for the Asian automakers will be minimizing the impact on suppliers shared with GM. As the likelihood of GM entering bankruptcy increased, Asian rivals took steps to protect themselves from disruptions in their supply chains. Honda, for instance, has increased inventories of some parts and added additional suppliers for others. Nissan chief Carlos Ghosn said on May 12 that it will consider financial assistance for suppliers on a case-by-case basis. Yet only now, with GM and Chrysler in bankruptcy, will it become clear if steps the Asian automakers have taken are sufficient. The size of the risk shouldn't be underestimated: Toyota, for instance, says about 60% of the 500 suppliers it uses in North America also have business with the Detroit Three.
Sales operations also will be under scrutiny. Market watchers point out that the closure of hundreds of GM and Chrysler dealerships will hurt Asian automakers, which share many dealers with U.S. rivals. "If GM dealers fail or close down, Japanese automakers will also be negatively impacted," says Alberto Lapuz, managing director of J.D. Power's (MHP) Tokyo operations.
And attempts to capitalize on Detroit's woes must be undertaken more carefully than ever. For years, Japanese automakers in particular have built up goodwill among the car-buying public by transferring production and car development to the U.S. Advertising, meanwhile, is used to highlight how "American" their operations are. At such a delicate time, they will be wary of anything that comes across as taking advantage of rivals' difficulties.
Little Change in Chinese Market
In other markets outside the U.S., opportunities to benefit from GM's troubles may be limited. In Europe, for all GM's problems, its deal to sell its Opel arm to Magna International is unlikely to provide immediate growth opportunities for Asian carmakers. And in Asia, too, things might not look much different from today. In the important China market, for instance, GM executives insist little will change. And some analysts agree. Michael Dunne, managing director of China operations at J.D. Power in Shanghai, points out that if bankruptcy sees GM divided into "good" and "bad" portions, with the good assets safeguarded and the bad cast aside, GM's China business will be stacked into the good category. In the short term, that should mean business as usual. "The China market is of huge importance to the strategic future of the company—the bankruptcy won't leave GM flat on its back in China at all," he says. In Korea, where GM subsidiary GM Daewoo has severe financial problems, the Korean Development Bank is likely to provide fresh credit as the picture at GM becomes clearer.
How things will look in the U.S. once GM and Chrysler emerge from bankruptcy is even less clear. KBC Securities' Phillips says that a reduction in GM's production capacity could create sales opportunities for rivals when the U.S. market begins to grow again. After all, if GM cuts capacity to 2.5 million vehicles, for example, in a 15-million-a-year U.S. car market, its maximum market share would be 17%; that's roughly equal to Toyota's share today. More important, he reckons a new, leaner GM shorn of excess capacity won't need to spend as heavily on incentives. After trimming capacity, "a government-run company might not be so focused on volume," he says. That, Phillips argues, could aid profitability at GM and rival automakers.
Others, though, see tougher times ahead in the U.S. for GM's import brand rivals. Yasuhiro Matsumoto, a credit analyst at Shinsei Securities in Tokyo, argues that, while reorganization may offer greater sales opportunities in the U.S. for Asian automakers, increased competition may mean lower margins. Japanese carmakers, he says, will have plenty to lose since postbankruptcy Chrysler and GM will be more efficient, stronger rivals. Moreover, a smaller GM will enable other Asian automakers to enter the market and fill the vacuum. "The U.S. market used to be very profitable for Japanese automakers, but the good old days might not come back for Japanese or American automakers," he says.
Before it's here, it's on the Bloomberg Terminal.
LEARN MORE