Sotomayor: On Business, A Voice of Moderation
By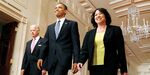 As Federal Appellate Judge Sonia Sotomayor heads toward hearings on her nomination to the U.S. Supreme Court, politicians and pundits are busy dissecting her stands on social issues. Yet a look at Sotomayor's rulings in business cases suggests a nuanced picture.
Overall, observers say, the New Yorker shows a pragmatic streak akin to retiring Justice David Souter's, favoring neither business nor its adversaries and keeping to a close reading of the federal statutes that govern most business disputes. At times she has raised the hurdle for class actions, at times eased it. In employment disputes, she has sided frequently with workers but shows no compunction about ruling for employers where the law favors them.
Willing to uphold large punitive damages—as a district judge, she voiced "grave doubts" that a penalty of less than $1.25 million would deter a New York bank found liable for $320,000 in back pay for sex discrimination—she has also supported reductions in damages in other cases. "Judge Sotomayor has a track record of moderation on issues of importance to the business community," said Evan M. Tager, an appeals specialist at Mayer Brown in Washington, D.C.
Here, four cases pulled from Sotomayor's business docket offer a window on the nominee's approach to business law:
National Labor Relations Board v. Major League Baseball (1995)
Ruling: Sotomayor ruled that Major League Baseball team owners could not unilaterally discard the two-decade-old system of free agency and arbitration for players. The decision was delivered just 15 minutes after hearing arguments.
Result: At the time, court watchers noted that Sotomayor showed she would not wilt under pressure from powerful interests.
Dabit v. Merrill Lynch, Pierce, Fenner & Smith (2005)
Ruling: In a Second Circuit majority opinion, Sotomayor let a lawsuit against Merrill Lynch (MER) proceed in state court. She found that a 1998 change in federal securities law applied only to cases involving the purchase or sale of securities, not to cases where plaintiffs simply held the shares.
Result: The U.S. Supreme Court reversed the ruling in 2006. The case underscores Sotomayor's tendency to interpret statutes literally.
In Re IPO Securities Litigation (2006)
Ruling: In a decision hailed by Wall Street, an appellate court panel that included Sotomayor barred IPO investors, who claimed to have been defrauded, from banding together in a class action. The plaintiffs alleged that investment banks unfairly manipulated share prices.
Result: The unanimous decision effectively blunted an earlier Sotomayor ruling easing class-action rules, indicating her attention to factual details.
Riverkeeper v. U.S. Environmental Protection Agency (2007)
Ruling: Environmentalists cheered Sotomayor's opinion ruling that the EPA ignored the requirements of the Clean Air Act when it applied cost-benefit analysis in setting standards for technology used by energy plants to avoid harming plants and animals.
Result: The Supreme Court reversed 6-3, with Justice Antonin Scalia writing that the statute's silence on cost-benefit analysis does not rule out its application.
Before it's here, it's on the Bloomberg Terminal.
LEARN MORE