Make-or-Break Time for Cancer Drugs
Catherine Arnst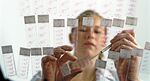 Some 60% of new cancer drugs are developed in the labs of biotech firms, many of them startups. But this has been a year of living miserably for the biotech industry, and hundreds of these cancer-focused companies are close to folding as investors flee, stock prices sink to near-nothing, and operating cash dwindles.
Their future, and that of a lot of nascent cancer drugs, could be decided at a giant medical conference starting in Orlando on May 29. Some 30,000 oncologists, scientists, stock analysts, and venture capitalists are expected to attend the annual meeting of the American Society of Clinical Oncology (ASCO), the premier showcase for reports of human trials of cancer drugs. Share prices can soar or crash on the quality of the data presented, and struggling biotechs with promising drugs will be trolling the meeting for investors and pharmaceutical partners.
Whether they find financial support matters to the broader medical community, because biotechs that fail to do so could end up shelving treatments that might save lives. "Companies that have three drugs in the pipeline may end up going down to two," says Dr. Mark Monane, a biotech analyst with Needham & Co. "Or they may test a drug in only two [cancer types] instead of three or four." Because there is so much serendipity in drug discovery, the drug candidate that gets dropped in a cash crunch might, in fact, have the greatest potential, says Glen Giovannetti, head of Ernst & Young's biotech consulting team. "You could see a slowing of innovation."
Anticipation of positive results at ASCO has brightened the prospects of some drugs. After brief summaries of upcoming presentations were released on May 14, the stocks of several biotechs shot up, among them Cougar Biotechnology (CGRB) and OncoGenex Pharmaceuticals (AGXI), both close to running out of cash.
Cougar no longer needs to worry—Johnson & Johnson (JNJ) announced on May 21 that it would pay close to $1 billion for the six-year-old Los Angeles company. The biotech is in the final stages of testing a drug, Abiraterone, that has shown promise against late-stage prostate cancer.
OncoGenex's stock hit new highs five days in a row in late May, going from $4 a share in April to $14, in anticipation of the ASCO presentation on its own prostate cancer drug, OGX-11. In early trials the drug appeared to help patients live longer, but OncoGenex had only $9.4 million in cash at the end of March, not enough to fund the next round of clinical trials. Biotech analysts say ASCO gives the company a good chance to find a financing deal.
Plenty of other struggling biotechs are counting on networking opportunities at ASCO as well, among them Poniard Pharmaceuticals (PARD), Sunesis Pharmaceuticals (SNSS), and Cell Therapeutics (CTIC). Cell hopes to file with the Food & Drug Administration in June for approval of Pixantrone, a treatment for late-stage non-Hodgkin's lymphoma.
It's something of a miracle, though, that the company is still in business. Just before Cell ran out of cash last fall an unnamed investor came to its rescue. In February it sold off the rights to the one drug it had on the market in order to keep its doors open. The stock collapsed from $50 a share two years ago to as low as 6 cents in February. "It's been ugly times the last 12 months," admits Chief Executive Officer Dr. James A. Bianco .
Bianco says positive data from ASCO will change all that, and already the stock has climbed to $1.24 since the clinical trial summary on Pixantrone was released on May 14. "ASCO provides a forum where the data can speak for itself," says Bianco.
Before it's here, it's on the Bloomberg Terminal.
LEARN MORE