The Tough Road Ahead for GM and Chrysler
By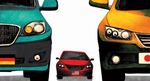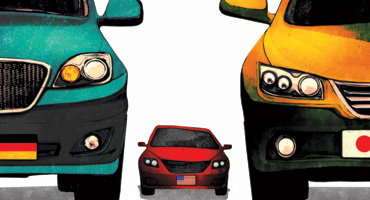 When President Barack Obama explained in March that his Administration was bailing out General Motors (GM) and Chrysler, he promised that the two battered automakers would "stand on their own, not as wards of the state." He and his team are betting that Chrysler and, likely, GM can use an accelerated bankruptcy process to remake themselves into smaller and nimbler companies that can compete in the global marketplace (and eventually pay back $28 billion-plus in federal loans). The Treasury Dept.'s restructuring plan is creative and comprehensive. Assuming the two car companies do what the government wants them to, they will be much stronger than they were.
Still, getting this far has required the government to lend them billions and possibly take stakes in the companies. The question is when, if ever, they will be able to kick away the state props. After all, the reborn GM and Chrysler will reemerge in a marketplace that is more hostile than anything they have faced before. It's simple arithmetic: Too many auto companies chasing too few buyers—partly, it should be said, because governments from Beijing to Berlin have been propping up their domestic industries. What's more, foreign automakers in many cases are doubling down in the U.S., where GM and Chrysler have typically made most of their money. "It's going to be a horrible marketplace because you won't have a quick rebound," says IHS Global Insight (IHS) analyst John Wolkonowicz. "Then you have the foreign companies trying to figure out how to get their pound of flesh."
We all know what normally happens to an overcrowded industry when the economy crumbles: Weaklings die or get gobbled up by stronger competitors. That's what's happening with retail. Amid a consumer pullback of historic scale, the U.S. is pockmarked with the boarded-up storefronts of liquidated companies. The auto business has endured its worst recession in memory, so one might expect the mother of all shakeouts to be under way there, too. Yet the industry has shed not one sizable player. "Auto companies rarely die," says GM CEO Frederick A. "Fritz" Henderson. "You'll still have the same number of companies. We're trying to keep only brands we can support."
The Fear of Death
Yes, the likes of Volvo, Hummer, and Saturn are for sale, Pontiac has been axed, and others such as Saab may go away. But a number of second-tier car companies are still with us because governments fear the consequences of letting them die or are determined to have a domestic auto industry. The Japanese government has helped out Mitsubishi. France and Germany have done the same for their carmakers. The Russians have given money to AvtoVAZ, a struggling player that sells vehicles domestically. China is actively supporting domestic carmakers, which are starting to give GM and other foreign players serious competition.
The upshot is that some 30 significant players worldwide are fighting over a pie that has shrunk by more than 30% in the past 12 months. The industry can make about 90 million cars worldwide, but it's selling only about 55 million. Not exactly a forgiving environment for a pair of wounded car companies. That, partly, is why Chrysler's rescue has struck some as misguided. Speaking of the government's decision to save the weakest and smallest Detroit player, industry consultant Michael Robinet says: "We needed to take a patsy out, and we didn't. We may have missed an opportunity. The Japanese, Hyundai, and the Germans will still be here."
Many of these players smell opportunity and are keen to grab customers from Detroit. The world's carmakers will launch 60 or so models in the U.S. every year for the next five, says J.D. Power & Associates (MHP). Kia and Volkswagen (VLKAY) are building new U.S. plants. Toyota Motor (TM) has a factory in Mississippi slated to manufacture more Prius hybrids—but it could build other models there once the market rebounds. And if someone buys GM's Saturn retail network (two dealer chains are bidding for it), it could give Chinese carmakers or India's Tata Motors (TTM) a launching pad. Meanwhile, India's Mahindra & Mahindra plans to start selling cars in the U.S. next year.
Bad Reputations
It hardly helps that GM and Chrysler will emerge from bankruptcy with their reputations in tatters. Many Americans have long seen GM and Chrysler cars as dated and inferior. Now, thanks to the companies' serial woes, generous rebates and government-backed warranties won't be enough to persuade skeptics to visit their dealerships. Let's also not forget that many Americans believe the Obama Administration is wasting the people's purse on companies that have made numerous mistakes over the years. "People are angry at GM and Chrysler because they are a burden on the system," says IHS's Wolkonowicz, "and won't buy from them again."
The Reputation Institute recently asked 70,000 people around the globe for their impressions of the world's 600 largest companies. Last year, GM beat Mazda, Kia Motors, Ford (F), Fiat, and a few perennial laggards. This year, only Mitsubishi, which has been cheating death for years, and AvtoVAZ have a worse image. Chrysler? Too small to make the survey, but few other major automakers have watched their sales fall so far so fast.
Demographics may hurt GM and Chrysler, too. In the coming years, automakers will compete for the next generation of American drivers, 73 million 21- to 33-year-olds who have shown little inclination to buy Detroit. "[Detroit] brands haven't been shown so far to have a great deal of relevancy to Gen Y," says Dan Gorrell of AutoStrategem, which studies attitudes toward automotive brands. "Many don't see their friends in these brands, and thus can't see themselves in them."
Concentrating the Ad Funds
Mark LaNeve, GM's vice-president for North American sales and marketing, concedes that GM's corporate woes are worsening the image of its vehicles. That's why for the first week or so of bankruptcy, or at least until the filing is no longer a big story, he plans to sharply curtail the company's advertising. The good news for GM is that it now will have only four—not eight—brands to spend money on. That, LaNeve says, means Chevrolet and Cadillac, the two most important, will get close to $1.3 billion in marketing money each year—double the existing budget and pretty close to the sum Toyota lavishes on its namesake and Lexus brands. LaNeve doesn't rule out ditching the General Motors name, though he says it's not in the works now. More money to spend on fewer brands is a good thing, but few believe GM can restore its prestige quickly—not while battling the likes of Toyota, Honda Motor (HMC), and Volkswagen.
Chrysler's challenge is starker still. The Jeep brand remains strong but has undermined its rugged image by selling vehicles designed for suburban commuters. Dodge buyers tend to have lower incomes and credit scores, a dicey niche in these parlous times. And Chrysler's future partner, Italy's Fiat (FIA.MI), is wondering if the Chrysler brand should be preserved. Even more debilitating, Chrysler is dogged by subprime-quality rankings from Consumer Reports and J.D. Power. "That's tough because you are always marketing into a headwind of facts on the Internet that contradict your ad messages," says Gary Dilts, president of J.D. Power's auto industry group.
Marketing means little, of course, unless you have the right mix of products. With lower costs, GM theoretically will have more money to spend on Buick and GMC, which were both long starved of new vehicles. For the first time, Buick will get a nearly full line of models, says Thomas G. Stephens, GM's new product boss. Buick and GMC will be more upscale than Chevy, the hope being that they will attract a more well-heeled customer and help GM retain market share. That's important because to survive, the company will need to sell enough cars to both pay down debt, which could still be $10 billion to $20 billion, and fund new vehicle development.
Chrysler, meanwhile, is pinning many of its hopes on an alliance with Fiat, whose CEO, Sergio Marchionne, has promised to supply much-needed small cars for the U.S. Thing is, Fiat left the American market a quarter-century ago because it couldn't get traction with its vehicles. Chrysler, by the way, will emerge from bankruptcy owing some $21 billion. Unless the government wipes some of it away by taking a bigger stake, that will be a serious burden.
A Pivotal Moment
Both GM and Chrysler say they can hang on to their market share in the U.S. "Our objective is not to be easy pickings," says Henderson. But given the savaging their brands have taken vs. the relative strength of their competitors, GM and Chrysler almost certainly will lose ground. Five years hence the U.S. auto market could look much like Europe now, with two tiers: several midsize companies on top and a bunch of minnows fighting it out below. GM could have anywhere from 14% to 17% of the market, down from 19.1% now, putting it in the middle of the pack with Ford and Honda, while Toyota ends up with nearly a fifth of the market. Worst-case, Chrysler's share could erode to 6%, smaller than Nissan Motor (NSANY).
As GM and Chrysler labor to remake themselves, it's important to remember that the Obama Administration has its own agenda, and it doesn't always jibe with business imperatives. Treasury has laid out a clear path for GM and Chrysler to become viable enterprises, but new regulations that boost fuel economy threaten to make cars more expensive with no guarantee that consumers will pay for the new gasoline-sipping vehicles. So while the government's policy is to preserve Detroit, its rules make it harder for carmakers, especially weak ones, to make a buck. Much depends on what happens to gasoline prices over the next few years. Henderson says they will rise, prompting consumers to pay more for efficient cars.
The stakes for this risky experiment in industrial policy are high. Failure would be not just a political and economic catastrophe for the Obama-ites, it also could hurt America's long-term prospects and erase a swath of the nation's industrial capability. We are at one of those pivotal moments in history when one technology (the internal combustion engine, in this case) is poised to give way to another (electric motors or even more exotic alternatives). Team Obama clearly thinks the risk is worth taking because an America without its own 21st century auto industry would be a diminished America. The government has given GM and Chrysler a fighting chance. The question is whether they can win over car buyers and get through the next few years of hardship without failing and being carved up or displaced by foreign-owned powers.
Return to the General Motors' New Landscape Special Report Table of Contents
Before it's here, it's on the Bloomberg Terminal.
LEARN MORE