Li & Fung: A Factory Sourcer Shines
By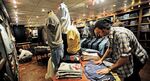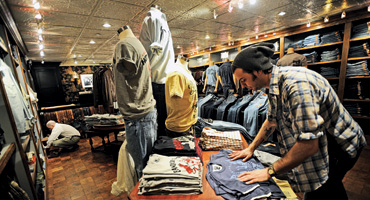 Looking at the battered retail landscape earlier this year, it was clear to Liz Claiborne CEO William L. McComb that he needed to dramatically shift his business. The New York company was struggling to deliver high-value, fashionable clothes on an ever-faster schedule, with a limited overseas presence to deal with independent local suppliers. McComb knew there had to be a better way. So three months ago he decided to sell his sourcing operations—which handle all aspects of production, from finding materials to manufacturing garments—to a Hong Kong outfit called Li & Fung Group for $83 million. Liz Claiborne still does the design and marketing for brands such as Juicy Couture, Kate Spade, and Lucky Brand jeans. But Li & Fung now handles the rest. "This economic recession is more Darwinian," says McComb. "Now is the time to reinvent your business model to be more competitive."
As U.S. retailers contend with tough times, more and more are turning to Li & Fung. The Hong Kong company, which manages the supply chain for dozens of brands and retailers worldwide, is using the recession to take over a bigger chunk of its clients' businesses. In addition to helping them find factories or raw materials, it's taking on the manufacturing headaches, ensuring factory partners meet labor standards and delivering finished goods at a set price. A month ago, Talbots announced its intention to make Li & Fung its main global sourcing agent. The $14.3 bil­lion-a-year company has also taken over production for Toys 'R' Us, Timberland, and Sanrio, the Japanese merchandiser of Hello Kitty. As retailers look for ways to slash costs, says Li & Fung group managing director William Fung, "they are asking themselves, 'Is having our own buying office the way to go?'"
Luckily for Fung, the answer is increasingly "No." With 80 offices in 40 countries, Li & Fung uses its economies of scale to drive down prices for customers. Liz Claiborne's McComb, for one, says his staff was impressed by Li & Fung's efficiency and global reach. All his people had to do was hand over designs, he says, and the firm bid them out worldwide to the manufacturer "with the best combination of quality, speed-to-market, and price."
For Li & Fung, taking over a bigger chunk of client business is part of a strategy to maintain its torrid growth rate. The company doubled revenue to $11.9 billion between 2004 and 2007 and wants to reach $20 billion in sales next year. Managing Director Fung, 60, is a Princeton graduate who controls the company along with his MIT-educated brother Victor, 63. Fung's strategy: Buy the entire sourcing operations of U.S. customers and restructure them to make them more profitable. Last year, Li & Fung made seven acquisitions that are likely to add $1 billion in revenue in 2009. On May 5 the company announced plans to raise $348 million in new shares, with the money going in part to fund further acquisitions. "They're the Cadillac of the business," says retail consultant Howard Davidowitz. "They offer retailers more value because of their efficiency."
To be sure, the devastation in the U.S. retail sector hasn't left Li & Fung unscathed. The company is trying to diversify away from the U.S. but still gets 62% of its revenue from the American market. It was a major supplier to now-bankrupt retailers such as Mervyns and KB Toys. Local vendors had threatened to sue Li & Fung after the KB bankruptcy for failing to pay them for toys already shipped to the U.S. retailer, but the sides reached an agreement and averted a lawsuit.
tighter credit
The bankruptcies and the ongoing credit crunch are now forcing Li & Fung and rivals to change the way they finance their operations. A few years ago factories would wait 90 days or longer to get paid for goods shipped to Li & Fung customers. Now, though, "the factories can't absorb such long credit terms anymore," says Li & Fung President Bruce Rockowitz. "The world is going back to where it used to be, with much tighter terms." The company wants to branch out further by designing products in-house for clients. "We don't want to be just another American importer," says Fung. "We can do things more efficiently."
While rising protectionism has made many companies reluctant to associate themselves with outsourcing, those issues aren't of concern to Li & Fung. Rockowitz argues that U.S. consumers know that most of the products they buy from his retail clients are produced overseas. "These are jobs that are already out of the U.S.," he says.
Investors are upbeat about Li & Fung's chances. The company's Hong Kong-listed stock is up 63% so far this year, compared with a 6.7% increase for the Hang Seng Index. Credit Suisse predicts earnings this year will grow 33%, to $420 million, on sales of $16.4 billion, up 15%. "We are picking up market share," says Fung. "We expect to emerge stronger after this."
Before it's here, it's on the Bloomberg Terminal.
LEARN MORE