Burger King's Big Misstep
Nanette Byrnes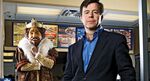 Burger King (BKC) gets a lot of buzz for its irreverent, often sexy ads. There's the "manthem," sung by men turning up their noses at "chick food" to get their hands on a Texas Double Whopper, and its Texican Whopper commercial featuring a short man in a colorful cape who's simply known as "a little spicy Mexican." This spring, the company has run a TV ad tie-in with SpongeBob SquarePants in which the fast-food chain's mascot, "The King," dances alongside curvy women with rectangular derrieres.
Chuckles and kudos aside, CEO John W. Chidsey now has a problem. He has missed a sharp turn in consumer spending and sentiment. While competitors like McDonald's (MCD) blanketed the market with dollar deals this spring, Burger King stuck with ads that wooed its male "superfans"—and alienated thousands of parents. And sales in April alone show the results: a 7% rise for McDonald's as Burger King revenues remained weak in many markets after a dramatic fall in March. "That caught us a bit off guard," admits Chidsey, 46.
STAYING ON MESSAGE
Chidsey is tweaking his strategy to draw in more budget-conscious consumers, but he remains committed to wooing the young men he calls "our core customers." He says Burger King will put more of its $300 million ad budget into promoting value offerings and plans to increase overall advertising by up to 25% next year. But after years of carefully working to repair relations with the chain's 1,200 franchisees, he recently authorized a move to take 20% of the marketing payments that soda makers give owners and funnel it to headquarters to boost the global ad budget. The franchisees, who own 90% of Burger King's 11,800 restaurants, filed a lawsuit on May 4 demanding that Burger King return the money. "The singular action of seizing these funds has completely destroyed what John built with the franchisees," says one angry owner.
Just a few months ago, everyone marveled at Chidsey's winning streak. Sales had risen every quarter since he took over in 2006, and the chain was adding hundreds of new restaurants a year. A company that had churned through 11 CEOs in less than two decades finally seemed to be on the right path. The Miami headquarters felt "like the locker room of a winning team," says Jeff Hicks, CEO of Burger King's ad agency, Crispin Porter + Bogusky.
Chidsey doesn't see a need for radical change. "I think we've been doing the right things," he argues. "I say let's play it out." But critics wonder if Burger King can effectively push budget offerings such as its $1 Whopper Jr. while continuing to build a brand based on cheeky, male-oriented messages. "They don't have the brand of affordability," says UBS (UBS) analyst David Palmer. Restaurant owners, meanwhile, complain that ads create buzz—the SpongeBob spot was viewed more than 500,000 times on YouTube—but cost them business. That campaign, which featured the King measuring women's "square butts," prompted 10,000 angry letters and, owners say, failed to result in higher sales.
Chidsey notes that the chain had to convince owners to adopt other moves that later proved to be moneymakers, such as late-night drive-through hours, credit-card payments, and the value menu. "This is the fourth or fifth time in recent history we've been in litigation with our franchisees," Chidsey says. "I know that sounds bad, but if you ask them 'Are you glad you have a value menu now?', they say 'Yes.' "
Even with the recent weakness in sales, Chidsey retains the strong support of one pivotal group, the trio of firms that bought Burger King in December 2002—Bain Capital, Goldman Sachs (GS), and TPG Capital (formerly Texas Pacific Group). They still control 32% of the company and their returns are four times their initial investment. Net income increased to $190 million last year from $27 million in 2007. "John's delivered," says board member Stephen G. Pagliuca, a managing director at Bain. "He's a substance guy and not a flash guy."
Sales are sagging, and Chidsey knows the pressure is on. With the excitement of a true superfan, though, he says he's eager to compete with McDonald's: "I find it more fun to jump in where the water is boiling."
Before it's here, it's on the Bloomberg Terminal.
LEARN MORE