Sysco's Hands-On Way of Keeping Restaurants Going
As fewer people dine out during the recession, the food supplier's Business Review program offers tips and guidance
Christopher Palmeri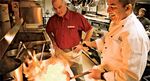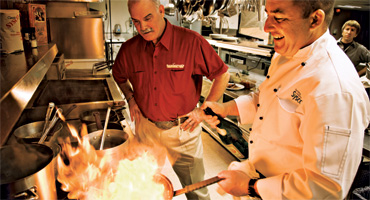 On a recent Monday morning, Everett Sanderson paced in the kitchen of a Houston warehouse owned by food distribution giant Sysco (SYY). The owner of Sanderson's Restaurant & Bar in Nederland, Tex., was there to get cooking tips from Neil Doherty, one of nearly 200 chefs Sysco employs across the country. "Here, taste this," Doherty said, as he plopped two bowls of chili con queso on the counter. One was made with Land O'Lakes cheese; the other with a Sysco private-label brand called Casa Solana, which Doherty contended has more cheese taste and would save $60 a week. "You can thin it with milk or water and get an even higher volume," Doherty added. Sanderson, a taco chip in his mouth, nodded his approval.
Every dollar counts in the restaurant industry these days. And few feel the big squeeze more than Sysco, the country's largest distributor of food and other restaurant supplies. Last year the Houston company earned a record $1.1 billion on sales of $37 billion. But Sysco is now facing its first down year since its founding in 1969. Vice-Chairman Kenneth F. Spitler predicts that 15,000 restaurants could shut down during the recession.
But the company has a weapon it hopes will save customers and lead to greater market share during the slump: a free consulting service called the Business Review. Along with selling cases of napkins and three-gallon containers of ketchup, Sysco is using employees such as Doherty to help clients design menus, train waitstaff, and market their businesses. The company has turned its warehouse kitchens into schools for its customers. "We felt if we could improve their business, that would improve our business with them," Spitler says.
INTO THE FRYING PAN
Sysco began using its warehouses to teach customers in 2000, but lately interest from clients has surged, with some sites performing five consultations a day. Sanderson spent more than two hours at the Houston warehouse sampling such dishes as bow-tie pasta with Cajun chicken (suggested retail price $9.95; food cost $2.86) and tilapia Veracruz. The restaurateur told Doherty he had a "salmon problem"—one out of four fillets his cooks prepare gets stuck to the grill and has to be thrown out. Fry it up in a pan, the chef suggested. He recommended cooking the salmon in a 90% vegetable oil and 10% olive oil mix that's half the cost of pure olive oil or margarine.
Onora Miller, a graphic artist at Sysco, helped Sanderson design a menu that put the most profitable items where they were most likely to catch a customer's eye. That meant moving the $14.95 seafood platter into the menu's upper-right-hand corner. The print size for prices was shrunk. A $14.50 Angus rib eye is now highlighted on the menu, while $7 burgers are buried in the middle.
Kelly Walker, a part-time actress who works in customer support, coached Sanderson's waitstaff on basic skills. Approach customers about dessert before they lean back from the table, she suggests, and encourage them to save room for chocolate cake.
Such techniques are critical in an industry where serving hot food cold can mean losing a customer forever. Sanderson says his sales were up 15%, to $2 million, in 2008—his first year with Sysco. He recently had some of his best weeks ever.
Having chefs whip up recipes and pitch new products has long been part of the $230 billion-a-year restaurant food supply industry, in which Sysco has a roughly 16% share. Spitler declined to reveal the cost or returns of the Business Review program, but he says customers who have been through it are far less likely to abandon Sysco for another distributor. "What's unique about what they did is they sort of formalized it," says Michael Roach, president of the food division at Sysco competitor Ben E. Keith Co.
Staffing the company with chefs, graphic artists, and other consultants is expensive, especially when looking to trim costs. Spitler says he spends less these days on such client perks as football tickets. The company also has teamed up with partners who discount services, from payroll processing to background music, for Sysco clients. Says Brent Berkowitz, director of operations at Innovative Dining Group in Los Angeles: "It's like having a car dealer tell you how to save money on your car."
Before it's here, it's on the Bloomberg Terminal.
LEARN MORE