Marvin Ellison: Home Depot's Mr. Fixit?
The new head of stores is trying to turn the chain around with a fresh emphasis on customer service
Jena Mcgregor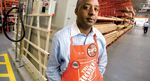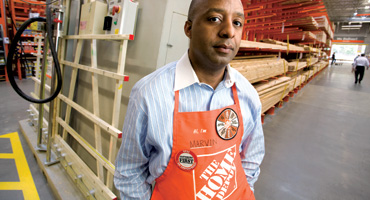 Sarah Larsen used to avoid Home Depot (HD), having dealt for years with surly, hard-to-find employees and indifferent store managers. But about six months ago, faced with a major renovation project, the Naperville (Ill.) communications consultant gave the store another try. She immediately noticed the difference: Sales associates were friendly, helpful, and in large supply. Now, Larsen says, "it has become my go-to store."
One reason for Larsen's newfound bond with Home Depot is a man behind the scenes: Marvin R. Ellison. Eight months ago, Chief Executive Francis S. Blake promoted Ellison, 44, from a regional post to be the $71 billion-a-year retailer's executive vice-president of U.S. stores. Ellison's mission: to recreate his success running Home Depot's northern division, where he cut through a conflicting array of messages from headquarters and gave store managers just three goals—cleaner warehouses, stocked shelves, and top customer service. "You could go blindfolded into two stores and know when you were in Marvin's store," Blake says.
MORALE BUILDERS
But Ellison faces an uphill battle repairing Home Depot's damaged reputation. Once renowned for customer service, the chain has been among the worst-performing retailers over the past several years in the University of Michigan's American Customer Satisfaction Index. Despite an improved score, it still ranks last among its peers. Insiders say former CEO Robert L. Nardelli, who stepped down in early 2007 after a six-year stint, alienated staff with a command-and-control style that focused on cutting costs over encouraging employees. "When you're an hourly associate and you're trying to cover 3,000 square feet by yourself on a Saturday, that's going to damage morale," says one former executive.
Ellison is also trying to win back customers at a time when many don't want to spend much at Home Depot's 2,238 stores. The company reported a loss of $54 million in the fourth quarter, and same-store sales dropped 8.7% last year. With resources squeezed, Ellison is trying to keep things simple. He has slashed the number of reports, tasks, and messages handed down from the corporate office. Store managers who were flooded with some 200 company e-mails and reports on any given Monday now typically get one: The rest are available online. And he severely restricted messages from headquarters to the stores during the rest of the week.
More important, Ellison is enforcing a practice called "power hours"—weekdays from 10 a.m. to 2 p.m. and all day on Saturdays and Sundays—when employees are supposed to do nothing but serve customers. They can stock shelves, unload boxes, and survey inventory at other times. "We could not address customer service needs because we were too busy doing other things," says Ellison, who began his own career as an hourly worker at Target (TGT) in 1987.
To make the strategy stick, he has just changed performance reviews so store employees are evaluated almost entirely on customer service. It helps that Blake has expanded financial incentives for staffers who deliver great service. While customers report improvements, Home Depot still has far to go. San Diego welding contractor Seth Collins says that when he recently entered a local store, "five or six people said 'Welcome to Home Depot.' But then I wandered around trying to find someone in the paint aisle to help."
Before it's here, it's on the Bloomberg Terminal.
LEARN MORE