Israel's Clean Technology Pioneers
They're pros at getting the most out of limited natural resources. The world is taking noticeespecially U.S. venture capitalists
By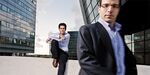 Yavne, a hazy industrial corridor in central Israel, seems at first glance an improbable haven for geothermal technology. Its largely barren environs offer no geysers or volcanoes, the essential raw materials for geothermal energy. Yet this small city of 32,000 is home to Ormat Technologies (ORA), a $2 billion multinational listed on the New York Stock Exchange (NYX) that builds geothermal power plants around the world, from Colorado to Kenya.
At a kibbutz, or farming collective, 70 miles to the south in Israel's Negev Desert, entrepreneur Amit Ziv recycles runoff water from a nearby spa to raise sea bass and barramundi, a white fish in demand at high-end restaurants. He then channels the water from his desert fish farm to grow olives, which he exports to, of all places, Spain. "Seagulls and pelicans must be thinking, 'What the hell?' " remarks Shai Ben-Tal, one of the kibbutzniks.
One can't help but think the same.
Anyone visiting Israel will quickly realize that its resourcefulness is a matter of necessity. The New Jersey-size nation of 7 million has no choice but to conserve: Marked by long stretches of desert and a dwindling freshwater supply, it is both bereft of natural bounty and flanked by neighbors bent on its annihilation. Simmering hostilities often rise to full-fledged military actions, most recently in December, when Israel responded to Palestinian rockets by invading the Gaza Strip.
Israel's siege mentality is driving its six-decade quest to coax more from the soil, water, air, and sunlight than do most other nations on earth. In the throes of a three-year drought, for example, Israel leads the world by recycling 70% of its wastewater, three times the figure for No. 2 Spain. Now many of Israel's so-called cleantech companies, including drip irrigation pioneer Netafim and solar power outfit BrightSource Industries, are exporting their wares around the world. They're even setting up shop inside that other hotbed of innovation, the U.S. "The world is now realizing it has to deal with things that Israel has had to tackle for 50 years," says Jacques Benkoski, a venture capitalist with Silicon Valley-based U.S. Venture Partners. "Doing more with less is becoming the standard."
Venture capitalists seem eager to get in on the action, especially at a time when most other investment prospects are bleak. Just about every major VC firm in Silicon Valley, from Kleiner Perkins Caufield & Byers to Sequoia Capital, is prospecting across Israel for cleantech investments. All told, at least 80 venture funds, many of them American, manage more than $10 billion here, with an increasing share devoted to cleantech companies.
Google (GOOG) co-founder Sergey Brin and several U.S. politicians have paid visits to Israel recently to learn about water- and energy-conservation technologies. "We can't rely on others for our safety and security," says Phoenix Mayor Phil Gordon, who is looking to import Israeli solar expertise.
One might assume that the Israeli government is driving the audacious efforts to raise fish amid the sand dunes. But officials seem too preoccupied with national defense and political scandals to take notice.
Israel is a nation of contradictions, socialist in many ways but laissez-faire when it comes to the economy. The national equivalent of a startup, it was founded by people willing to make a go of it in a swath of land dominated by desert. The core element of that plan was the kibbutz, wherein people eat together, tend to communal crops and livestock, and even dispatch their two-year-olds to a dormitory. Kibbutzes are still common: There are at least 200 throughout Israel. That sense of shared purpose has always translated to national defense, which politicians consider paramount.
Israel spends vast sums on its military and requires at least two years of active service for 18-year-olds and continuing service for adults.
But government leaders agree on little else, apart from military imperatives. Prime Minister Ehud Olmert recently resigned amid corruption charges and ongoing public resentment over Israel's 2006 invasion of Lebanon. As usual, rival factions on the secular left and religious right, instead of studying long-term policy goals, are plotting to shift the short-term balance of power. In Israel's 60-year history, only two prime ministers have served out their full terms.
The paralysis helps explain why business and the economy are mostly left to their own devices, with few companies outside the defense sector reaping the benefits of government investment—or even attention. "The cleantech economy here hums independently, on market forces and innovation, despite the political situation," complains Glen I.A. Schwaber, 39, a founding partner at $75 million Israel Cleantech Ventures, a VC firm that he runs with Harvard classmate Jack S. Levy. Just imagine, says R. James Woolsey Jr., a former director of the CIA, if an Israeli politician were to rise to national prominence by championing, say, government investment in crude-oil alternatives. "They couldn't do anything better for their own security," he says. "And ours."
No essential commodity is scarcer in Israel than water. Sure, wastewater is recycled, but there's precious little freshwater for drinking. "The government has been promising more freshwater since I was a kid," says a waiter at a café in Tel Aviv. "But they will spend it on the next war instead. We'll all die of thirst first." With government officials focusing on other matters, business is stepping in to solve the water problem just as it always has: with high-tech ingenuity.
The late Simcha Blass, a Polish-born veteran of World War I, saw world-changing possibilities where others saw only sand. In the decade before Israel won statehood, Blass had a Ben Franklin-style lightning-bolt moment in the Negev Desert. Captivated by an abnormally large tree he spotted in a grove, he shoveled underneath it and discovered a cracked drainpipe feeding steady droplets directly to the tree's roots—just enough water to allow the tree to flourish. In 1965, after years of iterations, Blass patented and sold his vision of "drip irrigation" to Hatzerim, a kibbutz in the Negev. Hatzerim had great faith in drip irrigation's central promise, the measured release of the perfect amount of water to sustain agriculture. It sounds simple, but getting it right takes an enormous amount of technological prowess.
Today Hatzerim and two affiliated kibbutzes remain majority owners of the company that has grown into Netafim, a $500 million high-tech drip-irrigation giant employing 2,600 people in 110 countries. Besides making drip pipes, Netafim sells greenhouses and advises governments on how to tease cash crops from stingy tracts. Netafim keeps its finances intensely private, except to note that it has produced a 17% compound annual growth rate since 2003.
WATER SECRETS
In 2005, a pair of private equity funds, Los Angeles-based Markstone Capital Group and Tel Aviv-based Tenne, took a combined 20% stake in Netafim, placing their chips on what is expected to be a $540 billion global water market in two years. "We bought into decades of collective agronomic experience and all the trial and error it took to master drip irrigation," says Elliott Broidy, chairman of Markstone, which owns 13% of Netafim. Drip irrigation's appeal seems undeniable: Just 0.3% of the world's water can be used for drinking or farming. At the same time, the world will have to achieve far greater crop yields to sustain a population expected to grow from 6.3 billion today to 8.1 billion by 2030.
Netafim's lush corporate and residential campus is dotted with palm and date trees, but it has the secretive feel of a semiconductor foundry.
Ofer Bloch, Netafim's 49-year-old chief executive officer, isn't keen on letting photographers snap pictures of the place, so precious are the secrets of his technology. Inside, machines custom-carve "labyrinths" on millions of microchips that are then installed behind tiny drip holes inside plastic pipes. The chips measure, time, and distribute the perfect drop of water to be channeled to the roots of every plant in the field. Netafim lays out nearly 3 billion meters of drip lines a year and monitors every bit of water that courses through.
Having conquered the tiny Israeli market, Netafim has set its sights abroad, where it earns 95% of its revenues. In Peru, a provincial government retained Netafim to assess what kind of crops could be sustained in a dry, mountainous region. After engineers computer-modeled the terrain, the verdict came in: asparagus. Citrus and almond growers in California, meanwhile, use Netafim pipes to irrigate thousands of inland acres that otherwise would lie fallow.
Couldn't the government channel such technological expertise to solve its drinking-water problem? Even public officials complain of the lack of progress in desalinization, or removing salt from seawater. "What we've done in terms of drip irrigation we desperately need to do for desalination," says a highly placed government adviser. "Drinking water is immediately urgent. Everyone in Israel, rich or poor, knows it's a crisis. But government just keeps delaying, especially because it will require billions of dollars and years of focus that Israeli leaders won't commit to. So they blame the lack of rain."
Energy is just as vexing to some Israelis. Most of Israel's terrain is well suited for solar panels, yet the nation still derives almost all of its electricity from coal and other nonrenewable fuels. Arnold J. Goldman, chairman of solar utility BrightSource Energy, complains about the situation during a two-hour ride from Jerusalem to the company's testing complex in the Negev. "All that light, all that heat," he says, pointing at the hot sand, "is practically begging you to use it." So far, BrightSource has raised more than $160 million from investors including U.S.-based VantagePoint Venture Partners, Google (GOOG), BP's (BP) investing arm, Morgan Stanley (MS), and JPMorgan Chase (JPM).
Goldman, an avuncular engineer with a chin-strap beard, made a killing during the 1970s by founding Lexitron, the first word-processing software maker in the U.S. After selling the company in 1977, he says, he dove headlong into alternative energy, building nine solar power facilities in the Western U.S. That startup, Luz International, folded in 1991, a victim, alleges Goldman, of collusion by utilities, the gas-and-coal lobby, and their friends in high office. BrightSource Industries, launched in 2004, is Goldman's revenge.
BrightSource's technology seems right out of science fiction. As the van traverses the final mile to a test center in Dimona, what looks like a burning oil rig looms in the distance. Inside the maximum-security complex, passengers present their passports and don protective boots to guard their feet from the scorching sands. A semicircular array of 1,641 mechanized coffee-table-size mirrors pivot to reflect the desert sun's rays onto the boiler atop the rig, which BrightSource calls a "power tower." The company's power towers produce superheated steam for turbines. They "offer the maximum level of efficiency," says Alan E. Salzman, managing partner of Silicon Valley's VantagePoint, BrightSource's largest investor. Salzman says the towers convert steam back into water and return it to the boiler, where it is reused again and again.
SOLAR BOUNTY
The technology, claims Goldman, could help reshape some countries' population centers. Parched stretches of California and Nevada, Saharan Africa, Saudi Arabia, and Australia are especially suited for solar thermal power plants, he says. Last March, BrightSource inked a deal with California's Pacific Gas & Electric (PCG) to provide up to 900 megawatts of solar thermal electricity in the Mojave Desert as early as 2011. (In February, BrightSource signed an even bigger deal with Southern California Edison (EIX). At 1,300 megawatts it's the world's largest solar-power purchase agreement.) "We see solar making a big impact in the Southwest and California," says Jack Keenan, PG&E's chief operating officer. "Partnering with BrightSource will enable us to increase the growing amount of renewable energy demanded by our 15 million customers." Goldman says that if he were able to plaster the southwestern U.S. with solar mirrors, he could meet 69% of the nation's electricity needs.
David Faiman, director of Ben-Gurion University's National Solar Energy Center Dept., says Israel needs to stage a national research and development push to bring down the cost of solar electricity. "It's only natural to ask why a country with all this sunlight and no fossil fuels never moved on that vision," he says. "And yet you also come to learn that our political disarray doesn't lend itself to long-term planning."
What if Israel could find the will to harness the power of its drip pipes, power towers, and desert fish farms? "Israel has such a geopolitical vested interest to steer this innovation," says Jonathan Shapira, a corporate attorney in Boston who organizes and blogs about Israeli cleantech. "Innovating around scarcity is increasingly the world's story."
Before it's here, it's on the Bloomberg Terminal.
LEARN MORE