Bernanke: Pace of Contraction Is Slowing
Phil Mintz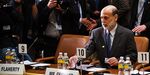 Federal Reserve Chairman Ben S. Bernanke delivered a mixed economic report in congressional testimony on May 5, citing slight improvements in the housing market and household spending, but warning of continued weakness in business investment and commercial real estate. He said the Fed continues to expect economic activity to bottom out and turn upward later this year.
Bernanke said that the "pace of contraction may be slowing" but that any upturn will be gradual. "We expect that the recovery will only gradually gain momentum and that economic slack will diminish slowly," he told the Joint Economic Committee. "In particular, businesses are likely to be cautious about hiring, implying that the unemployment rate could remain high for a time, even after economic growth resumes."
Continuing economic recovery depends on the health of the financial sector, Bernanke cautioned. "Conditions in a number of financial markets have improved in recent weeks, reflecting in part the somewhat more encouraging economic data," he said. "However, financial markets and financial institutions remain under considerable stress, and cumulative declines in asset prices, tight credit conditions, and high levels of risk aversion continue to weigh on the economy."
The Fed chairman said that after the results of the Treasury's "stress tests" of the financial health of the country's 19 largest banks are released later this week, banks that need additional capital reserves will have six months to comply. He said that while the Fed prefers to have the banks raise the capital in private markets, if they are unable to do so, "they will have to take government capital to meet those standards."
More Unemployment
Bernanke said that the labor market—which shed 5 million jobs in the past 15 months—is likely to remain stressed in the near future. "The most recent information on the labor market—the number of new and continuing claims for unemployment insurance through late April—suggests that we are likely to see further sizable job losses and increased unemployment in coming months."
He said that the fiscal stimulus program has improved household spending power in the first quarter of 2009, but other factors such as the weak labor market, tight credit, and loss of home equity over the past two years will restrain consumer spending.
He called business investment "extremely weak," noting that spending for equipment and software fell at an annual rate of about 30% in both the fourth quarter of 2008 and the first quarter of 2009. "Recent business surveys have been a bit more positive, but surveyed firms are still reporting net declines in new orders and restrained capital spending plans," Bernanke said. "Our recent survey of bank loan officers reported further weakening of demand for commercial and industrial loans. The survey also showed that the net fraction of banks that tightened their business lending policies stayed elevated, although it has come down in the past two surveys."
Bernanke said that the Fed's forecast of an upturn later this year is based on assessments that the housing market is stabilizing and inventory liquidation by businesses will slow. "An important caveat is that our forecast assumes continuing gradual repair of the financial system; a relapse in financial conditions would be a significant drag on economic activity and could cause the incipient recovery to stall," Bernanke said.
Dissent on Consumer Spending
In a report on Bernanke's testimony, Paul Ashworth, senior U.S. economist for Capital Economics in Toronto, drew a different picture of household demand. "Consumption perked up in January thanks to a brief temporary boost from higher tax rebates and the large cost-of-living adjustment to benefit payments. Since then, however, consumption has resumed its downward decline and falling income suggests the near-term outlook for spending is weak."
Separately, activity in the services sector contracted at a slower pace in April, the Institute for Supply Management reported on May 5. Its service sector index came in at 43.7 in April, up from 40.8 in March. Any reading below 50 indicates the service sector, where most Americans work, is contracting.
Before it's here, it's on the Bloomberg Terminal.
LEARN MORE