Fiat Wants GM Europe, Too
by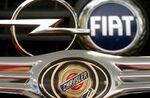 Fiat Chief Executive Sergio Marchionne wants it all. On May 4, just four days after sealing an agreement to take control of Chrysler, Marchionne met in Berlin with government officials to discuss a possible Fiat (FIA.MI) bid for the main European operations of General Motors (GM).
His plan, which Fiat says has the "full support" of its board: merge the Italian company's automotive business, including its Chrysler stake, with GM Europe to create a $106 billion company. The new group, to be spun off from Fiat and separately listed, would be one of the world's five biggest automakers.
As in the Chrysler deal, Marchionne wants to accomplish all this without Fiat having to put down any cash or assume any of GM Europe's debt. Moreover, he wants European governments to kick-start the new company with billions in loans and loan guarantees.
It's breathtakingly audacious. But can he pull it off? German officials sounded intrigued but cautious after hearing Marchionne's pitch. "It's an interesting concept, but not one where I can say today, 'We're doing it,'" Economics Minister Karl-Theodor zu Guttenberg said after the May 4 meeting.
Only Four Car Platforms?
Germany's biggest labor union, IGMetall, declined immediate comment, saying it wants to study the proposal in more detail. But labor leaders have already voiced opposition to a Fiat-GM Europe tieup, which they fear would lead to major job cuts. Both companies are saddled with excess capacity in their European factories and dealership networks.
Marchionne's plan calls for Fiat and GM's main European units, Opel and Vauxhall, to maintain their brand names but build their cars on as few as four common platforms, an arrangement he says would yield $1.3 billion in cost savings. The combined companies, along with Chrysler, would produce some 5.5 million cars annually, above the 5 million minimum Marchionne says is necessary for an automaker to survive an imminent industry shakeout.
In many ways, Fiat and GM Europe look to be a good fit. Besides potential cost savings on purchasing and research and development, Fiat's strength in Southern Europe and Latin America would nicely complement Opel's and Vauxhall's in Northern Europe and Britain. "If they can make this happen within five to eight years, they could emerge as a strong global competitor," says Gregor Matthies, a Munich-based partner at Bain & Co. who focuses on the auto industry. Matthies sees "huge potential" for cost savings in R&D, components production, and a streamlining of the companies' dealer networks.
Investors seem to like Marchionne's boldness: Fiat shares were up almost 8% on May 4, and the stock's price has more than doubled in the past two months.
Yet the obstacles facing the GM deal are daunting, even if Marchionne can persuade European governments to kick in at least $6.6 billion in aid, which German officials said on May 4 was the estimated minimum needed.
This Time, Fiat Has Rivals
For one thing, it's not clear that Fiat can escape taking on GM Europe's debt, as it did with Chrysler's. Unlike the Chrysler deal, where Fiat had considerable leverage as the sole bidder, it faces rival suitors for GM Europe, including Canadian group Magna International (MGA). Because GM has not disclosed debt figures for the European unit, "we do not know the level of resources necessary to restructure Opel," says Gabriele Parini, an auto analyst at UniCredit Group (CRDI.MI). "This is the main issue."
One thing is clear: Fiat doesn't have much cash to spare, since its debt in recent months has soared to $8.6 billion and its bonds have been downgraded to junk status.
Another question is what happens to other parts of GM's European operations, which include Swedish auto manufacturer Saab and some joint ventures in Russia. "It's a whole bag of unconnected pieces," says Christoph Stürmer, a Frankfurt-based analyst at consultant Global Insight (IHS). (Saab filed for insolvency in February and will be separately divested by GM, but it's possible Fiat might also try to grab it.)
The overriding question, says Max Warburton, a London-based analyst at Bernstein Securities: "Can a spun-off collection of loss-making auto companies really be liquid and viable?" Chrysler and Opel, besides losing money, are burdened with billions in pension and worker health-care liabilities. And apart from its Brazilian operations, Fiat is barely profitable. "What happens if [the new company] needs to be recapitalized?" Warburton asks. "Will Fiat need to sell a jewel asset" such as its Iveco truck unit or its Case-New Holland (CNH) farm and construction equipment business?"
Marchionne has already sought to allay unions' fears about job cuts by saying he would seek to trim work schedules rather than close factories. Yet factories are only part of the problem. The two companies also must downsize their dealership networks as well as trim jobs as they blend activities ranging from R&D to marketing. And Marchionne will have to manage all this while simultaneously overseeing a top-to-bottom remake of Chrysler.
In the end, says Bain's Matthies: "It all comes down to 'Super Sergio,' driving it from the top with ruthless, pragmatic focus on speedy implementation."
Before it's here, it's on the Bloomberg Terminal.
LEARN MORE