Macao: Now, Stanley Ho Has the Hot Hand
By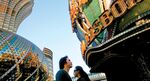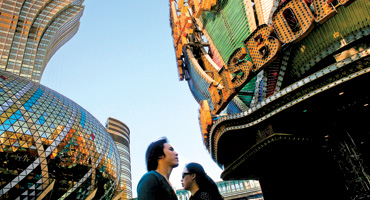 Macao - When this former Portuguese territory ended gambling kingpin Stanley Ho's four-decade casino monopoly in 2002, many believed the big boys of Vegas would steal the chips right off his tables. The rough and tumble enclave 40 miles west of Hong Kong, long known for its smoky gambling dens and legalized prostitution, was to be transformed into a Las Vegas clone, with luxury hotels, wholesome entertainment, convention halls—and a few casinos to make sure visitors went home poorer than they arrived. Sure enough, foreign-owned rivals piled in. By 2006, casino revenues had doubled, to $7 billion, and Macao had overtaken the Las Vegas strip as the globe's No. 1 gambling mecca.
Lately, though, the odds have shifted back in favor of the 87-year-old Ho. After losing ground to newcomers, his company, Sociedade de Jogos de Macau, or SJM, is rallying. In the first quarter, SJM held 30% of the Macao gambling market, up from 26% for 2008. With two casinos opening this year, SJM will likely keep gaining.
The Americans certainly jumped in with both feet. In 2004, Las Vegas Sands (LVS) boss Sheldon Adelson opened the $265 million Sands Macau. Rival Steve Wynn made a splash with the $1.2 billion Wynn Macao (WYNN) in 2006. Adelson unveiled his $2.4 billion, 3,000-suite Venetian Macao in September 2007, then broke ground on an adjacent 6,400-room resort complex that was to feature Shangri-La and St. Regis hotels. Three months later, MGM Mirage (MGM) and Ho's daughter Pansy Ho teamed up on the $1.3 billion MGM Grand Macau (MGM) next door to Wynn.
Problem is, the Americans may have misjudged the Chinese market. Most of Macao's 22 million annual visitors are day-trippers who arrive by ferry from Hong Kong or walk across from mainland China and take free shuttle buses to the city center. That's why SJM chose to build its newest offering, the Grand Lisboa, downtown rather than follow Adelson and others to Cotai, a piece of reclaimed land that is supposed to be an Asian version of the Las Vegas strip. And these visitors are interested in little more than gambling. "Customers just want to go to the tables rather than enjoy a show or fine dining or shopping," says SJM's chief executive officer, Ambrose So. "You cannot simply clone the Las Vegas model." An American executive who asked not to be identified agreed. "Some on the U.S. side may have been a bit arrogant," he says.
On a recent Tuesday, Adelson's Grand Canal (LVS) shopping arcade feels like a ghost town. Gondoliers' arias bounce off deserted storefronts in the Venice-themed mall. Cirque du Soleil shows are half-empty. At Adelson's Four Seasons Casino nearby, just a handful of players flank the tables. Meanwhile, cranes hang idly over the half-finished Shangri-La and St. Regis project, where construction was halted last November. (Executives at Las Vegas Sands (LVS) and Wynn Resorts declined interview requests.)
That's not to say SJM hasn't learned from the Americans. In February 2007, Ho opened the whimsically kitschy Grand Lisboa, followed last December by an adjacent 400-room hotel. The new casino is a far cry from the labyrinth of dank gambling parlors of Ho's original Lisboa. White-gloved attendants empty ashtrays at the baccarat tables, a cabaret stage on the casino floor features dancers in fishnet stockings and patent leather boots, and there's a seafood buffet and plenty of slot machines. But even with the new frills, the emphasis is on gambling.
The formula seems to be working. Today, 40% of SJM's revenues come from so-called mass-market players—those who don't qualify for credit to fund their betting—while other casinos in Macao average 25%. That's important because last July, Beijing clamped down on travel to Macao by individuals—often high rollers who drop $100,000 or more per day. Group tours for lower-end gamblers were unaffected. Ho's team "knows how to deal with the mass market," says Citigroup (C) analyst George Choi. "That always gives you downside protection."
To be sure, SJM has its share of worries. Earnings fell by 48% in 2008, to $103 million, as sales dropped 13%, to $3.6 billion. That's just below their level in 2003, the last year of SJM's monopoly. And the company will face new competition when Ho's son Lawrence and his Australian partner James Packer open a $2.1 billion casino resort on Cotai this summer.
But Ho is poised to weather the global financial storm better than his rivals. While SJM's revenues may shrink by 8% this year, the overall gambling market in Macao will likely slide by twice that, Citigroup estimates. And after raising $494 million in an initial public offering last July, SJM is sitting on $1 billion in cash. Rivals Las Vegas Sands and MGM, by contrast, face mounting debt problems. Says an Asia-based gambling executive who asked not to be identified: "Ho may end up having the last laugh."
Before it's here, it's on the Bloomberg Terminal.
LEARN MORE