Obama Tackles Credit-Card Fees
Jessica Silver-Greenberg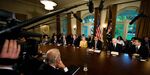 It's hard to find a group more publicly reviled than credit-card companies. On Apr. 23, President Barack Obama plans to convene executives at the White House to challenge high card rates and predatory practices, while Congress readies legislation that would crack down on the industry.
But most of the crackdown that Congress is contemplating is already in rule changes approved by the Federal Reserve late last year that become effective in July 2010. And the soaring rates are the banking industry's way of bracing for that more restrictive environment.
Credit-card defaults may be the next hammer to fall on many debt-strapped consumers. Card holders are watching the interest rates skyrocket and seeing their credit lines vanish overnight. Card companies argue that they are simply repricing their accounts for rising risks. Not only do they have to get changes in before the Fed rules take effect, they have to contend with worrying default rates and delinquencies that could cut into profits.
Higher Delinquency Rates
By the end of last year, U.S. card holders already were showing increasing signs of fatigue, and an inability to make even minimum payments. The delinquency rate, which measures how many customers are 30 days or more late on their credit-card bill, hovered at an astronomical 5.56%. According to the Federal Reserve, that's the highest rate since the agency started recording it in 1991. If unemployment continues to rise and tops 10%, as many economists expect, the delinquency rate will likely rise, as more Americans struggle to stay afloat.
That looming threat was reflected in some of the otherwise rosy bank-earnings reports issued this month. JPMorgan Chase (JPM), for instance, reported during its first-quarter earnings call on Apr. 16 that default rates—the number of accounts the bank considers uncollectible—will likely grow. JPMorgan took on a lot of risk when it agreed to acquire Washington Mutual in a September 2008 shotgun marriage chaperoned by the federal government. WaMu, like so many of its card-company peers, lent vigorously during the credit boom years, and now those loans could sour. JPMorgan said the losses from WaMu's credit-services division could reach as high as 24%.
JPMorgan isn't alone in hedging against rising losses on credit cards. On Apr. 21, McLean (Va.)-based Capital One Financial (COF), announced that deteriorating credit conditions led to a $176.2 million first-quarter loss. The company, bracing for more pain to come, said it thought that charge-offs would exceed the $8.6 billion already projected
Rising Consumer Outrage
In the past, the banks managed to fend off credit-card reform efforts with a heaping dose of lobbying dollars. But much has changed: The recession has ratcheted up consumer outrage. Congress convened hearings last spring to scrutinize the industry's longstanding billing practices. On the campaign trail last year, Obama indicated he would support legislation reforming the credit-card industry. And the billions of federal bailout dollars that were handed out to banks increased the leverage of Obama and other industry critics.
The House of Representatives is mulling a bill called the Credit Cardholders' Bill of Rights sponsored by Representative Carolyn Maloney (D-N.Y.). "A credit-card agreement is supposed to be a contract, but in recent years cardholders have lost the ability to say no to unfair interest rate hikes and fees," Maloney wrote in a press release explaining the bill's contents. A similar bill by Senator Christopher Dodd (D-Conn.), is also wending its way through the Senate.
The House bill looks likely to pass, and if it becomes law it will be the first time in nearly a decade that the federal government has directly reined in credit-card practices.
Fueling a Life of Luxury
The bill would fortify the new Fed rules and include some consumer-protection provisions that are currently absent. As approved last December, the Fed rules mean that banks won't be able to raise interest rates on existing debts after July 2010—all penalty interest-rate increases would only apply to future purchases.
Another change coming in July 2010: Card companies will have to split any payments evenly between high-interest-rate and low-interest-rate balances. (Right now, if card holders have two different balances on a card, the card company will apply any payment to the balance with the lower interest rate, leaving many customers struggling to make any dent in their higher-priced balances.) Also, the Fed will grant longer grace periods for card holders before they get slammed with late fees.
During the go-go credit years, when card holders relied on a seemingly unlimited supply of cheap plastic to prop up otherwise unsustainable luxury lifestyles, Congress seemed content to let the free market reign. Competition among card companies would ensure low interest rates and generous credit limits, or so the industry's argument went.
Now, consumer advocates say, the only competition seems to be who can raise rates fastest. Bank of America (BAC) and Citibank (C) earlier this year started sticking customers with an additional 3% fee if they used their card outside of the U.S. Rates on Capital One's Platinum Card jumped from 7.15% to 11.9%.