An Indian Outsourcing Hot Spot Chills Out
Gurgaon, a suburb of Delhi, is suffering from a wave of layoffs as Western companies retrench
By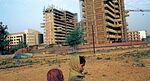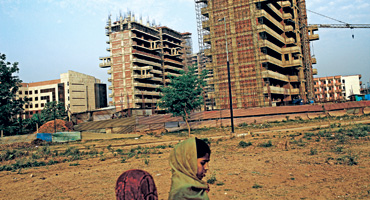 Gurgaon, India - The terrace at the Hao Shi Nian Nian ("Here's to the Good Life") restaurant in Gurgaon's Central Plaza Mall offers a good sense of the city. A short drive from glass-fronted buildings that house Nestlé (NSRYG), American Express (AXP), and other multinationals, the Chinese restaurant is among the top lunch destinations in this suburb of Delhi, India's capital.
But on a recent weekday, the place has few customers. After the dumplings arrive, the manager declines to talk about his sales, but a waiter pouring water whispers bravely: "It's bad. No customers. No tips. I should get a new job." In the parking lot, used-car salesman Sachin Kulkarni displays late-model sedans, including a one-year-old Honda (HMC) Civic sold by a couple who both lost their jobs. "People just look," Kulkarni says. "They don't buy."
Gurgaon's problem is that its economy has become intertwined with America's. A decade ago, Gurgaon was little more than a farming community. Then outsourcing boomed, and the town became a preferred location for companies that answer phones, create PowerPoint presentations, and do other business tasks for U.S. clients. As outsourcers added thousands of workers every month, developers rushed in and built offices and apartment towers.
The once-bucolic community has become a city of nearly 1 million and a nightmarish version of what India aspires to be—a destination for global investment—with water shortages, iffy electricity, and horrific traffic jams. "As things have slowed, Gurgaon's mentality has been affected. People are more conservative," says Nitin Aggarwal, director of research at Pipal Research, an outsourcing company that grew from five employees in 2002 to over 300 by last December, but which has put further expansion on hold.
Gurgaon is especially vulnerable because of the nature of the work it does. Higher-end jobs such as writing computer code typically go to Bangalore and elsewhere in the south because of that region's top-notch schools. Gurgaon is mostly lower level: call centers and business process outsourcers. With less work, these shops are starting to close, says Sukant Srivastava, country chief for Convergys (CVG), a Cincinnati-based outsourcer with 12,000 workers in India, about a third of them in Gurgaon. "The effects of the slowdown are beginning to show," he says.
Gurgaon isn't a ghost town. There's still enough traffic to make commuting unpleasant, for instance. But while India's economy may expand by 5% this year, the 9%-plus growth of recent times is gone and Gurgaon is feeling that decline more than most other places. In the second half of 2008, as American and European clients hit the skids, India's outsourcing industry saw contracts shrivel by 22%, its worst performance in a decade, according to research firm Technology Partners International. "We haven't seen large-scale layoffs," says Sid Pai, TPI's India director. Then he corrects himself: "We haven't seen large-scale layoffs as yet."
Nobody in India collects layoff data, but every day papers carry dire news: 200 workers cut from an American Express call center, 300 from Boston-based Sapient (SAPE), 80 or so at Motorola (MOT). At a café, young engineers huddle over a laptop, dissecting an online rumor that Wipro Technologies, India's No. 3 IT provider, might lay off 5,000. (Wipro denied the report.)
DEVELOPMENT ON HOLD
The economic woe is taking its toll on the developers that built Gurgaon. As demand has eased, some 28% of commercial real estate here is vacant, compared with shortages a year ago. Office rents have dropped 25% and will continue to fall, says Sanjay Verma, South Asia head for real estate consultancy Cushman & Wakefield. "People are just waiting and watching before making any commitments," he says.
That's easy to see as you head toward the heart of Gurgaon from the Central Plaza Mall. On Golf Course Road, a few workers mill around half-completed buildings. At the Narsi office complex, huge signs advertise deep discounts. "I can give you a great deal, no rent for the first two months," says a real estate broker. "Just don't tell anybody." At the Sahara mall, a bored clerk points to a rack of men's clothing. "Eight suits for the price of three," he says. Still, he hasn't sold one in three weeks.
The bad news has the city fathers fretting that their revenues will plummet. In a dingy tax office the electricity is out, the telephone rings constantly, and an ancient computer is covered with a cloth. A disheveled clerk shows reams of printouts to A.K. Singh, a local tax commissioner. "Collection is down, certainly, this year," Singh says, marking the pages with a red pen. "Wait until June, when the final numbers come in. It will be drastic."
The new buzzword in Gurgaon is consolidation. Larger companies hope they have the cash to hold on while the global economy recovers, perhaps even enough to buy a rival or two. "Clients just aren't moving on proposals," says Ashish Gupta, chief operating officer of Evalueserve, an outsourcer with 2,400 employees, 2,000 of them in Gurgaon. "Smaller players are struggling. ... Many of these guys could get wiped out."
Before it's here, it's on the Bloomberg Terminal.
LEARN MORE