Ken Lewis on Bank of America's Path Ahead
"Our internal stress tests do not indicate that we would need more equity&we'll be focused on our asset sales"
By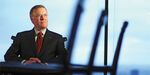 April is turning out to be a cruel month for Bank of America (BAC) CEO Kenneth D. Lewis. Despite reporting a $4.2 billion first-quarter profit on Apr. 20, investors drove the bank's stock down 24%—a drop that contributed mightily to a 289.6-point decline in the Dow. The following day, the state treasurer of Connecticut called on Lewis to resign; on Apr. 23 he and other credit-card chieftains will be jawboned at the White House by President Obama about high interest rates and predatory practices; and on Apr. 29 he must face shareholders at BofA's annual meeting. I talked with Lewis twice this week, first for CNBC on Monday and then again the next day.
MARIA BARTIROMO
Consumer credit was obviously a sour note for the quarter, losses of $1.8 billion. How bad are BofA's credit problems ahead?
KENNETH LEWIS
They're so tied to levels of unemployment that you can almost look at that and look at future bankruptcies and come up with what you think they might be. So we don't see consumer credit losses peaking until sometime early in 2010 because we expect unemployment levels to continue to increase to that point. We do not, however, think that unemployment will get to 10%. We think it will still be in single digits, around 9%.
Do you feel you will need to raise more capital in the coming months?I don't think so, and we will look to sell certain assets, including, as we have announced, First Republic. But we'll look real hard at nonstrategic assets to make sure that we can build capital in ways other than raising it through common equity offerings or a conversion of TARP. We're now in discussions with regulators about that, and so we'll have a clearer view of what we need to do after discussions with them. But at the moment, our internal stress tests do not indicate that we would need more equity, particularly given that we'll be focused on our asset sales.
What other sales might be on the horizon as you continue to recapitalize and raise new money—Columbia Asset Management, BlackRock, U.S. Trust, the prime brokerage business, the 401(k) business?I think we'll just step back and see what is strategic and what isn't. And the fortunate thing is when you acquire something as large as Merrill Lynch, you have chances to do that.
Do you have any sense of how BofA would have done if it had not been pressured to complete the Merrill acquisition?Merrill made more than $3 billion in the first quarter, so we would have done a lot worse had we not had Merrill Lynch. In fact, the bright spots for the first quarter were Merrill Lynch and Countrywide.
What are you planning to tell shareholders who may complain about the stock drop, about the acquisitions, and about this tumultuous period?I'm going to tell the stockholders that even first-quarter results show the strategic benefits of our recent acquisitions, and that can only get better. These are going to be proven to be wise decisions.
What are your thoughts on the suggestion in The New York Times yesterday that the government could convert preferred stock into common stock and become big shareholders in BofA and other banks?Certainly that's a possibility. I think to the extent that we have any choice, we want no part of any government money and would like to pay it back as soon as possible.
The Connecticut state treasurer, Denise Nappier, who controls a $20 billion retirement fund, called for you to step down today. The Service Employees International Union has mounted a campaign against you, in part because BofA is said to be actively lobbying against the Employee Free Choice Act, which would eliminate the secret ballot in union elections.First of all, the SEIU would like to unionize Bank of America, and so I think they have an ulterior motive. And then secondly, I was told that the state of Connecticut owns 1.4 million shares [of BofA]. I own around 5 million, so I'm going to outvote her.
You know, I've got to tell you, I was in Texas at an economic forum yesterday, and your name came up, and a lot of people feel that you have been muzzled, that you are coming across much more shy and demure than you ever have been. Is this a result of pressure from lawmakers and regulators?No. I think just weariness, Maria.
Before it's here, it's on the Bloomberg Terminal.
LEARN MORE