Intercontinental Exchange Takes Aim on Derivatives
Jeffrey Sprecher's ICE is the frontrunner in the battle to dominate the new frontier for exchanges: trading derivatives
Joseph Weber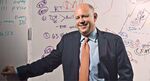 Jeffrey C. Sprecher, a former race-car driver, knows all about outmaneuvering competitors. In the late 1990s the head of the scrappy IntercontinentalExchange (ICE) persuaded energy behemoths to trade on his new electronic platform instead of relying on the leader, Enron. After Enron collapsed a few years later, ICE took off. Sprecher's brainchild is now the second-largest futures exchange in the U.S., behind CME Group (CME). His latest race: a bid to control the burgeoning market for credit default swaps. "We have the benefit of being entrepreneurial," says 53-year-old Sprecher. "It allows us to move quickly."
Credit default swaps are the new frontier for exchanges. The esoteric instruments—whose values are pegged to the performance of an underlying security or index—are essentially insurance policies if borrowers fail to make debt payments. The market for such instruments became so large and complex in recent years that some firms lost track of their deals. The government has spent months untangling the web of contracts sold by insurer AIG. (AIG) That's why industry players, at the behest of regulators, are pushing to create a more transparent exchange, not unlike those for stocks and bonds.
CUTTING THE RISK
So far, only ICE has a system up and running, with CME Group, NYSE Euronext, and Eurex planning to launch similar ventures in the coming months. In March, Sprecher started ICE Trust, a clearinghouse for credit default swaps that processes and guarantees trades between firms. If one party goes belly-up, the clearinghouse covers the losses. Such operations "remove the risk" if one firm defaults, says Kevin McPartland, an analyst for researcher Tabb Group.
Critics say ICE's trading platform has its flaws. For one, the exchange is open only to members, a group that's restricted to financial firms worth at least $5 billion. Hedge funds and smaller firms have to team up with a member if they want access. ICE Trust won't be an auction, at least initially; rather member banks will make deals among themselves. Some fear that will mean nonmembers won't necessarily get the best prices on the ICE platform.
To dominate this market, Sprecher will also have to fend off rivals. CME Group, which has joined up with hedge fund Citadel, plans to entice big banks to its exchange by cutting costs and expanding the list of traded instruments. CME says it will allow firms to trade swaps tied to the performance of indexes (like ICE) but also swaps tied to individual companies. "We are bringing to market a very comprehensive offering, much broader than you'll find in some other ventures," says Kimberly S. Taylor, a group president at CME.
Sprecher's head start is critical. Already, ICE has lured the likes of Citigroup (C), Goldman Sachs (GS), and JPMorgan Chase (JPM), which owns stakes in the venture along with six other big banks. The market could prove especially lucrative. The fees charged by exchanges for credit default swaps could reach $140 million annually. That would be a big boost for ICE, which earned $300 million last year and nabbed the No. 17 spot on the BusinessWeek 50 list of top corporate performers. Says Sprecher: "The game isn't over."
Click here for the BusinessWeek 50
Before it's here, it's on the Bloomberg Terminal.
LEARN MORE