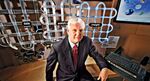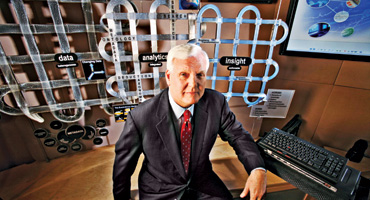 When Riswan Khalfan, chief information officer at TD Securities, set out to improve the performance of the bank's options-trading system last year, he couldn't find ready-to-use technology suitable for the job. So he agreed to let his company become a test subject for a research project at IBM (IBM) called "stream" computing. The technology, developed over half a decade by a team of 70 scientists and engineers at IBM Research, allows companies to analyze data as it's being received—rather than having to place it first in a database.
In TD Securities' case, stream computing lets it handle 5 million pieces of options trading data per second, analyze them on the fly, and make automated trading decisions. That compares with the 1 to 2 million per second rate the bank typically handles on its current trading system. "In this business, quicker decisions are better decisions," says Khalfan. "If you fall behind, you're dealing with stale data and that puts you at a disadvantage." The bank is now considering switching its entire trading system to the new technology.
Stream computing is just one part of IBM's biggest foray into business consulting since it acquired PricewaterhouseCoopers Consulting seven years ago. The company is creating a new unit, IBM Business Analytics & Optimization Services, that will advise corporations on how to better analyze data and make smarter decisions. The group's staff of 4,000 consultants will mine IBM's research and software divisions for algorithms, applications, and other innovations to do the job.
IBM's most direct rival in business analytics consulting may be Hewlett-Packard (HPQ). The Silicon Valley giant formed a business unit two years ago and fields nearly 3,000 consultants. "We respect what they're doing in this space, but we're not afraid to go head-to-head with them," says Giuliano Di Vitantonio, global marketing chief for HP's business intelligence solutions group.
IBM also faces stiff competition in the software end of the business from Oracle (ORCL) and SAP (SAP). All three companies bought business intelligence software players during the past two years and have roughly comparable capabilities. An even tougher contender for IBM is SAS Institute, a specialist in data mining. IBM can't match SAS' ability to analyze huge storehouses of corporate information. Still, IBM's consulting arm installs a large amount of SAS software for clients—so the two companies are partners as well as competitors.
BRIGHT SPOT
Competition is heating up because analytics is one of the few bright spots in an otherwise subdued technology market. Overall demand for corporate technology is expected to shrink this year, but the market research firm IDC forecasts 3.45% growth for the $23 billion market for business analytics software in 2009. The firm expects 2% growth in the $45 billion analytics consulting business.
Analytics revenues are rising because it's one of the most strategically important fields in corporate computing. Executives analyze their sales patterns so they can do a better job of targeting customers with specific products and advertising. They pick apart and modify operations to make them ever more efficient. Increasingly, they want to slice and dice data as quickly as it comes into their computing systems to make more accurate forecasts of future sales and shifting market conditions. "Now more than ever, leaders need to know what's really going on in their businesses," says IDC analyst Dan Vesset.
Creation of the new IBM unit is the first major move by Frank Kern since he took over IBM's Global Business Services division in January. He sees rich opportunity for the company to profit if it can help improve productivity in sectors such as transportation, electric utilities, and health care. "We're at the beginning of a new wave," says Kern. "We've begun to instrument the world [with sensors and other devices that collect information], but now we have to take that data and analyze it."
Before it's here, it's on the Bloomberg Terminal.
LEARN MORE