Can Intel Invest Its Way Out of its Rut?
The strategy worked beforebut with the computer market slowing and the economic outlook bleak, those days may be over
By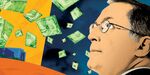 When CEO Paul S. Otellini said earlier this year that Intel (INTC) would invest $7 billion to upgrade its U.S. manufacturing plants, it looked like an example of the world's dominant chipmaker making aggressive moves while others struggled. But behind the scenes, top executives and directors were engaged in fierce debate. Though the company has a long history of investing heavily during downturns, several board members questioned whether the traditional strategy still made sense, say sources familiar with the discussions. Not only did the economy look rougher than at any time in Intel's history, but in recent years the company's huge investments haven't helped its stock.
Otellini prevailed on the investment issue. But the board extracted concessions: Directors pressed him to slash expenses, with 6,000 layoffs and the closing of several aging factories. Merit payouts were eliminated. And the compensation committee, led by former Federal Communications Commission Chairman Reed Hundt, tied executive pay to stock market performance more tightly than ever before. Base salaries have been frozen, and other compensationplus or minus—stock options and grants that often total 10 times salary—will be determined by how Intel shares do relative to a basket of peers'. The moves "are intended to focus employees at this critical inflection point on creating sustained increases in our stock price," Hundt's committee wrote in the company's proxy statement.
Otellini may have a tough time claiming all his money. Intel is still far and away the preeminent maker of the chips powering PCs, with a market share of 82%—near its all-time high. The company also has a new family of more sophisticated chips that is winning converts, from Apple (AAPL) and Cisco Systems (CSCO) to General Electric (GE). But investors are unimpressed. The company's stock has dropped nearly 40% over the past five years as big institutions such as Fidelity Investments, T. Rowe Price (TROW), HSBC Holdings (HBC), and BlackRock (BLK) dumped the majority of their holdings. "Intel is kind of stuck in limbo," says David Eiswert, a portfolio manager with T. Rowe Price.
Their concerns were fueled by Intel's first-quarter earnings report on Apr. 14. Although Otellini called a bottom in PC demand, Intel's net income tumbled 55% and he declined to provide revenue guidance for the year.
The question for investors is the same one Otellini and his board tangled over: Can Intel still afford to lead the technology industry the way it has in the past? For decades, Intel poured billions into its plants to crank out ever-more-powerful microprocessors. Customers scrambled to get PCs with the latest chips as soon as they came out, paying a premium that boosted Intel's profits so it could start the investment cycle all over again.
But few customers focus on chip speeds anymore. They're fast enough. At the same time, PC sales are slowing. Intel's virtuous circle looks as if it could break down. Revenues last year, at $37.6 billion, were about the same level as in 2005. Last year's net income, at $5.3 billion, was 40% lower than four years earlier. Investors openly question whether it's time for Intel to ease up on its capital investments. "This company is at the stage where people are wondering what the growth potential is," says analyst Uche Orji of UBS (UBS).
Otellini has no interest in slowing down. Instead, he's intent on reviving sales in Intel's core PC business while guiding the company into brand-new growth markets. He sees a promising opportunity to diversify with a new family of chips called Atom for any gadget that needs processing power and access to the Internet, from a Web-connected television to a cash register at Wal-Mart (WMT) that accesses current prices and offers shoppers customized coupons. Such businesses could add $10 billion to Intel's sales by 2011, he says. "[Atom is] an entry vehicle to be able to use the best of our technology to go into new markets," Otellini says.
ONCE BITTEN
Many large investors are skeptical because they've been burned by Intel's diversification plans before. The company spent tens of billions in the late 1990s trying to push into new markets during the heady dot-com years, only to write off most of the investments after the bust. Then in late 2003, it allowed rival Advanced Micro Devices (AMD) to get the jump on Intel's main profit engine, the lucrative corporate server market, with energy-efficient, high-performance chips that customers loved. Intel clawed its way back two years later. But investors point out it had only AMD to beat amid a massive jump in demand from China, India, and other developing economies.
Today Intel faces headwinds from a weak global economy, and in the growth businesses it's targeting, a slew of deep-pocketed, seasoned incumbents including Qualcomm (QCOM), Texas Instruments (TXN), and Nvidia (NVDA). The big clash will be over new types of mobile-computing devices, from advanced cell phones to inexpensive netbooks to just-emerging products in between. This market could be twice as big as the traditional PC market.
Qualcomm and others are using a rival chip architecture, created by a company called ARM Holdings, that can run all day without draining a device's battery life, unlike Intel's chips. The rivals are also courting Microsoft (MSFT) and other developers to create consumer-friendly software that runs on their chips before Intel can strike. Eiswert at T. Rowe Price says the sheer number of competitors presents a challenge: "It's all of them against Intel."
Intel needs to make heavy investments so that Atom can become as energy-efficient as those from the ARM camp by next year. Without lower-power chips, Intel may well see device makers turn to competitors. "It's a race right now to see who will get there first," says Qualcomm CEO Paul E. Jacobs.
C-SUITE CHANGES
Intel's board is making Otellini and his team stake much of their pay on success. This year, the top 21 executives received "outperformance stock units," in place of their usual stock options and restricted stock. The value of the units, which vest over three years, will be pegged to how Intel's stock performs relative to the 15 tech companies in the S&P 100 index, including IBM (IBM), Hewlett-Packard (HPQ), and Microsoft. It's not just this year's pay on the line either. Otellini holds options on 5.6 million Intel shares, from grants dating back to 1999. All of them are under water.
The CEO and his team face more independent board oversight, too. In January, Jane E. Shaw, 69, a former pharmaceutical executive, was named to take over as chairman next month from Craig Barrett, the former Intel CEO. It will be the first time that an outsider has taken that role. Shaw, Hundt, and other board members declined requests for interviews.
Yet the company's executives have a clear view of their long-term goal. In January, at the chipmaker's annual gathering of its sales team at the Venetian Resort Hotel Casino in Las Vegas, Executive Vice-President Sean M. Maloney, who heads sales and marketing, told employees Intel was not insulated "from the mother of all downturns." But Intel's risk-taking, he said, has paid off with world-changing technologies. "The worst thing for us to do is avoid experimenting, trying new stuff to expand the market," Maloney says.
With Peter Burrows
Before it's here, it's on the Bloomberg Terminal.
LEARN MORE