The Fragile Flight of the Twitterlings
A flock of new companies are benefiting from the startup's rapid growth, some generating decent revenue; might Twitter opt to clip their wings?
By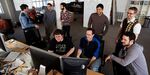 Twitter executives don't disclose much about their plans to make money from the microblogging site. But that's not stopping scores of other companies trying to build their own businesses on the back of the increasingly popular communication tool. Take Tweetie, whose downloadable software makes Twitter available on Apple's (AAPL) iPhone. Sales of the $2.99 application have been climbing "exponentially," says developer Loren Brichter.