The Fragile Flight of the Twitterlings
A flock of new companies are benefiting from the startup's rapid growth, some generating decent revenue; might Twitter opt to clip their wings?
by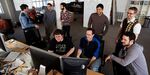 Twitter executives don't disclose much about their plans to make money from the microblogging site. But that's not stopping scores of other companies trying to build their own businesses on the back of the increasingly popular communication tool. Take Tweetie, whose downloadable software makes Twitter available on Apple's (AAPL) iPhone. Sales of the $2.99 application have been climbing "exponentially," says developer Loren Brichter.
Twitter has inspired the creation of hundreds of third-party products and services, Twitterlings that make up a vibrant ecosystem reminiscent of those growing up around other devices and tools such as the iPhone and social network Facebook. San Francisco-based Twitter makes its code available to outside developers, who in turn use that knowhow to build tools that help people search, organize, or otherwise make better use of the millions of brief messages known as tweets sent over Twitter each day. "It's a symbiotic relationship," says Boris Veldhuijzen van Zanten, who created a site for Twitter analytics.
A variety of business models are emerging among these Twitterlings. Some, like multimedia-upload site Twitpic, rely on ads; others, like TwitterHawk, charge fees for information about potential customers on Twitter. Among 18 app developers contacted by BusinessWeek, almost half said they were drawing significant revenue. Almost all said they were still experimenting with different models.
Suddenly, Obsolete or Impossible to Find
While alluring, Twitterpreneurship carries risks. The site's sporadic service outages can hurt a company's reputation, and changes to its coding platform can have adverse effects on tools. With no notice, Twitter itself could replicate features found on some apps, rendering them obsolete. And the looming prospect of Twitter's acquisition by a larger Internet player with a different strategy further complicates any developer's long-term plans. "What happens when you wake up one morning and your application doesn't work anymore?" asks Oren Michels, founder of Mashery, an infrastructure provider that helps companies, including Best Buy (BBY) and the New York Times Co. (NYT), open their own platforms to third-party developers.
Makers of Facebook-related tools and apps have learned the hard way the risks of hitching one's fortune too closely to a fast-rising social media property. Many third-party developers were left in the lurch last year when Facebook design changes relegated outside apps, or widgets, to harder-to-find locations on the site.
Few third-party Twitter developers need to invest in expensive technology like servers, but their sites suffer when Twitter's own servers get bogged down by the many millions of messages posted to the site each day. "One of the big challenges we face is when Twitter is slow or goes down," says Misty Lackie, CEO of Go Smart Solutions. Her Twitbacks service offers free custom backgrounds for Twitter profiles. "When this happens, our users can't post their backgrounds and oftentimes assume it is an issue on our end," she adds.
Some Twitter offshoots may ultimately find themselves vying with Twitter. "There is already an element of competition from Twitter as it improves Twitter.com," says Iain Dodsworth, the creator of Tweetdeck, a tool that lets users view and send tweets from the desktop. In December, Twitter CEO Evan Williams said at an event that the company is working on adding the ability to sort friends into groups, a feature available on Tweetdeck.
A Delicate Balance
As Twitter seeks to create its own revenue, it's likely to replicate the features of many third-party apps. At the same time, company executives will need to avoid rankling users already comfortable with a particular set of tools. "Because the ecosystem that has grown around Twitter is so integral to our own success, we are sensitive to how we interact within it," says Twitter co-founder Biz Stone.
The company's founders have dropped hints at incorporating tools to help marketers reach potential customers, an addition that might threaten the need for third-party marketing app TwitterHawk. The site helps marketers identify Twitter users who are discussing products like theirs and who are located in close proximity to their businesses. "Of course there is the potential that they will provide a similar service to Twitterhawk, which will almost certainly mean the end for [the application]," says TwitterHawk founder Chris Duell.
The prospect Twitter might make a rival app is one reason Dodsworth and others are attempting to broaden the appeal of their own services. In March, he announced a new feature that lets Tweetdeck users view the status messages of their friends on Facebook side by side with Twitter messages. Dodsworth hopes that integrating activities from many different Web sites will help his product stand out from others and survive.
"We benefit from the amazing growth of Twitter but aren't dependent on them," says Abby Kirigin, who founded Tipjoy, a service that lets users quickly transfer money from an online account to a friend, company, or charity by posting a message to Twitter using a simple code. Tipjoy users can also include these codes in e-mail messages and potentially a range of other sites; indeed, Tipjoy has opened up its own software platform for other developers to manipulate. By taking a 3% fee every time someone cashes out, Kirigin expects to turn a profit this year.
Go Smart Solutions CEO Lackie points out that the popularity of her Twitter app Twitbacks has led to increased interest in her company's other services, which include e-mail and classified advertising tools.
The Acquisition Angle
Some developers aim to create a product so unique that it would be difficult for Twitter to copy. One example is Twitscoop, a site that harvests the most popular topics appearing on Twitter at any given moment, such as "earthquake" or "American Idol." "Twitscoop's value lies in its algorithm, and we are confident this is a decent barrier to entry," says Philippe Breuils, who co-founded Lollicode, the company behind Twitscoop. Summize, the Twitter-based search engine created by startup incubator Betaworks, was so unique that Twitter acquired it last July.
But what if Twitter itself were acquired? In November, Twitter rejected a buyout offer from Facebook; in recent weeks, both Google (GOOG) and Microsoft (MSFT) have been reported to be in discussions with the startup. Reports say these negotiations have centered on product partnerships, but Twitter remains a potential target for these and other large Internet companies.
New owners may have different plans for businesses bought previously. "If you look at Google or Microsoft as possible acquirers, they each have their own objectives," says Josh Bernoff, principal analyst for Forrester Research (FORR). "Any startup whose business is contrary to those objectives may find themselves left out." Bernoff believes Microsoft would be inclined to build its own message browsers that might fill the need of applications like Tweetdeck. On the other hand, a Google acquisition would probably mean search-related Twitter apps would have more competition, says Bernoff.
Still, potential buyers might see in this development community a base of potential customers for their own services, says Mashery's Michels. For example, Google might pitch Twitter developers the tools offered in its App Engine, a hosting platform for Web services.
Whatever Twitter's eventual fate, building a business on its back involves some degree of risk. Says Michels: "Ultimately, Twitter exists to make money for Twitter."
Before it's here, it's on the Bloomberg Terminal.
LEARN MORE