Acer Boss Lanci Takes Aim at Dell and HP
With new netbooks, laptops, desktops, and, yes, a smartphone, Acer CEO Gianfranco Lanci explains why he expects to soon overtake No. 2 PC maker Dell
by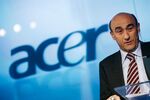 Asian companies looking to rev up their performance by bringing in a Western boss don't have the best track record. Carlos Ghosn made some headway fixing Nissan (NSANY), but the Brazilian has never managed to close the gap between Japan's No. 3 automaker and its better-performing rivals Toyota (TM) and Honda (HMC). After buying IBM's (IBM) PC division, Chinese computer maker Lenovo poached William J. Amelio from Dell (DELL) to make the company more global, but he lasted barely three years before leaving in February. And Sony (SNE) CEO Sir Howard Stringer certainly hasn't had much luck righting all the wrongs at the Japanese consumer electronics giant.
As an Italian at the helm of a Taiwanese company, Acer Chief Executive Gianfranco Lanci, 54, is also an outsider. But so far the former Texas Instruments (TXN) executive has a much better shot at success. Acer has become the world's No. 3 computer maker by market share, thanks largely to Lanci's focus on low-cost portable PCs, and the company is now closing in on leaders Hewlett-Packard (HPQ) and Dell. The Turin-born engineer, who splits his time between Milan and Taipei, says being the first European to run Taiwan's premier electronics group isn't as difficult as you might think. "It's a global market," says Lanci. "To run a company in any region of the world, in the end you use the same logic and the same rules everywhere."
Lanci certainly seems to have mastered them. Acer is the industry leader in netbooks, the tiny laptops that many companies have rolled out in the past year. By moving faster in netbooks than rivals, Acer gained ground in a hot segment at a time when the PC business was otherwise tanking. The company's stock price is up 40% so far this year. Now Lanci is making his next move. On Apr. 7, the company unveiled a range of new computers, both laptops and desktops under the Acer name as well as the Gateway and Packard Bell brands that the company acquired two years ago. Acer also has a compact new desktop and, with an eye toward Apple (AAPL) and the iPhone, Lanci is launching a line of smartphones. He recently spoke with Bruce Einhorn, BusinessWeek's Asia regional editor, about the company's strategy. Edited excerpts of their conversation follow:
With the new products, will Acer soon pass Dell for the No. 2 spot globally?
I think it's going to happen. With the new announcement, we will probably be six months ahead of most of the competition. When we say something, we make it happen.
How do you respond to people who say the focus on market share is misguided, since profits are more important than top-line growth?
We are always looking at profitable growth. In this industry, without growing market share, in most cases you cannot grow and if you cannot grow you cannot be profitable.
If you want to grow, you need to grow your market share.
But how can you do that with so many of your most important markets in recession?
Our main focus since the beginning has been mobile—and mobile is a segment that will continue to grow even during the downturn. The desktop sector is showing negative growth. Being strong in mobile (we're No. 2) gives us another big opportunity for growth.
Acer has done well with netbooks, but how much more can you get from them?
The only part [of the market] still growing today is netbooks. The netbook is perceived in some cases as a low-end notebook. In our opinion, it will be a device that allows you to be always connected, anytime and anywhere. Rather than an entry-level notebook, it will really become a device if you want to be always connected, so the category will be even more important in the future. When you think about always connected, you need very good communication: Wi-Fi, WiMAX, or 3G. You need very low power consumption to work all day; if you want to be always connected, you need something that is working at least 8 to 10 hours. You need something really portable, in the range of 1 kilo. And you need multimedia capability.
Skeptics at Microsoft (MSFT) believe the netbook may just be a passing fad.
I know Microsoft's position, but look at the success of netbooks today, with 20 million to 25 million sold worldwide. That's much better than predictions of a year ago when it was said to be a niche segment.
What about smartphones?
We will have a full range of [smartphones], seven or eight products between the second and third quarters. When you think about being always connected, notebooks and netbooks are one end, and we need to think about smartphones [at the other].
Is there any future in desktops?
We are working on a game console, a new desktop solution—a very small desktop that with other solutions can allow you to play games with good performance. A lot of people are talking about the desktop dying. We don't think so; it's just changing the profile to a smaller form factor.
Some people complain that Acer, with its focus on lower-cost computers, is driving down average selling prices (ASPs) and ruining the PC business for everybody.
I don't think we did anything special helping the industry to lower ASPs. If you take a history of the industry over the last 20 years, we have never seen ASPs going up, just going down by 5% to 10% year after year. It's part of this industry; if it's not Acer, then it's somebody else. Even when Dell was starting with direct sales, they were driving ASPs down. It's the natural evolution of the market.
Acer has long struggled in the U.S., something the 2007 Gateway deal was supposed to address. Do you think you've finally turned things around?
In the U.S. today we are a solid No. 3. Look at the success of netbooks; they're even more successful [there] than other regions. We will continue to see good growth in the U.S., with the introduction of a new Acer line, new Gateway lines.
It's one thing to be the low-cost player when the economy is booming, but how do you keep that up in a recession?
Others are trying to cut costs, but we have always been careful not to build up too fast, so our need to cut costs is much lower than everyone else. We didn't announce big layoffs or restructuring. We have a competitive advantage because we don't need to adjust ourselves to the new environment; we have always operated on the assumption that costs need to be kept under control. It's a kind of overall culture we have in the company. If you are used to it, you can run low costs without running into trouble.
How?
The business model in our case is different: We focus 100% on indirect sales, while today most of the people are running direct and indirect at the same time. If you run direct and indirect, you need different setups; by definition, you add costs. We also focus only on consumers and [small and midsize businesses]. We never said we wanted to address [the] enterprise [segment]. This is another big difference.
But won't others now cut into your advantage by making big cuts?
The entire model is totally different. Of course they can change, but to change the culture of a company can take two to three years.
What do you think about Microsoft's newest operating system, Windows 7?
We see a lot of good things in Windows 7, no doubt. The comparison between [Google's (GOOG) Android operating system] and Windows becomes more interesting in mobile. Microsoft needs to bring into Windows Mobile most of the same solutions they have today in Windows 7. Windows 7 in my opinion is a big improvement; it is really going to help the industry to regain growth.
A few years ago you were rumored to be ready to take the top job at Hewlett-Packard. Any regrets that you said no?
The rumors, I don't know where they come from. In this industry, there is always some turbulence. Maybe they wanted me, but I never thought of joining another company.
Before it's here, it's on the Bloomberg Terminal.
LEARN MORE