The Ballparks Are Getting Greener
Stadiums are making modest eco-friendly movesmostly for image, but still
Mark Hyman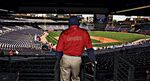 When the Atlanta Braves play home games this season, about 2,000 parking attendants, ticket takers, and food vendors at Turner Field will be decked out in shirts with Atlanta Braves patches on the chest. That's standard work attire at a big-league ballpark. What's not so standard is what the shirts were made of: about 50% recycled soda bottles.
The eco-friendly gambit, suggested by team sponsor Coca-Cola (KO), won't exactly halt global warming. But it will keep 10,000 or more containers out of landfills—it takes five bottles to make one shirt—without sacrificing comfort or style. Says Braves marketing executive Derek Schiller: "They wear just like a normal shirt. You'd never know they were made from plastic bottles."
Green, as in outfield grass—not to mention luxuriant player salaries—has long been the dominant color of Major League Baseball. But this year more than ever before, green also speaks to the way its 30 franchises are doing business. Eco-friendly programs will be playing at most ballparks: waterless urinals at the New York Mets' new Citi Field, free parking for carpoolers at Tampa Bay Rays games in St. Petersburg, and energy-efficient bulbs lighting the night at the new Yankee Stadium. The wattage saved by those bulbs could power 75 homes for a year.
The programs certainly help to burnish MLB's image. But green initiatives are also luring corporate sponsors—no small thing at a time when pro franchises are struggling to hold on to marketing dollars.
In Boston, the Red Sox hooked Poland Spring (NSRGY) as sponsor of the Green Team, volunteers wearing company T-shirts and caps who fan out through the stands during games to collect plastic recyclables. In San Francisco, Pacific Gas & Electric (PCG) helped pay for a new dining option for socially responsible fans: a green concession stand. Utensils, plates, and napkins are biodegradable; lights come from compact fluorescent bulbs; and the signature garlic fries sizzle in energy-efficient fryers. The team plans to convert more stands as old equipment wears out.
Baseball's green push began in earnest two years ago, when MLB aligned with the Natural Resources Defense Council, an environmental group that also advises other pro sports leagues. Ever since, the NRDC has functioned as a sort of green conscience, nudging the leagues to buy recycled paper, avoid harsh chemicals on their fields, and insist that concessionaires move to biodegradable cups.
Allen Hershkowitz, a senior scientist at the NRDC, says MLB and the National Basketball Assn. lead the way in going green. "Are they there yet? No. But I wish most businesses in this country were as attentive to this as baseball and basketball," he says.
One goal, he says, is to change energy consumption at MLB ballparks. Fossil fuels now account for 70% of the electricity used—hydro and nuclear provide almost all the rest—a figure he believes can be cut in half by developing sources such as solar and wind. To date, four parks—in Boston, Cleveland, Denver, and San Francisco—have limited solar installations. Although the symbolism is important, none is a major power source or even a money saver.
Hershkowitz dreams of much larger eco-friendly partnerships between teams and their sponsors. In the future, the scientist predicts, even naming rights deals will go green. He has the terms all worked out: "We put your name on the stadium, you put solar panels and waterless urinals in the stadium." Now it's just a question of someone going to bat.
Before it's here, it's on the Bloomberg Terminal.
LEARN MORE