Obama Should Assemble a Super Team
Ram Charan proposes an interagency group of top minds to share data and ideas to get through this crisis
Ram Charan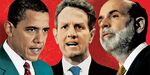 Even though President Barack Obama has been in office just three months, his policies are already bearing fruit, despite unprecedented systemic problems. While gross domestic product will still be negative for some time, the rate of deterioration is slowing. Things will begin to stabilize, albeit at a lower rate than before the crisis, by early next year.
We're not out of danger yet: Serious problems could still erupt in insurance, commercial real estate, or credit cards. But their impact will be lessened by the remedies now being put in place. Here are some positive points to consider.
• Consumption is slowly returning. Although it will find a new normal level below the pre-crisis number of 71% of GDP, this renewed consumption will put a floor under the economic decline.
• Toxic assets are being flushed from the financial system. The "notional value" of credit default swap contracts worldwide is about half what it was in 2007. The unwinding of these contracts is set to begin soon. It will ungum the flow of credit among financial institutions and speed up the recovery.
• Housing is still a problem. However, mortgage rates are down, the U.S. population is still increasing, and stimulus programs are aiming to get and keep people in houses. As the value of residential property firms up, the banks' collateral will strengthen.
• Obama is imposing necessary discipline on the domestic auto industry by forcing Chrysler and General Motors (GM) to restructure radically before they receive more funds. The carrot-and-stick approach is bringing management, unions, creditors, and suppliers together to find a better resolution than a bankruptcy judge might. This approach will save jobs. And since autos were, until the recession, the second-largest source of the trade deficit, the impact of this restructuring on trade will be positive. Treasury Secretary Timothy F. Geithner will impose a similar level of discipline on the banks as he puts them through their stress tests.
LEADING THE LEADERS
Obama, Geithner, and Federal Reserve Chairman Ben Bernanke have been pragmatic and decisive. Their programs are acting in a connected, effective manner to shore up the balance sheet of the financial system. This is not a move toward socialism, as some are suggesting. It's necessary medicine.
But the President needs to assert more leadership to solidify his gains. As chief executive of the financial system and economy, he must integrate the traditionally fragmented government segments that have generated a piecemeal response to problems. His job is not to become expert in all things, but to lead the leaders, integrate many good minds, and create holistic solutions. In this role he must stress coordination, accountability, and transparency.
Just as September 11 led to the creation of the Homeland Security Dept. to bring together experts in intelligence and law enforcement, this crisis requires a new mechanism to launch a coordinated response. So Obama should convene at Camp David with utmost urgency a meeting of his top advisers and others who can help chart a course in these stormy waters. And he should convene the meeting every quarter—or even every month.
ELITE RETREATS
The Camp David group must be small enough to be effective and large enough to encompass the breadth of government. The Camp David 10 might include Geithner, Bernanke, Securities & Exchange Commission Chairwoman Mary L. Schapiro, Office of Management & Budget Director Peter R. Orszag, Economic Recovery Advisory Panel Chairman Paul A. Volcker, Council of Economic Advisers head Christina Romer, White House economic adviser Lawrence H. Summers, Commerce Secretary Gary F. Locke, Senate Banking Committee Chairman Christopher J. Dodd, and House Financial Services Committee Chairman Barney Frank.
Obama needs to use his political talent to engage these experts in spirited, simultaneous dialogue that produces five or six coordinated, workable projects to keep moving the country forward.
He must make the purpose of the Camp David meetings clear at the outset: to take on hitherto unchallenged assumptions, brainstorm alternative combinations of actions, and think through the first, second, and third order of unintended consequences of each option. Without killing some sacred cows, the system cannot be corrected.
At these mini-summits, Obama must shape these 10 or so policymakers into a working group that shares information and ideas and makes trade-offs. Participants should be responsible for the quality of information they bring. Some of the ways we gather data are more than a half-century old. Information must instead be relevant and capture what's happening.
Coordination will help us find solutions. Accountability will build confidence in proposed solutions. Voters should see the content of the total Administration package, complete with specific goals, priorities, and milestones for each policymaker on a quarterly basis. Transparency helps accountability. Give people the facts in plain language, and use the Internet to disperse them.
An online scorecard for gauging progress might include:
• Lending by the 19 largest institutions as a group, by month. Without using banks' names or jargon, officials should state where lending has occurred.
• A monthly report on the release of funds into the bank rescue package.
• Clear statements of unemployment and underemployment by state. Even though joblessness is likely to increase, better statistics would provide a basis by which to measure progress.
• Simple indicators showing progress in removing toxic assets from the system. So far we get only wild estimates.
• Simple, monthly measures of progress in housing.
• Monthly reports on credit flows among banking institutions. Insufficient flow is a big cause of the crisis.
And what about Obama? He should be held accountable for those 3.5 million jobs he has pledged to create. His Camp David team should show what kinds of jobs will be created, what agencies will play a role, and how involved individual states will be as partners in job creation.
Obama should also ponder how best to prevent future calamities. The time has come to reorganize the dinosaur government departments that oversee the financial system and the economy. Is there a better way to integrate what is now eight or 10 discrete purviews? Can we increase expertise better to handle these wide-ranging problems?
Two ideas come to mind. One is to sponsor an annual contest open to all to write the most insightful 3,000- to 5,000-word essay on what financial risks the nation faces in the future. This exercise would put the subject of risk front and center and keep business, banks, and think tanks on the alert about the financial system we live in.
We should also groom a next generation of policymakers who have broader experience. Obama might consider a formal program for future policymakers to work in at least three key agencies (the Fed, the SEC, and the Treasury, for example) as well as private enterprise.
We are on the road to recovery. The President's persistence will make the nation stronger in the end.
Before it's here, it's on the Bloomberg Terminal.
LEARN MORE