Jack Bogle's Last Crusade?
The mutual fund pioneer is pushing for an overhaul of the retirement-savings system
By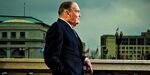 It's only 7 a.m., but John C. Bogle, 79, is already throwing elbows. He's impatiently boarding the Amtrak Acela in Philadelphia en route to Washington, where he's giving a lunchtime talk to a group of investment advisers. Today's speech is just the latest in a career-long campaign, on behalf of small investors, to wrest the financial system from overpaid financial middlemen. It's a quest he began even before he founded Vanguard Group, a pioneer in low-fee mutual funds, in 1974.
Bogle slowly takes his seat on the train, then contorts his arthritic hands to push the recline button. After taking a pull from his coffee, he ticks off some grim statistics: U.S. family wealth plummeted 18% last year, the most since the 1930s; $9 trillion in stock market value has vanished since 2007; the Dow Jones industrial average touched 6500 in March, a level not seen since Bill Clinton's second inauguration. And yet (and yet!) the financial services industry took home some $500 billion in fees last year. "What the hell for?" he thunders. "If they looked after other people's money with the same care they look after their own, we wouldn't have to be bailing out banks."
Bogle's latest mission may be his most ambitious yet: to persuade regulators to overhaul the U.S. retirement-savings system by simplifying account options, clamping down on fees, and making risk more understandable. It also might be his last. Bogle tells BusinessWeek his body has started to reject his 13-year-old transplanted heart. The attack, which began last summer, has landed him in the hospital on four separate occasions. Not that he's looking for sympathy. "I'm not introspective about my health, nor do I live in fear of dying," he says. "Your life expectancy is not enormous when you're 80."
Surely no one would begrudge Jack Bogle, who created the world's first "index" mutual fund in 1975 and retired from Vanguard a decade ago, the right to take it easy. But he won't hear of it. Much to the consternation of Eve, his wife of 52 years (who declined to comment for this story), Bogle spent seven hours a day during hospital stays last summer editing his seventh book, Enough: True Measures of Money, Business, and Life. In May he's bringing out a new edition of his 1999 best seller, Common Sense on Mutual Funds, and he has accepted at least eight speaking invitations between now and then. He's also making regular rounds on TV. "I need to be out here doing this," he says. "I'm a worker by temperament."
"It's a calling," says Jeffrey A. Sonnenfeld, a professor at the Yale School of Management. "He is the country preacher of finance. Henry Fonda would have played Jack Bogle in the movie."
THE GADFLY GENE
As the train reaches cruising speed, Bogle's rhetoric heats up. The financial system, he charges, is too far skewed toward Wall Street and money management firms. At the same time, he says, individual investors have far too much freedom to make ruinous decisions with their retirement accounts.
So how would he fix things? Bogle proposes the creation of a federal retirement board to simplify and clarify the retirement-savings process. The board would oversee a new kind of defined-contribution account to replace the salad bowl of options—401(k), IRA, Roth IRA, Roth 401(k), 403(b)—that currently confront and confound investors. It would also monitor savers' investment choices to help them determine just how much risk they can tolerate and would emphasize low-fee mutual funds over pricier ones. Just as important, Bogle is urging Washington to require retirement plan providers—and all money managers, for that matter—to meet basic client protection standards. He wants fuller and clearer disclosures of all potential conflicts of interest and any other information that might affect investing decisions.
If there's a gadfly gene, it runs in Bogle's family. Way back in 1868, his great-grandfather, Philander Banister Armstrong, needled his fellow insurance executives. "Gentlemen, lower your costs!" he challenged in a speech. In 1917, Armstrong, whom Bogle calls his "spiritual progenitor," published a 258-page diatribe called A License to Steal: How the Life Insurance Industry Robs Our Own People of Billions.
Bogle trained his skeptical eye on the financial markets from an early age, becoming especially dubious of star stockpickers. His 1951 senior thesis at Princeton argued that the typical mutual fund "can make no claim of superiority over the market averages." Right he was: Just 22 of the original 355 equity funds he tracked have consistently beaten the Standard & Poor's 500-stock index. (Some 237 have been shuttered.)
After college, Bogle took a job at Wellington Management, where he ascended to the top job in 1967 before being pushed out by rivals in the early 1970s. Convinced that no one could beat the market consistently, he founded Vanguard to offer the world's first index fund, which mimicked the S&P 500. The Vanguard 500 (VFINX) fund charged a fee of just 0.46%, compared with the typical 1.31% at the time. (Now the fee is just 0.12%.) The company took off; by the time Bogle retired in 1999, Vanguard's assets under management had swelled to $500 billion, the second-largest in the industry. "You have to admire a guy who is the ultimate example of doing well—but not as well as he could—by doing good," says Clifford S. Asness, founder and managing principal of $20 billion hedge fund shop AQR Capital Management, which has been cutting fees after a disappointing year.
Bogle's "relentless rules of humble arithmetic" seem irrefutable in an age of diminished returns. A dollar invested over 50 years at an 8% annual return compounds to $47. But dock two percentage points for expense ratios and transaction costs, and you're down to $18. Back out another three points for inflation, and you're at just under $4.
High fees are especially distasteful to Bogle because, in his view, they pay for such little expertise. He takes special aim at the supposedly brilliant mutual fund managers who should've seen the bank stock wreck coming but didn't. "Where the hell were the funds' security analysts?" he asks. Well-paid mutual funds spent massive sums on in-house research operations, only to miss the meltdown completely. "They say they couldn't understand the balance sheet. Then why did they buy the stock?"
Of course, some managers did avoid bank stocks or sold before they blew up. There's a powerful counterargument to Bogle's index-funds-beat-all dogma: Because they're passive by nature, index funds have no choice but to hold (and ride all the way down) the likes of Fannie Mae (FNM), Freddie Mac (FRE), AIG, Bear, Lehman, and Citigroup (C). In contrast, Tom Forester, manager of the $68 million Forester Value Fund, eked out a small gain last year, largely by avoiding bank stocks. (The S&P plunged 39%.) Bogle concedes that in times of crisis, the passive approach can be dangerous. "The indexers are the ultimate holders," he says. "They can't sell."
Instead, they should flex more of the muscle they do have, says Bogle. Each spring shareholders vote on corporate directors, an exercise known as "proxy season" because fund managers vote on behalf of their fundholders. Bogle says too many index managers serve as rubber stamps for boards. He proposes they raise their fees a smidge to pay for more due diligence and monitoring. Such an effort, he says, might have influenced the boards of Citigroup and AIG. "There's been a lack of independence by fund managers, who too often thought the SEC would do their job for them," says Mason Snyder, co-head of Catalina Partners, a Newport Beach (Calif.) institutional risk adviser.
"OUR SYSTEM HAS FAILED"
During the speech in Washington before the Investment Advisor's Compliance Summit on Mar. 13, Bogle sounds a familiar theme: "Once a profession in which business was subservient, the field of money management has largely become a business in which the profession is subservient."
He's received warmly, and after the speech he's accosted for photos and autographs. "I keep hoping I get the attention of the Obama Administration," he says, ducking into a cab to make his way back to the train station. "This is the most troubling economy and the worst bear market I've ever seen....Our system has failed."
Now, Bogle is hell-bent on catching the 3 p.m. Acela back to Philly. Eve wants him home in time for dinner. "She's not particularly smitten when I'm out here," he says, conceding that he was in the hospital an average of 16 days four times last year. "But my heart—whatever health it's in—this is where it's at."
Before it's here, it's on the Bloomberg Terminal.
LEARN MORE