How the BlackBerry Duo Plans to Stay in Motion
Research in Motion's co-CEOs Mike Lazaridis and Jim Balsillie talk with BusinessWeek about how to keep an edge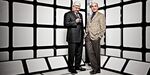 If any company would seem immune to the global economic downturn, it would be Research in Motion (RIMM), the maker of the business executive's favorite tool/toy, the BlackBerry. Indeed, sales of the smartphone nearly doubled by volume in 2008. Yet even RIM has been knocked down a peg. Greatly outpacing BlackBerry's growth, Apple (AAPL) iPhone sales leaped 245%, which enabled RIM's archrival to grab more of the market for high-end mobile devices. RIM's shares are down two-thirds in value from their 52-week high, to 49.
On a blustery spring day, co-CEOs Mike Lazaridis and Jim Balsillie, each 48, took turns in RIM's head office in Waterloo, Ontario, to talk with BusinessWeek's Reena Jana. Here are some highlights of their conversations:
BusinessWeek: There must be challenges as consumers curb spending during the recession, and as competition from Apple, Nokia, and others remains fierce.
JIM BALSILLIE: For today's youth, though, their mobile phones are the last thing they want to give up. This is where young people spend their money. We think BlackBerrys will become where they bank and do social networking. It will become a personal TV by yearend.
RIM has survived—and even flourished—during recessions since Mike founded the company in 1984. How?
MIKE LAZARIDIS: The key is to prepare for growth. Otherwise, you won't grow. Or you will fail when you grow. We put in SAP (SAP) software to manage the business in 1999 and 2000. People thought we were silly and imprudent planning for growth then. But it's easier to prepare for growth when you are small rather than when big.
Are there are other lessons that other companies can learn from?
JB: It's important to build strong and stable balance sheets when you are in a dynamic sector and have dynamic product cycles. The role of the balance sheet is to attenuate, not amplify, risks. And it's important to stay true to your plans and beliefs and build capacity responsibly while adapting to the new context.
Some wireless-industry trackers say the market might be saturated. What other markets look promising?
JB: Health care. I don't bring this up as a philosophical discussion. It's real. It is big dollars. There's a big need. Health care requires quick collaboration to lower errors, as well as lots of security for patient and hospital records. BlackBerry already offers all of this.
So where do you go next in this arena?
JB: We'll look at how we work with hospital voice systems and unified communications, with companies such as Cisco (CSCO) and IBM (IBM), which are already in this space. We will see how we can work with the GEs (GE), companies that supply health-care equipment.
What to do you make of the rivalry between your BlackBerry App World and Apple's iPhone app store—as well as forthcoming offerings from other companies?
ML: You've been able to purchase apps for BlackBerry since we went to Java! What we're seeing is the world has realized the value of putting them all in one place. So we did.
It's clear that RIM is focusing more and more on the consumer market. But what about your lesser-known business of creating industry-specific applications?
JB: We can play B2C as well as B2B, as well as work with governments. We're working with insurance companies and banks. In my view, it all turns into a blur. We have nearly 200,000 servers and 475 carriers. We're not just about devices. But about active relationships with content ecosystems.
RIM is known for having a culture that values teamwork, even in the CEO office. How do you build and maintain creative teams that weather tough times?
ML: Having checks and balances is important. You need people to say: "No, I don't think so."
Is there more to it than that?
ML: When we've opened offices in other places, we looked at other companies that are downsizing groups or divisions or offices. This way we were able to evaluate whole staffs who were already integrated and were friends. It was easy for us to analyze whether these existing teams could work well with us.
Return to the IN: Inside Innovation Table of Contents
Before it's here, it's on the Bloomberg Terminal.
LEARN MORE