ACE Grows on AIG's Woes
Evan Greenberg, who was once in line to succeed his father at the helm of AIG, is now profiting from that company's woes as head of ACE
Nanette Byrnes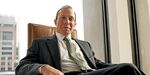 If anyone is sure to have mixed emotions over the fate of American International Group (AIG), it's Evan G. Greenberg. He spent 25 years at the company and was considered heir apparent to his father, Maurice "Hank" Greenberg, the former CEO, before leaving in 2000. He saw his father lose more than $2 billion from AIG's stock drop in the past year. But it turns out that AIG's misfortunes have been a boon for Greenberg's business. As CEO of Zurich insurer ACE, the junior Greenberg has scooped up coveted AIG veterans and wooed AIG's customers. "I would put ACE at the top of the list of companies benefiting from AIG's woes," says analyst Cliff Gallant of Keefe, Bruyette & Woods (KBW).
Once the wild child of the Greenberg dynasty—brother Jeffrey ran brokerage Marsh & McLennan (MMC) until 2004—Evan is fast becoming a new titan of insurance. ACE saw premium income jump more than 7% last year, to $13.2 billion. Amid a tough price war, with AIG offering especially steep discounts, ACE earned $1.2 billion on revenues of $13.6 billion. In February, as others insurers slashed costs, Greenberg increased his dividend. He is determined to build ACE into the next global insurance giant, with a focus on niches such as infrastructure and environmental insurance. "They have the ability to do everything, and they're hungry to take a look at new business," says Michael D. Rice, managing director of broker Aon's (AOC) financial-services division.
While ACE is not the only insurer to benefit from the downfall of AIG—analysts say Zurich Re and Chubb (CB) also have gained share—its success is especially bittersweet for Greenberg. People close to AIG blame Hank's micromanagement for the rift that led to his son's resignation as president and chief operating officer nine years ago. Greenberg won't comment, and phone calls to his father, Hank, were not returned.
For more than a year after he quit, Greenberg didn't work. "I spent those 15 months being the kind of dad I'd like to be," he recalls. Then came the September 11 terror attacks and a call from then-ACE Chief Brian Duperreault asking Greenberg to head ACE's reinsurance business. "The world has changed," Duperreault, now CEO of Marsh & McLennan, remembers telling him. "ACE needs you."
Greenberg, 54, had carved out a reputation as a hard worker who understood the Asian market as well as that of the U.S. at AIG. ACE, formed in 1985 by a group of large companies, including General Electric (GE) and Merck (MRK), to pool resources for liability risks, was small potatoes compared with his ex-employer. With 7,700 employees (now double that) and premium income of $5.5 billion, Greenberg says the initial years felt like "taxiing out to the runway while trying to put the wings on the plane." But he also felt the exhilaration of building something new: "From my dad I learned what the sheer will and drive of one man can accomplish."
MITIGATING RISK
Under Greenberg, ACE has grown. Today the company does business in 140 countries beyond the U.S., selling everything from auto policies in China to catastrophe policies in Europe. The U.S. remains the company's biggest market, but much of ACE's growth comes from such places as Asia, where its distinctive chartreuse ads can be found on bus stops in Malaysia and small commuter buses called jeepneys in the Philippines.
ACE's investment team largely stayed away from complicated derivative bets that hurt others, favoring more mundane investments with less upside and less downside. Mitigating risk is a big theme with Greenberg, who was named CEO in 2004. He still reviews every claim of more than $1 million. A firm believer that "nothing is foolproof," he has built up a system of checks and balances. Major policies are assessed by product experts with responsibilities over many countries as well as by in-country experts. One customer, Paul Morrison, director of risk management at Emerson Electric (EMR), says he feels comfortable with ACE's future. That's why Morrison uses the firm for insurance covering operations in 40 countries.
Despite the successes, Greenberg has faced his own trials at the helm. In late 2004, then-New York State Attorney General Eliot Spitzer accused ACE, along with AIG and Zurich, of paying improper commissions to brokers such as Marsh to win business. Greenberg fired key players at his firm and paid $89 million in fines. His older brother, Jeffrey, was forced to resign from Marsh amid the scandal. Spitzer also forced Hank out of AIG in 2005 because of an accounting controversy.
These days, Greenberg has taken up his father's mantle to become one of the strongest voices for the insurance industry. And like his father, he is complaining about excessive government involvement. "A market where you're free enough to win has to be one in which you're free to lose," says Greenberg. "Some may fail. Some will win."
While Greenberg may have learned the trade at his father's firm, insiders say the culture he has fostered at ACE is different. Although it's a meritocracy like AIG, it is more collegial. "You have to find your own way," says Greenberg. "AIG was a great company. ACE is ACE. And it's different."
Before it's here, it's on the Bloomberg Terminal.
LEARN MORE