How Acer Is Burning Its PC Rivals
Under CEO Gianfranco Lanci, the Taiwan company is using cutthroat pricing to gain on Dell and Hewlett-Packard
By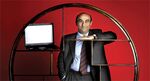 In the personal computer business everybody knows Michael Dell, who changed the industry when he started selling computers out of his college dorm. Mark Hurd has won accolades for reviving Hewlett-Packard (HPQ). But the most influential force in PCs these days may well be Gianfranco Lanci, the little-known Italian chief executive of Taiwan's Acer. Under his watch, the long-time also-ran has been gobbling up market share and gaining ground on its American rivals. If Lanci can keep the current momentum, Acer could pass second-place Dell (DELL) in number of computers shipped this year—and close in on HP. Acer "has a strong chance of overtaking HP," wrote analyst Gokul Hariharan of JPMorgan Chase (JPM) in a report earlier this month.
Lanci's strategy? He has used Acer's barebones cost structure to get extremely aggressive on price. He moved faster than HP and Dell in marketing a broad selection of the inexpensive portable computers known as netbooks. By selling basic machines for $300 to $600, Acer swiped chunks of market share while the rest of the PC business tanked. In the process, Lanci has driven down prices across the board, torching profits for everyone. "To run a business with lower costs is good when the market is growing," he says. "It's even better when the market is not growing."
Now Lanci is taking this Sherman's March into new territories. On Apr. 7 he unveiled a range of low-priced gizmos that will push Acer into the heart of the PC business and beyond. The company will offer more advanced netbooks at bargain prices, an ultrathin laptop, and the first new machines bearing the Gateway and Packard Bell brands since it acquired those companies in 2007. There's also a new gaming console and, with an eye on Apple (AAPL), a line of Acer smartphones.
This may be good news for penny-pinching shoppers, but it will create new challenges for Lanci's competitors. HP and Dell will have to face down Acer not just at the low end of the portable market but for higher-end products too. Acer's new ultrathin laptop will have a starting price of $650, compared with $1,800 for a similar HP Voodoo Envy and $2,000 for a Dell Adamo. "They're changing customers' perception of what you should pay for a computer," says Richard Shim, an analyst with the research firm IDC (IDC).
Lanci, a 54-year-old Turin-born engineer, has spent most of his career on portable PCs. He was a senior manager at chipmaker Texas Instruments (TXN) in Italy when Acer bought TI's laptop business in 1997. He made a name for himself by turning Acer into a leading player in Europe, becoming Acer's president in 2005 and CEO last year.
Lanci says his current strategy is simply passing on to customers the savings from Acer's lean operations. Unlike major rivals, Acer sells only through retailers and other outlets, and it outsources all manufacturing and assembly to reduce costs. That has helped cut overhead—research and development, as well as marketing and general and administrative expenses—to 8% of sales, well below the 14% overhead at Dell and 15% at HP.
While many in tech struggle, Acer has boosted profits and seen its stock rise 33% this year. Lanci dismisses critics who say he's too aggressive. "[Prices] have always been going down," he says. "It's the natural evolution of the market."
Before it's here, it's on the Bloomberg Terminal.
LEARN MORE