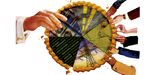 The American Recovery & Reinvestment Act of 2009 has a huge price tag—$787 billion—but how much of that is going to find its way to small businesses? Certainly, the stimulus contains tax breaks and enhancements to Small Business Administration-backed loans. But the big money is aimed at roads, bridges, green energy, education, and technology, and those funds could hypothetically benefit any size business. Here's a look at where entrepreneurs stand to gain from the spending bonanza.
HEALTH CARE
The stimulus directs $150 billion toward health care. Some of that money will no doubt help primary-care providers, but Brian Klepper, principal of Healthcare Performance, a consulting firm in Atlantic Beach, Fla., says the stimulus misses a real opportunity to create jobs in inpatient care, drugs, and devices. Those areas, he says, "are going to get starved."
The biggest chunk of money—$87 billion—will help states' budgets by increasing federal Medicaid contributions. In theory, that could trickle down to support small companies such as home-care businesses. But states could also decide that with more federal support for Medicaid, they can now contribute less. "We're very disappointed," says Phyllis Wang, president of the New York State Association of Health Care Providers, a trade organization.
The $20 billion headed for information technology holds more promise. Hospitals and physicians who implement electronic health records and other IT systems would receive about $17.2 billion over five years, starting in 2011. Tech companies in the health-care space could also benefit. "I could foresee hundreds of new businesses being started to assist physicians and medical practices on how to meaningfully use health IT," says David Kibbe, senior adviser to the American Academy of Family Physicians and an authority on electronic health records.
EDUCATION
About $100 billion—easily double the annual federal education budget—is headed to schools, of which entrepreneurs are poised to claim about 10%.
Money for education generally flows from the federal government to states, which allocate it to school districts. One big opportunity is in supplemental education services, which are on track to get $2 billion. Roughly 800 small companies in that field offer student tutoring, teacher coaching, or similar services, says Steven Pines, executive director of trade group Education Industry Assn. in Rockville, Md. In higher education, the winners will likely be developers of online classes and adult extension curricula. An additional $13 billion will go toward special education, and billions more will be devoted to tracking program costs and performance.
That's where Pamela Hackett, founder of Pediatric Therapeutic Services in Conshohocken, Pa., sees potential. Her eight-person, $7 million firm manages speech and occupational therapy programs at public schools and has developed software for evaluating such programs' costs. To learn where stimulus money is going in her region, Hackett has contacted state congressmen and senators, as well as her local Chamber of Commerce, but to no avail. "Several months into this," she says, "we feel like we have not been invited to this dance."
INFRASTRUCTURE
Suddenly, asphalt inspection is a big deal for Ravi Devaguptapu, president of Florida Transportation Engineering, a $3 million, 27-person company that does highway design and transportation planning. He's attended sessions by the Florida Transportation Dept. on how contracts will be awarded. He has trained six employees to inspect asphalt, anticipating stimulus-related demand for that service. "We are very hopeful," he says, noting that 2008 sales were flat for his Punta Gorda (Fla.) company.
Small businesses like his are gearing up for a shot at roughly $50 billion in transportation infrastructure spending, including $27.5 billion headed for roads and bridges and $8.4 billion for public transportation. (Larger companies will likely benefit from the $8 billion for high-speed rail systems.)
The most promising states are those such as Illinois, Colorado, and Arkansas, where lots of small jobs, rather than blockbusters, are being considered. In Alabama, half the work is expected to be in resurfacing and road maintenance. In public transportation, small companies that make lighting systems for buses, wheelchair ramps, or components for railroads could get a boost. Charles Patterson, president of $6 million Tonawando (N.Y.)-based Patterson-Stevens, which does rail and pool construction, hopes to land work in Pennsylvania and other states. If he succeeds, his employee base would quickly exceed the 50-person peak he hits in the summer. "It could make a big difference," he says.
TECH
The Obama Administration has made technology investment a cornerstone of its domestic policy. That's obvious in the stimulus, which dedicates about $20 billion to increasing broadband access and creating a "smart" electric grid.
Small companies in highly specialized sectors could be winners. The plan devotes $10 billion to building broadband networks in rural areas, where large telecom carriers have already been required to unbundle parts of their networks. "A smaller ISP [Internet service provider] could buy those unbundled loops from an existing carrier and get into business," says Alex Winogradoff, vice-president at research firm Gartner. Some $4.5 billion will go toward building a smart grid.
GREEN
Jim Funk, founder of Winneconne (Wis.)-based Energize, thinks the stimulus puts him in the right place at the right time. He expects $20 billion in tax incentives for renewable energy to encourage people to install his solar and wind systems in their homes and businesses. He could also qualify for funds to train up to 20 new workers. "The stimulus should really propel our company to grow," says Funk, who currently runs his $500,000 business with help from family. And Pamela Hackett's husband, Nicholas, CEO of $5 million, 45-person New Way Air Bearings in Aston, Pa., which uses a film of air to replace traditional bearings, hopes to profit from set-asides for wind power.
An additional $5 billion for weatherizing low-income homes should make its way to small businesses relatively quickly. Jessie Arthur, the owner of Arthur's Heating & Air Conditioning, a three-person Trenton (N.J.) company with $80,000 in annual sales, says he is "expecting to get more work and hire some people" as a result.
Return to the BusinessWeek SmallBiz April/May 2009 Table of Contents
Before it's here, it's on the Bloomberg Terminal.
LEARN MORE