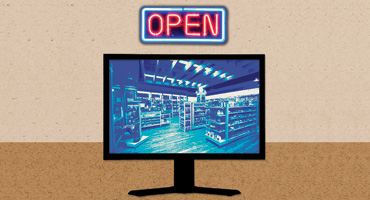 Q: I recently started an online store. What legal documents do I need to address incorporation, taxes, and licensing? — R. Delly, New York
A: Whether you're starting a business online or off, the legal documents are the same. But there are some extra considerations when selling in cyberspace.
For starters, your potential exposure to unauthorized access or data theft is greater when you're operating in a technology-driven world. So it's best to structure your business as a corporation or a limited liability company, rather than as a sole proprietorship or general partnership. The first two will limit your personal liability, but the last two will not, says David Kern Peteler, a Los Angeles business attorney.
There also are complex tax and legal issues involved in your choice of business structure. If you form a corporation, you'll generally have to adhere to strict rules, such as forming a board, issuing stock, and making periodic filings, although these guidelines vary by state. Rubin Ferziger, a New York City business lawyer, often recommends that clients incorporate because the cost to form an LLC is higher in New York City. You should be able to find detailed information and downloadable forms at your Department of State Web site.
For any business, you'll need a federal tax identification number, available online at www.irs.gov or by filing Form SS-4 with the IRS. Your state Department of Taxation and Finance can authorize you to collect sales tax from in-state residents and remit the tax to the state. Some jurisdictions also require online retailers to collect taxes on sales to out-of-state buyers. That means you'll need to contact each state, register your business with its taxation department, and file to collect sales tax from customers there. If you don't, you could be subject to back taxes and penalties.
Q: My company sells business-plan tools and templates online. Where can we locate people whose businesses are at the startup stage? — David Buschek, Boynton Beach, Fla.
A: New entrepreneurs are assiduous networkers. Connect with them through local startup clubs and business groups, suggests Tom Barnes, chief executive of Mediathink, an Atlanta marketing firm. You can also talk to city or county economic development councils about teaching workshops on business planning or speaking at seminars sponsored by your local Small Business Development Centers.
Business schools are another place where you can volunteer to work with budding entrepreneurs. You'll make potential clients aware of your products, and you'll get feedback you can use to improve your business-plan offering.
To spread the word online, use social networking sites such as LinkedIn, Facebook, and Sta.rtUp.biz. You can also advertise on sites that appeal to small business owners, and use Google (GOOG) Ads to buy keywords that new entrepreneurs are likely to search on.
But be careful not to overextend your reach. "Most organizations go the 'spray and pray' route, but that's not good marketing strategy," says Rodger Roeser, president of Cincinnati's Eisen Marketing Group. "A business service is not laundry detergent. You probably don't have the money or time to serve a mass market." Decide how many follow-ups and demonstrations your sales team can handle each month, and tailor your marketing accordingly, scaling up as you grow.
Return to the BusinessWeek SmallBiz April/May 2009 Table of Contents
Before it's here, it's on the Bloomberg Terminal.
LEARN MORE