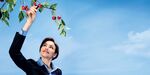 Impulse shopping is rarely a good idea—especially if you're buying a business. But you shouldn't overlook the importance of serendipity, either. The declining economy has left a raft of formerly solid businesses in distress, making it the right moment to consider whether an acquisition might make sense for you. With company performance—and therefore valuations—suffering, a recession can be an opportune time to buy. "It's a great time to be a careful buyer, which is not an oxymoron," says Eric Siegel, president of advisory firm Siegel Management in Bryn Mawr, Pa.
Just ask Larry Browne, chief executive of Houston-based freight forwarder Diligent Delivery Systems. In March, Browne closed on the acquisition of a four-person courier business in Memphis, opening up a new market for his own company. Acquisitions aren't new to Browne—he's made nine since taking over Diligent in 2001. He's still raring to go. "The opportunities were there last year and are here now," Browne says. "I'm feeling good about '09. We're going to do some deals." His company now has 72 employees and about $40 million in sales, up from less than $1 million in 2001. Browne attributes 25% of his company's growth to acquisitions.
There's more to successful deals than price and timing, of course. Any purchase needs to complement your business strategy and your plans for internally generated growth. Whether you're actively seeking out a deal or one falls into your lap, you'll need to know how to maximize and integrate the new assets before moving forward.
In the best-case scenario, an acquisition would improve your company's profitability and margins and provide dramatically better return than you would get plowing the same money and sweat into organic growth. You should be able to wring some cost savings out of the integrated operation—rarely as easy as it sounds. Alternatively, an acquisition could be a good defensive move, or could raise barriers to entry for competitors.
It's vital to understand exactly what you will need to get out of a purchase, whether it be cash flow, employees, customers, real estate, equipment, or technology. Be wary of buying a business that you suspect will complement yours but that you don't fully understand. Just because you make a great peanut butter doesn't mean you can successfully produce jelly.
And while many stellar companies may be temporarily cheap, the reverse isn't necessarily true. If the seller is desperate to get out, there's probably a good reason. Likewise, if the reputation of the company has been battered, or if it's difficult to get good financial information, walk away. Then there's this catch-22: While the recession has made plenty of companies newly available, it has also made it much harder to find financing. If you don't have cash on hand, you'll need to find a seller willing to accept a lengthy payout or shares in the merged company.
For the ready buyer, though, options abound. Nearly every industry has been affected by the recession, and those that rely on discretionary spending—real estate, luxury goods, and restaurant companies—may make for particularly rich prospecting.
Sound good? First, confirm that you have both the dollars and the management resources to tackle an acquisition. Once you have a target, you will need to scrutinize the other company's finances, customers, legal standing, and employees. Then consider the structure of the deal and whether it should be an asset or a share sale, which can significantly affect the price. And remember: Just because it's on sale doesn't mean it's a good deal.
LOOK IN THE MIRROR
An acquisition will put significant pressure on both management and finances, so evaluate yours before going on the prowl. "Your own operations should be very routine so that management has the flexibility to focus on the deal," says Siegel. You don't want to leave your core business struggling while you're playing wheeler-dealer.
Making certain that your balance sheet is solid is critical. The best tactic for a strategic buyer, experts believe, is simply to rely on cash.
But it may still be possible to find a loan, especially if you're looking for less than $3 million, says Darl Petty, managing director of private equity firm Capital Point Partners in Houston. "The bank turmoil is much more pronounced at the bigger-volume transactions," he says.
If you need more cash—up to about $15 million—you might try private equity. In July, Spectrum Lubricants, a $70 million, 125-person equipment lubricant company in Selmer, Tenn., acquired Memphis-based American Lubricating Co. for $2.5 million. Spectrum was able to complete the deal with help from River Associates Investments, a private equity firm that already had a stake in Spectrum, and Wells Fargo (WFC). The deal allowed Spectrum to pick up packaging equipment and storage tanks, and to expand into the export business. Talent, however, wasn't of interest: Spectrum kept only 3 of ALCO's 25 employees. Of further acquisitions, Spectrum Chief Executive R. Kent Farmer says, "Nobody can see how 2009 will play out. Will things improve globally? Will the dollar go up or down? We're open to opportunities."
SELL YOURSELF
Once you've secured the availability of both time and money, you need a target. Ideally, you have one in mind, be it a competitor, vendor, or customer, and know the company well. If not, you could use a business broker or send mailings and do cold calls to promising companies.
As a buyer, it's also important to sell—yourself. If you're making an unsolicited offer, present the deal as advantageous to everyone. That means highlighting the benefits to employees, the increased sales possibilities, the potential payout, and, if appropriate, the ability for the founder to retire or do something else. It's not uncommon for an owner to turn down an overture, only to call back a few weeks later. Be patient.
Alternatively, a suitable company may approach you. Sue Murray, president of Irving (Tex.)-based corporate trainers EduCorp Training & Consulting, was wondering how best to expand when she heard from a former employee, Mark Rodriguez. Rodriguez had since started his own company, MDR Consulting & Education. His was a technical advisory firm, and after seven years, he realized that he had to grow to land bigger clients. For Murray, "Adding a consulting business seemed like the right way to grow." Today, her business, after absorbing MDR, has 15 employees and $8.5 million in revenue, up from 4 employees and $5.8 million in sales when Rodriguez first approached her.
When you and the seller are ready to move forward, you'll sign a letter of intent containing a "no shop" clause—essentially, a written handshake. It assures that while you are doing your due diligence, the company won't go and try to find a deal elsewhere. In general, you want to keep information about the deal confidential at least until the letter of intent is signed.
DO YOUR DUE DILIGENCE
Unfortunately, there are no shortcuts here. No matter how big (or small) your acquisition, you'll need to get a comprehensive picture of the business. Due diligence typically takes 60 to 90 days and should run less than $50,000 in professional services fees unless you're grappling with a very complex situation. Even if you know the owner of the other company well, as Murray did, you'll still want to call in the pros. "I needed to take myself out of it because I didn't want my personal relationship to make me unobjective," says Murray, who hired a mergers and acquisitions adviser to do her due diligence. "You want to understand all of the personalities involved so you can minimize any clashes." She paid less than $50,000 for MDR, which had about $1 million in sales.
A full scrub of your target's finances is the first order of business. "The surprise is what you want to avoid. You don't want to buy Citibank and then find out they have more bad mortgages than you thought," says Spectrum's Farmer.
Look at three to five years of company financials, including working capital, inventory, receivables, capital expenditures, debt, and, crucially, cash flow, including customer diversity, stability, and payment histories. If any one customer comprises 5% or more of revenues, or a large share of profits, get on the phone with them and try to determine how strong the relationship, and the business, truly is. "If you only look at profits," says Petty, "you're going to miss the whole picture." Then there are legal issues. Sift through contracts, pending litigation, leases, trademarks, licensing, permits, and environmental documents. You should also find out if the company has ever filed for bankruptcy. "Any of this information can either be an opportunity or a liability," says Siegel. "You just need to know what they are."
The most important part of your due diligence may lie in assessing the other company's reputation. After all, you're staking your own business' name on this acquisition. "I'd want to know everything about how this company is perceived, because that is what you are buying, above all," says Joseph Birkofer, principal at Houston's Legacy Asset Management. Talk to industry experts who do not have direct relationships with the company, as well as your employees and customers.
Often forgotten is cultural due diligence. Can the management style of the company be adapted to yours? Diligent's Browne works with indepedent contractors and avoids companies whose employees need hand-holding. "Any company we acquire has to be at least 80% similar to ours," he says, "and the other 20% they have to be willing to change." An air delivery and trucking company he acquired in 2007 for $500,000, for example, used independent contractors and had few full-time employees, like his own business.
The role of the founder or CEO of the acquired company should be clear from the get-go. You can offer that person a transitional role, responsibility for overseeing a business unit, or a short-term contract as an interim executive. Avoid dueling chief executive positions in the new company. "Keeping a small business owner on board after an acquisition for the long term is a big mistake," says Timothy Galpin, associate professor of entrepreneurship at University of Dallas Graduate School of Management. "Entrepreneurs often struggle with somebody else taking over their business, and can become an obstacle."
CLOSE THE DEAL
Finally—time to make the offer. Your due diligence should have given you a solid feel for what the company is worth. The most advantageous deal structure is probably for you to purchase assets rather than shares. If you buy assets, you can depreciate them and reap the tax benefits. And you won't be responsible for any past liabilities—for example, if you're buying machinery, you won't be liable for accidents that occurred on it before the sale. If you were to buy shares, you would pick up the company's legal liabilities and add to your own tax obligations. Of course, it's the rare seller who is willing to give you the tax breaks and keep the legal risks. A common compromise is to do a stock purchase, so that the buyer inherits any liability, but to treat the deal as an asset purchase for tax purposes. The nuts and bolts of this are outlined in IRS section 338(h)(10).
Not every penny needs to be paid out immediately. "You can mitigate your risk by holding back payment" until the company has reached certain milestones, says Sandra Knowler, partner at law firm Lang Michener in Vancouver. You may withhold a certain percentage until several major customers are on board with the new company, for example. Talk to key employees, such as top salespeople and managers, and discuss new employment contracts. If you don't intend to keep anyone on board permanently, you might offer stay bonuses, so that the must-have employees will stick around throughout the transition period. This can run from 90 days to as long as a year, and should be based on the employee's monthly salary. The importance of this can't be overstated: Most deals that go south, says Siegel, do so because the acquirers lose key employees or key customers. Your attorneys can then create a purchase agreement and any employment and noncompete contracts that need to be signed. Count on 45 days for this at most.
Every deal, of course, is unique. Browne's Diligent has made each of its acquisitions in cash, and mandates that its acquired executives stick around for up to a year. This is key in a service business, where the deals are primarily about the customers, not hard assets. "It ensures that...the transition happens quickly," Browne says. "We do an up-front down payment, but the payout for the owner usually comes a year later."
The process is arduous. But for Browne, who hopes to buy at least two more businesses this year, it's been worth it. "Businesses are available, and I'm aggressively seeking them," he says. "The time to buy is now."
Return to the BusinessWeek SmallBiz April/May 2009 Table of Contents
Before it's here, it's on the Bloomberg Terminal.
LEARN MORE