How to Lure MBA Talent
Small businesses have a better shot at top students as the downturn tightens the job market and salaries are slashed
Alison Damast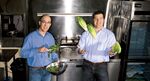 Marley Hodgson, co-founder of Denver's Mad Greens restaurants, was seeking a vice-president of finance when John Montgomery's résumé crossed his desk. Montgomery had been the controller for another restaurant chain before enrolling in the University of Colorado at Boulder Leeds School of Business. "I really liked him, so the question was: How do I make sure he jumps on board with us?" says Hodgson. Mad Greens has eight locations, about 100 employees, and $6 million in sales, and Hodgson couldn't offer the $130,000 to $150,000 he thought Montgomery might expect. So he threw in extra vacation, a bonus, and an equity stake. Montgomery came on board full-time in May 2008.
With job postings at many B-schools down, schools are advising students to broaden their job searches and seek out small businesses. Here's how to grab students' attention this spring.
GET OUT THERE
Start with the career services office. Staff there will connect you with job-hunting students and get you access to job boards. You can also visit campuses, post jobs, and ask for referrals or recommendations. You might even ask the school to host a small business career fair, says Daniel Marques, Babson College's manager of entrepreneurial development, who's organizing one at his school this spring.
THE PERSONAL TOUCH
Don't wait for students to follow up after events. Seek them out through the schools' résumé books and databases (often free), then e-mail or call. "The personal touch works, especially if it comes from the CEO of the company," says Andy Chan, career services director at Stanford University Graduate School of Business. Hodgson invites promising students to lunch at one of his restaurants.
MORE THAN MONEY
Yes, MBAs are expensive. But salaries are down anywhere from 10% to 20% this year, giving employers some wiggle room. Try offering tempting perks—MBA hires could get to sit in on board meetings or be mentored by a top executive. Montgomery has already worked in almost every department at Mad Greens, from marketing to operations. Says Montgomery: "It was worth the pay cut."
Before it's here, it's on the Bloomberg Terminal.
LEARN MORE