Evolving With the Industrial Landscape
National Safety Apparel is protecting its niche by staying loose enough to serve the changing needs of workers in hazardous environments
Amy Barrett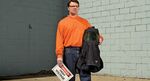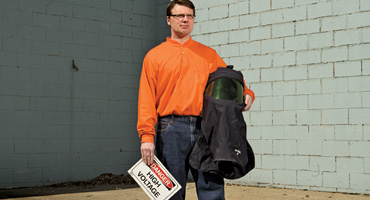 Chuck Grossman knew he had to get connected. For seven decades, his family's company, National Safety Apparel in Cleveland, had made protective clothing for steelworkers exposed to 2,000-degree heat and glasscutters handling sharp-edged sheets. But those businesses were slowing. In 2001, Grossman, then vice-president of sales and marketing, heard about a new market heating up: flame-resistant clothing such as gear for electrical workers who encounter "arc flashes"—violent explosions that can turn regular clothing to ash and cause severe injury, including blindness. An outsider to the electrical industry, Grossman joined the National Fire Protection Assn. and ASTM International, which sets industry standards. "There are a relatively small group of people who know what is going on in this business," Grossman says. "I knew I had to break in." Through his new connections, he learned that upcoming rule changes would increase the call for fireball-resistant clothing. So Grossman jumped, plowing big resources into the market.
It was the right move. The 95-employee NSA saw its sales climb 10% last year, to $19 million, dramatically above the $11 million it made in 2001, before Grossman started developing gear for electrical workers. That's a relief to Grossman, who bought $250,000 in equipment and tripled research and development spending, to $300,000 a year, to make the specialized clothes. He funded it out of savings and cash flow. "I was worried we'd be spending resources on the wrong thing," says Grossman, who recalls that his father—then NSA's CEO—was skeptical about expanding into a marketplace crowded with low-cost producers. His dad, who declined to comment, made Grossman president in 2004.
Grossman earned an MBA from Duke University and worked for International Paper before becoming the fourth generation to join NSA in 1998. He brought a collaborative management style and teamed up with industry consultant Hugh Hoagland and Paulson Manufacturing in Temecula, Calif., to develop goggles and other proucts.
One of Grossman's biggest challenges has been trying to keep manufacturing at home. He made a few trips to China and "kicked the tires," he says. But NSA's biggest expense (about 80%) is material, so using lower-wage workers wasn't going to make or break him. Now, he says, "I am very loyal to our workers and the city of Cleveland." He's offered free on-site English-as-a-second-language courses to employees and last summer handed out $50 gasoline cards.
To stay competitive, he focuses on higher-margin niche products rather than go head to head with big players V.F. in Greensboro, N.C., and Williamson-Dickie Manufacturing in Fort Worth, which lead the market for work shirts and flame-resistant jeans.Some of NSA's big sellers: neck gaiters, knit shirts, and super-lightweight suits. Grossman also spent a year and more than $50,000 to get NSA certified by the International Organization for Standardization, which has made his plant layout more efficient and reduced defects.
It's also helped NSA speedily process custom orders, such as specially tagged flame-resistant sweatshirts for Hudson Workwear in Richfield, Ohio. "If I went to a big company that imports, they don't want to talk to me about 150 [custom] sweatshirts," says Terry Horrick, Hudson's president. That's small potatoes for the big guys, but it's a perfect opportunity for a nimble player like NSA.
Return to the BusinessWeek SmallBiz April/May 2009 Table of Contents
Before it's here, it's on the Bloomberg Terminal.
LEARN MORE