Chasing Consumers Down a Tricky Path
To reach the budget-conscious, many high-end companies are adding low-end products to their offerings, risking long-standing relationships
Amy Barrett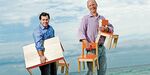 When J.B. Schneider and Antonio Turco-Rivas showed up at a Las Vegas trade show in September 2007, they were hoping to nab more high-end customers for their children's furniture company, P'kolino (derived from an Italian word for "little one"). P'kolino's flagship item was a toddler playtable retailing for $1,000. But the two co-founders caught the eye of retailer Babies 'R' Us, which wanted something unique but affordable. "We always planned to move into the midmarket, but we knew we had to do it soon," says Schneider. A month later, the six-person Dania Beach (Fla.) company, which was bringing in $600,000 a year by selling to 150 boutiques, agreed to create a low-priced line for Babies 'R' Us. That meant raising money, finding a low-cost manufacturer, and coming up with new designs, all while preserving the high-end franchise. "It's been a roller coaster," says Turco-Rivas. "The learning curve is amazing."
As consumers become increasingly budget-conscious, more luxury products companies will be navigating that same tricky path, says Doug Fleener, president of Lexington (Mass.) retail consultants Dynamic Experiences Group. The key for companies such as P'kolino, he says, is to make sure that high- and low-end products are visually distinct. Without that, there can be irreparable damage to the brand. Eric Bradlow, a marketing professor at the University of Pennsylvania's Wharton School, warns: "Once brand confusion and dilution sets in, you have a real problem."
In P'kolino's case, Babies 'R' Us insisted on keeping the P'kolino brand name. So Schneider and Turco-Rivas had to create a line that was aesthetically quite different from the original. The style is still hip and urban, but pieces such as tables, chairs, desks, and toddler beds—all priced at less than $160—are simpler, contain little storage, and are made with cheaper materials such as fiberboard. By contrast, the top-dollar playtable is modular, with multiple parts that can be stored under the table, and is made of strips of maple that are bent and glued in an expensive, labor-intensive process.
To keep costs under control, the P'kolino partners decided to look beyond the U.S., where their high-end products are made, and outsource manufacturing of the lower-priced line to China. In the past year, Schneider and Turco-Rivas have traveled there five times to hammer out details.
Schneider and Turco-Rivas eventually presented Babies 'R' Us with five pieces to test in 90 stores. By the end of 2008, two of those items were rolled out to more than 200 locations. Making that all happen has required some financial maneuvering from Turco-Rivas, who runs operations and finance while Schneider directs marketing and product development. Turco-Rivas knew P'kolino would need $400,000 in working capital to finance the new line, including the cost of carrying more inventory. The partners lined up $1 million in angel funding in July. Sales nearly tripled to $1.7 million in 2008.
Not everything has gone smoothly. P'kolino continues to cater to its boutique retailers by creating high-end products such as a new art easel for them. Still, there has been overlap—and anger. Some of P'kolino's boutique clients and Babies 'R' Us were both selling the same $169 convertible toddler bed/chair while Babies 'R' Us was conducting its tests. When the chain decided not to carry the bed and slashed prices to clear out inventory, Schneider got calls from some unhappy boutique owners. His reassurances that Babies 'R' Us stores wouldn't be carrying the item in the future helped to placate them. Still, some boutique owners say P'kolino could do better. Ali Wing has carried P'kolino products at Giggle, her nine-store chain, since 2007. "I push back at these guys all the time that they need to differentiate more," she says. She wants P'kolino to develop more multi-use items just for boutiques such as hers.
Despite the headaches, there are no regrets. Of moving to the mass market, Schenider says, "It's the best thing we could have done. If we hadn't done it, who knows if we'd still be here?"
Return to the BusinessWeek SmallBiz April/May 2009 Table of Contents
Before it's here, it's on the Bloomberg Terminal.
LEARN MORE