As Factories Fail, China's Business Law Does, Too
With the bankruptcy law in its infancy, violence often erupts when factories collapse
By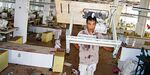 Dongguan, China - Business had been good, even great. But by early 2008, the lighting manufacturer realized his factory in China was heading for failure. The collapse of the U.S. housing market had devastated demand for his lamps and fixtures sold at American retailers. Costs kept rising in Dongguan, the southern city where he had expanded his operations. So the 43-year-old boss quietly slipped out of China, leaving behind $100,000 to cover the final month's rent and salary for his 400-plus workers. Suppliers were left unpaid.
Lucky he left early. As word spread about the factory's closure, furious employees streamed onto the nearby street, a narrow passage lined with Internet bars and outdoor pool tables. Suppliers drove up in blue moving trucks, blocked the gate, and sent in hired thugs to grab computers, cables, machinery—anything of value. Unable to find the boss, the gang roughed up the company's lawyer and held him hostage for much of the day. "It was a new factory and looked like a gold mine. They were going to take everything out," says the boss, a European who has been in hiding in Taiwan for almost a year.
Order was restored only after the landlord called in five truckloads of police to protect his property. And suppliers who arrived too late were out of luck. Xiao Xiaosan, a maker of metal parts for lamps, says he is owed $76,000. Although he rushed to the factory on the day of the closing, he doubts he'll ever see his money. "It's impossible for me to find the owner outside of China," he says.
As the global recession slams China, bankrupt business owners are shutting factories overnight. Often, they leave the mainland, afraid of angry suppliers and workers and uncertain about legal protections. Dongguan alone last year recorded 673 cases—up 24%—of owners fleeing their factories, leaving behind 113,000 unemployed workers owed $44.1 million. Labor disputes almost doubled, to nearly 80,000.
The problems are spurring everyone to be more cautious. In the past, many deals were made on the basis of trust. But suppliers these days are demanding bigger payments up front. "It's gumming up the normal free flow of goods," says Ben Schwall, an American who heads Aliya Lighting, a Dongguan company that supplies lamps sold at Home Depot (HD), Lowe's (LOW), and elsewhere. "A lot of friendly credit is disappearing."
Worried about factories going belly-up, buyers for multinationals are closely monitoring the financial health of their suppliers. "It's a big concern," says William Fung, managing director of Li & Fung, a Hong Kong company that handles purchasing in Asia for retailers worldwide. "The most often asked question by our buyers is whether the factory...will still be around tomorrow." Purchasers who once might have had little contact with suppliers to their suppliers—companies that sell, say, buttons or zippers to a shirtmaker—are now quick to react if they hear those smaller players aren't getting paid, a clear sign of trouble at the factory. "You can only deal with people you have known a long time," says Peter Lau, chairman of Giordano International, a clothing retailer with 2,000 stores across Asia. "And the trust has to be both ways."
In the U.S., factory owners could file for bankruptcy, getting some protection from creditors and maybe even court-ordered financing to keep operating. That was supposed to be the case in China, too, under a two-year-old bankruptcy law that was heralded as a key step in market reforms. But few judges have received the necessary training to understand the complex measure, so local officials often discourage hard-pressed owners from filing for bankruptcy. And by compensating creditors before employees, the law undercuts Beijing's desire to minimize labor unrest.
OUT OF A JOB—AND HOME
In the first 10 months of last year, the bankruptcy law was used in only about 1,000 cases—mostly large state enterprises rather than the thousands of shuttered export-oriented manufacturers. "The bankruptcy law is still at a beginning stage," says John J. Rapisardi, a partner in the New York office of law firm Cadwalader, Wickersham & Taft who advised China on crafting the law.
So instead of orderly liquidation in the courts, workers, suppliers, and creditors take matters into their own hands. When toymaker Smart Union Group collapsed in October, its Hong Kong-based owner closed two sprawling facilities in Dongguan that made toys for Walt Disney (DIS) and Mattel (MAT). He owed $29 million to some 800 suppliers and $3.5 million in pay to 7,600 workers. The local government coughed up the wages after employees staged protests at the town hall. "These workers are migrants who live in the factories," says Huang Huiping, deputy chief of the Dongguan Labor Bureau. "If the boss flees, they have no place to live."
Some authorities are pushing for stronger action. In Guangdong province, labor officials have published the names of deadbeat factory owners in local newspapers to shame them and make it harder for them to open businesses. The labor leaders have developed a blacklist of fugitive bosses and are working with courts to track them down. Others are calling for legislation that would allow criminal prosecution of bosses who flee factories (it's currently a civil violation). "This causes enough social harm that it should be treated as a criminal offense," says Zhu Zhengfu, vice-president of the Guangdong Lawyers Assn.
While many bankrupt factory owners flee to avoid paying their debts, others worry about their safety. When mobile-phone maker Shenzhen Bandshine Communications Development could no longer pay suppliers or employees last September, boss Zhao Zheng went underground. "I am physically and mentally exhausted and fear for my life," Zhao text-messaged her then-distributor for Southeast Asia. "I have no choice but to go into hiding," the message continued. "She owed money to lots of suppliers," says Jack Zhou, the former distributor, adding she still owes him $90,000. "They came to the factory and broke everything."
Meanwhile, the boss of the Dongguan lighting factory is working to resolve his disputes with suppliers. He hopes to return to China, despite some ambivalence. "I threw away 17 years of business, but sometimes enough is enough," he says while soaking in an outdoor hot spring in the lush mountains near Taipei. "The law in China is something you can hang beside your toilet. In China, [success depends on] who you know and how much money you have. Anything else is a waste of time."
Before it's here, it's on the Bloomberg Terminal.
LEARN MORE