Apple's iPhone, an Indian Flop, Prepares for China
By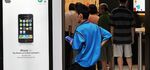 Take the most talked-about phone in recent history and launch it in one of the fastest growing cell-phone markets in the world, and you'd expect fireworks. But in India, where carriers Vodafone (VOD) and Bharti Airtel (BRTI.BO) have been offering Apple's (AAPL) iPhone since last August, unsold phones are stacking up at shops around the country. Apple won't break down sales figures by country, but a senior Airtel executive confirms analyst estimates that total official iPhone sales here have yet to touch 20,000 handsets. Vodafone, which has a lower-key advertising campaign, has sold even fewer, the analysts estimate. Even including sales on the black market, where the phone sells for half the $700 sticker price, the total only increases by an additional 15,000, according to an Indian customs official. That's puny, especially since Indian cell-phone providers have added nearly 20 million new customers since the iPhone's launch last year.
What has gone wrong for Apple in India? Nearly two years after the phone officially went on sale in the U.S., Apple's failure to gain a foothold in India's lucrative telecom market may hold lessons for its upcoming iPhone push into China. As the global recession hurts growth in the U.S. and other mature markets, Apple could use some success in these still-growing Asian giants. Sales are already slowing worldwide: The company says it has sold 30 million iPhone and iPod Touch units since their launch. On Mar. 5, JPMorgan Chase (JPM) analyst Mark Moskowitz cut his estimates for iPhone sales to 3.41 million for the January-March financial quarter, down from almost 3.85 million. "[Our] primary research contacts suggest that Mac and iPhone volumes had been trending below our prior expectations," Moskowitz wrote in a note to clients.
In India, Apple has run up against some big obstacles. For instance, it has to fight against Nokia (NOK), a longtime favorite among local consumers. The Finnish company dominates the Indian cellular market and is tops in smartphones, too, with about 40% share.
Three iPhones Equal One Car
The iPhone is also priced far beyond the reach of even many middle-class Indian consumers. Even though iSuppli, the El Segundo (Calif.) market research company, estimates iPhones cost less than $175 to build, both Apple and Airtel stuck to the approximately $700 price for the phone in India, vs. $199 with a two-year AT&T (T) contract in the U.S. In India, then, three iPhones equal one Nano, the $2,000 car that Tata Motors (TTM) launched in India just two weeks ago. An Apple spokesperson in London, Bethan Lloyd, said in an e-mail that pricing and tariff issues are decided by local partners, not Apple. Apple declined to make executives available for an interview.
For Airtel and Vodafone, subsidizing the phone has not been an option. The vast majority of Indian users have prepaid accounts, and even with the few regular contracts out there, high-end users generate just about $30 a month in call and data charges. Add to that the fact that the iPhone is easily unlocked and used on rival networks, and the carriers decided the AT&T model in the U.S. just wouldn't work in India. (In Europe, where iPhone sales have been lukewarm, many carriers reached the same conclusion.)
But Apple's India problems go beyond the issues of competition and pricing. According to Sanjay Gupta, the chief marketing officer of Airtel's mobile business, Indians just use their phones differently. With spotty data coverage and slow download speeds on non-3G networks, the iPhone just doesn't dazzle the way it does in the U.S. Also, Indian customers like to forward text messages; Nearly 70% of them do that at least once a day, says Gupta. Until recently, the iPhone didn't allow users to do that. "It's a big functionality issue," says Gupta. "The device is being judged as a phone, not as a data device."
While Apple has made headway winning acceptance from corporate IT managers in the U.S., it has had no such luck in India. Local corporations are willing to shell out $700 for BlackBerrys (RIMM) or more business-functional Nokia phones, but many perceive the iPhone as an entertainment tool for young people.
Another difficulty for Apple in India: Local partners don't necessarily have the same goal of selling lots of iPhones. Airtel, for instance, doesn't seem to mind that Indian consumers haven't embraced the gadget, since associating with Apple has helped the carrier in other ways, says Gupta. "For us, it allowed an association with iPhone as a brand," he says. "And that's definitely made us happy."
Things may change. India may soon get a real 3G network, as the government starts a 3G spectrum auction, and prices could potentially drop as newer models are introduced.
Talks with Chinese Carriers
But by midyear, all eyes will be on China, where Apple has long been rumored to be in discussions with state-owned China Mobile (CHL), the world's largest cellular carrier. Lately, speculation is focusing instead on No. 2 operator China Unicom (CHU), which reportedly will launch the iPhone in China as early as June, according to published reports in both Chinese and U.S. media. Lloyd, the Apple spokesperson, declined comment, saying Apple does not address rumors or speculation. However, Yi Difei, a China Unicom spokesman in Beijing, confirms the two companies are talking but won't commit to the rumored May 17 launch. "The cooperation with Apple is still under negotiation," he says. "It might succeed or fail. Both parties are still negotiating. The result is uncertain yet."
As Apple's India experience shows, success is far from assured in China. Like their Indian counterparts, Chinese consumers have embraced Nokia, which is the dominant brand in the local market, with everything from entry-level handsets to smartphones. Moreover, like India, China is behind more developed countries in launching 3G networks. The Chinese government also does not allow phones to have Wi-Fi functionality, worsening the user experience for many of the key, data-heavy functions on which the iPhone has pegged its success. And in China, as in India, people aren't used to signing multiyear contracts with carriers. "You are asking people to change their behavior, and that's a very big thing to ask," says Trip Chowdhry, a California-based analyst for Global Equities Research.
Still, even as it struggles in India, there's reason for Apple to be optimistic about China. Clearly many Chinese like what Apple has to offer: According to analyst estimates, there are as many as 1 million smuggled iPhones (with illegal Wi-Fi access) already floating around in the Chinese market.