Toyota, Honda Heat Up the Hybrid War
Ian Rowley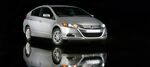 Given the parlous state of the auto industry, the rivalry between Honda's (HMC) new Insight and Toyota's (TM) third-generation Prius is proving to be an enjoyable diversion. Committed to increasing sales of gas-electric models, the companies are launching hybrid cars in quick succession—and neither one is skimping when it comes to generating hype. The Insight boasts a sub-$20,000 sticker price, fuel economy of 40 miles per gallon in the city and 43 mpg on the highway, and is arguably more fun to drive. The latest Prius is larger than its Honda rival, gets better mileage, and (unlike the Insight) has an EV mode, where the driver instructs the car via the touch of a button to run solely on battery power. However, the soon-to-be-released Prius is expected to be more expensive, with a U.S. sticker price starting at around $23,000.
The battleground is nowhere more intense than in Japan, where the Insight went on sale in early February. Its initial success—Honda has received more than triple the 5,000 orders a month it was expecting—hasn't gone unnoticed at Toyota. At a recent test drive at Fuji Speedway for the near-final version of the Prius, Chief Designer Akihiko Otsuka said Toyota is planning a smaller, cheaper hybrid based on its Yaris platform to take on the Insight. "We are going to compete by expanding our hybrid vehicle lineup to smaller hybrids," Otsuka told reporters.
And Toyota has another Insight killer in store. On Mar. 26, Toyota Chief Executive Katsuaki Watanabe said the company will take the unusual step of selling a cheaper version of the current Prius alongside the new one. "There will be demand for the two to co-exist," Watanabe said at the unveiling of the new car for the Japanese market. "That Honda has come out with a wonderful car like the Insight gives us a big impetus to try to be more competitive." According to the Nikkei newspaper, this cheaper Prius, like the Insight, will go on sale in Japan for less than $20,000. Watanabe didn't say if Toyota will pursue a similar strategy in other markets.
A Wise Move?
Analysts question, however, the impact of launching a cheap version of the old Prius alongside the new one. They worry the older Prius may eat into sales of the new Prius and similar-sized models such as the Corolla, or that it might force Toyota to cut prices of nonhybrid models. If that wasn't enough to boost hybrid sales, unconfirmed reports in the Japanese media say the new Prius may go on sale in Japan for as little as $20,900, which would be $3,000 cheaper than the current model—even though the new Prius has a larger engine and is more luxurious.
With Toyota upping the ante, Honda is considering its next move. On Mar. 25, Norio Ano, who heads Honda's global Civic hybrid and Insight programs, said Honda will examine where it can make efficiency improvements in the production of the Insight. However, he warned against steps that eat into profitability. "I applaud Toyota if they can make it work as a business at the prices being reported," he said. "We will have to go back to scratch and review all our procedures from step one."
Yet even as the sparks fly—albeit politely—between Japan's two leading automakers, it is feasible both can win the hybrid war. For one thing, the rivalry is helping to bring the "hybrid premium"—the incremental cost of making hybrids compared with regular vehicles—down to levels where owning is as much about economic sense as sending an "I'm green" message. Toyota's Watanabe reckons the hybrid system in the latest version of the Prius is a quarter as costly to produce as the original version, which debuted a decade ago.
At Honda, the latest version of its Integrated Motor Assist (IMA) hybrid system brought the premium below $2,000. Compared with a similar system used in the current Civic hybrid, costs are 40% lower. One important factor: improvements to the nickel metal hydride battery pack, which is now 35% smaller and 35 kilograms lighter than the one used in the Civic.
The Efficiency Battle
Improved production efficiency is just as important. Honda can now make 250,000 hybrid cars a year at its Suzuka plant, including 200,000 Insights and 50,000 Civic hybrids. Increased scale, with one Insight currently rolling off the production line every 65 seconds, is making it easier to bring down costs. For example, the company increased the number of workers assembling battery modules from 20 to 54. But by increasing automation, Honda now has the capacity to produce 1,000 packs a day, vs. about 250 before the Insight went into production.
At Toyota, engineers didn't quite manage to reduce the size and cost of the Prius' new-generation hybrid system by half, as Watanabe had hoped in 2007, but Chief Designer Otsuka says both have been reduced by 25% to 35%, compared with the current second-generation model.
In a deep recession, meeting sales targets will be tough for both companies. Honda is aiming to sell 200,000 Insights a year, including 100,000 in North America, while Toyota, which is also planning a hybrid-only Lexus, has plans to sell 1 million hybrids a year by the early 2010s. The Prius will help, but lower fuel prices make the decision to buy a hybrid harder to justify on economic grounds alone.
European Battleground
Still, even if sales disappoint, the new models will help the two Japanese companies maintain their dominant market share in hybrids. Although rivals are launching more gas-electric vehicles—Ford's (F) new Fusion hybrid, for instance, has received a higher fuel economy rating than the gas-electric version of the Toyota Camry—no other automaker is yet close to producing hybrids in the hundreds of thousands.
Perhaps the real test of the hybrid competition between Honda and Toyota will be how they do in Europe. In the past, hybrids have struggled to compete against "clean" diesels, which offer similarly impressive levels of fuel economy, and, say enthusiasts, are more fun to drive. The calculus is changing, though. Today, in many European countries, diesel fuel is significantly more expensive than gasoline. Meanwhile, the economics may suffer as stricter rules governing nitrogen oxide emissions are implemented. "The regulations [on nitrogen oxide emissions] will become more and more severe and the costs of producing diesels will become higher," says Toyota's Otsuka. "In this situation, hybrids will become more competitive against diesels."
Before it's here, it's on the Bloomberg Terminal.
LEARN MORE