The Secret of Occidental's Success
By making the right bets at the right time, and using technology to make them pay, Occidental has outperformed giants like ExxonMobil
Christopher Palmeri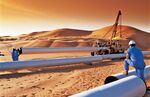 Occidental PetroleumIndustry: EnergySales: $24.2 billionNet Income: $6.8 billion
Occidental Petroleum (OXY) President Stephen I. Chazen likes to joke that his company shouldn't be called Big Oil. "We're peanut oil," he says. With a market value of $49 billion, Oxy is hardly a pipsqueak. But thinking like a niche player and jumping quickly on opportunities has allowed it to outmaneuver some of the biggest names in the business.
Over the past 10 years, Oxy's stock has appreciated 23% per year, more than twice the returns of ExxonMobil (XOM). Last year, Occidental's profits climbed 35%, to a record $6.8 billion on sales of $24 billion.
Oxy succeeds by placing a relatively small number of big bets and using technology or its political skills to maximize returns. When commodity prices were near their recent lows, in 1998 and 2000, Occidental spent $7.1 billion to buy an interest in a giant natural gas field from the U.S. government and oil wells from BP (BP) and Royal Dutch Shell (RDS.A). The company is now the No. 1 oil producer in Texas and California's largest natural gas producer, positions that earned it a gusher of money when prices spiked. By flooding aging fields with water or carbon dioxide, Oxy has boosted their output. Its West Texas fields, for example, produce the equivalent of 198,000 barrels per day, an 18% bump since 2001.
Lately Oxy has turned its focus overseas. There, it is avoiding risky exploration projects and instead targeting existing fields that need more money and attention. In 2002 it took a 25% interest in the Dolphin project, which brings natural gas from offshore Qatar to the United Arab Emirates. The deal was complex politically, involving gas purchase contracts with the seven emirates and the construction of a pipeline through Saudi Arabian territory. Even before the gas purchase contracts were signed, Oxy invested $500 million. Today the field produces 5% of the company's total output.
HAZARDS ABROAD
Oxy expects its overseas projects to help it increase its production by 5% a year over the next two years. The risk is that foreign governments will change the terms when it suits them. Oxy has already sold off interests in countries it feels are too risky politically, including Russia, Venezuela, and Pakistan. One exception is Libya, where the company has paid the government $750 million in bonuses for drilling rights. Oxy's longtime chairman and chief executive, Ray R. Irani, says he also hopes to apply the company's expertise to breathing new life into old fields in Iraq, despite the risk.
Although often under fire from corporate governance types for his giant pay packages—he earned $60 million last year—Irani has been critical to Oxy's success. Born in Lebanon and fluent in Arabic, he spends three months a year traveling the globe, meeting with sultans and sheikhs to keep Oxy deals on track. At 74, he says he has no plans to retire. Not big on consensus-building, Irani and Chazen, his heir apparent, occupy the only two executive offices on the sixteenth floor of Oxy's Los Angeles office tower, where coffee served in fine china is still in style.
Even as they place bets overseas, Irani and Chazen have cut domestic drilling sharply. With commodity prices down, Irani feels Oxy's reserves will be more valuable later, especially if Washington keeps spending. "You can't keep printing huge checks to stimulate the economy and not get inflation in commodity prices," he says. If oil soars again, Oxy will crank up the drilling, staying one step ahead of Big Oil.
Return to the BusinessWeek 50 Table of Contents
Before it's here, it's on the Bloomberg Terminal.
LEARN MORE