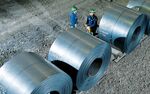 NucorIndustry: MetalsSales: $23.7 billionNet Income: $1.8 billion
Sitting on John J. Ferriola's desk at Nucor's (NUE) headquarters in Charlotte is a greeting card. Yellow, with bright green, pink, and blue flowers, it's from Diane Williamson, a line worker at Nucor's plant in Darlington, S.C. Inside, it says: "Thank you for caring about me and my family." In the past few months, Ferriola, Nucor's chief operating officer, and his boss, CEO Daniel R. DiMicco, have received hundreds of similar cards and e-mails from their staff of 22,000.
It's hard to imagine too many other C-Suite types getting thank-you notes by the basketload these days. But while rivals have laid off thousands, Nucor has shown remarkable loyalty to its people, eschewing layoffs altogether. Despite a dismal fourth quarter, the company paid out a special one-time bonus in January of $1,000 or $2,000 per worker, reward for a record 2008. Total cost to Nucor: $40 million. In March the company paid an additional $270 million in 2008 profit sharing. "We're making money. We've got jobs," says Michael May, a seven-year veteran of Nucor's Crawfordsville (Ind.) plant. "Financially, Nucor employees are still better off than most."
But not as well off as they once were. After years of record-setting profits, Nucor is struggling just like the automakers, appliance manufacturers, and builders that buy its steel. In the fourth quarter of 2008, its mills went from running at 95% of capacity to 50% practically overnight, as credit-squeezed customers slashed orders. "It was something none of us had ever seen before," says DiMicco.
The pain of the downturn has quickly gone all the way to the shop floor as the drop in output has hit workers' paychecks. Unlike other steelmakers, Nucor pushes as much responsibility for production and efficiency as possible to front line workers, and ties most of their pay to production. The company, which melts scrap metal and reshapes it into beams and sheets of steel using electric arc furnaces, can ramp up or slow down production more quickly than traditional steelmakers, which need weeks to get a cold mill hot again. So customers are quick to cancel orders, knowing they can get what they need fast enough.
BOOSTING MORALE, KEEPING BUSY
For many years, Nucor's model has led to superior productivity and growth. That's one reason the company has appeared four times on BusinessWeek's list of top performers. But for workers there's a downside to the model, particularly in tough times. With the line down half the time, bonuses have dwindled, and total pay is down as much as 40%. To keep up morale, management has put a big focus on communication. Ferriola has doubled the time he spends in the plants. Ron Dickerson, general manager of Nucor's Crawfordsville plant, sends weekly notes updating his 750-person staff on order volumes. But the question all managers hear the most is the one they can't answer: "When is this going to end?"
For now, Dickerson is keeping his crews busy rewriting safety manuals, looking for cost savings, and getting ahead on maintenance. Work that used to be done by contractors, such as making special parts, mowing the lawns, and even cleaning the bathrooms, is now handled by Nucor staff. The bathrooms, managers say, was an employee suggestion.
For Nucor's management team, there have been tradeoffs. Growth plans are on hold. The company has put off exploring acquisitions. A just-finished galvanizing line is idle. Still, Wall Street is betting the company will take advantage of the turnaround quickly when it comes. It probably won't be this year. But with all the extra efforts in the mills now, DiMicco says he hopes Nucor will be "first out of the box."
Return to the BusinessWeek 50 Table of Contents
Before it's here, it's on the Bloomberg Terminal.
LEARN MORE