Nespresso Pitches 'Luxury' Coffee for Lean Times
by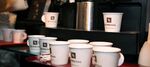 NestlÉ wants to help you kick your Starbucks habit. The Swiss food giant is mounting a major push into the U.S. with its Nespresso coffee system, which lets users make cafÉ-style espresso at home. The company has opened six Nespresso boutiques in major U.S. cities—including three since January—in upscale locales such as New York's Madison Avenue and Boston's Newbury Street. More openings, in New York and Miami, are coming shortly.
With the economy mired in recession, it seems an odd time to urge consumers to spend $200 to $800 for an espresso machine that can only be used with prepackaged capsules that cost 55¢ a serving. But NestlÉ (NESR.F) is betting that coffee lovers will do the math: Just one cup a day from a local coffee bar can add up to more than $1,000 a year, vs. less than $200 annually for Nespresso capsules, plus the cost of a machine. "People still want little daily luxuries, but there's a return to consumption at home," says Nespresso Chief Executive Richard Girardot.
Starbucks (SBUX) clearly has been struggling, with U.S. same-store sales dropping 8% during the fourth quarter of 2008. The Seattle-based company has slashed more than 18,000 U.S. jobs and is closing 977 stores worldwide. But can Nespresso really pick up that slack?
George Clooney's Continental Boost
Nespresso has already established a strong base in Europe, which accounts for about 90% of its $2 billion annual sales. Indeed, it's now NestlÉ's fastest-growing brand, with sales up more than 30% annually for the past eight years. NestlÉ first introduced Nespresso in the 1970s, trying unsuccessfully to market it to offices and restaurants before relaunching it as a consumer brand.
In the past few years the brand has gotten a big boost from advertising featuring George Clooney, including a lighthearted series of TV spots that show beautiful young women ignoring the actor as they reach past him for a cup of Nespresso. (Alas for NestlÉ, Clooney's contract doesn't allow the company to show him in U.S. ads.)
Though NestlÉ doesn't disclose profits for individual brands, Julian Hardwick, a London-based analyst with ABN Amro, says Nespresso "certainly is profitable," and has helped NestlÉ widen its overall profit margins. These previously lagged those of European rivals Unilever (UN) and Danone (DANO.PA), but now are healthier.
Nespresso on the Champs ElysÉes
Worldwide, Nespresso is well ahead of competitors. The Senseo system from Philips (PHG) and Sara Lee (SLE) brewed up $547 million in coffee sales last year (Philips doesn't break out sales of the coffee machines alone). The current U.S. market leader, the Keurig system from Green Mountain Coffee Roasters (GMCR), booked revenues of $254 million from machines and coffee combined. Another rival, the Tassimo from Kraft Foods (KFT), saw sales near $300 million, Kraft says.
In Europe as in the U.S., NestlÉ has tried to distance itself from the pack by positioning Nespresso as a "luxury" product. The company has opened more than 150 elegant boutiques across the region, including outlets on the Champs ElysÉes in Paris and in London's swank Knightsbridge shopping district, where customers can sip coffee, buy one of the sleek espresso systems, and order Nespresso capsules—the only kind that fit in the machines.
Taking another page from the luxury business, Nespresso strictly controls distribution of its products. Nespresso capsules are sold only in its boutiques or on the company's Web site, where customers become "club members." The machines are sold in a few other outlets, such as Williams-Sonoma (WSM) and Sur La Table stores. By contrast, Senseo and Tassimo machines are sold at Wal-Mart (WMT), and Keurig machines are sold at Best Buy (BBY) and on the QVC shopping channel.
Girardot, a veteran NestlÉ executive who previously managed its Perrier bottled-water business, has stocked his management team with recruits from luxury houses including Salvatore Ferragamo and LVMH Moët Hennessy Louis Vuitton (LVMH.PA). "They've lavished the same sort of attention on Nespresso as Richemont would on one of its luxury marques," says James Amoroso, a Swiss-based food industry consultant. Richemont (CFR.F) brands include Cartier jewelry and Montblanc pens.
"A Creamier Top and Richer Flavor"
Will U.S. consumers go for Nespresso's snob appeal? Keurig, the current U.S. market leader, nearly doubled its sales last year with a more mass-market approach. Its replacement capsules, known as K-cups, are sold in supermarkets and discount stores, and include established U.S. brands such as Celestial Seasonings and Newman's Own. "Nespresso is offering a high-end espresso. I don't know how far that market goes," says Jay Brewer, editor of SingleServeCoffee.com, a Boston-based online newsletter that covers the business.
Espresso purists may snicker at the names of such Nespresso blends as Arpeggio, Capriccio, and Finezzo. But coffee cognoscenti say Nespresso's machine comes closer than its competitors' to a classic espresso-bar model because it operates at higher pressure. "High pressure gives a creamier top and richer flavor," Brewer says.
The machine costs more, too. Nespresso system prices start at $200 vs. about $80 for Senseo and Keurig and $100 for Tassimo. On the other hand, Nespresso's 55¢ single-serve capsules cost about the same as Keurig's K-Cup capsules and only about 5¢ more than Tassimo's. Senseo capsules cost about 30¢ each.
Nespresso's Girardot says the company doesn't expect U.S. sales to boom overnight. "We have a long-term strategy," he says. "Nespresso wouldn't be where it is today without having had investments for years and years, including years when it was losing money."
But Nespresso can't afford to move too slowly. Patents on the design of some of its coffee capsules will expire in 2012, allowing others to make less-expensive generic replacements. And when the economy rebounds, consumers may decide that paying $3 or $4 a cup in a coffee bar isn't so painful after all.
Before it's here, it's on the Bloomberg Terminal.
LEARN MORE