Madoff: Is He Being Treated Unfairly?
Ben Levisohn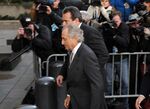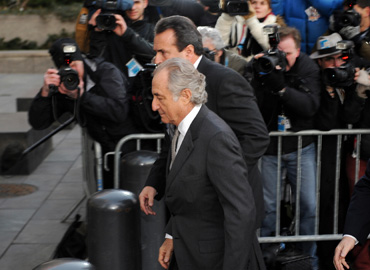 A week after Bernard Madoff pleaded guilty to a $65 billion Ponzi scheme, his lawyers were back in court to appeal a federal judge's decision to jail their client before sentencing. The appeals panel told Madoff it needs more time to consider the matter and he remains in jail—exactly where he belongs, most people would probably say.
In making his appeal before three federal judges, Ira Sorkin, Madoff's attorney, argued that U.S. District Judge Denny Chin erred when he shipped Madoff off to the Metropolitan Correctional Center in New York City. "Since Mr. Madoff's arrest on Dec. 11, 2008, the government has never seriously claimed that Mr. Madoff is a flight risk," Sorkin told the appellate panel, according to Bloomberg News. "There was never any evidence to suggest he was about to flee."
Precedent may be on Madoff's side. Enron's former CEOs, Jeffrey Skilling and Ken Lay, and Worldcom's Bernie Ebbers were all allowed free following their guilty verdicts. So was former Tyco International (TYC) Chief Executive Dennis Kozlowski, who was convicted in June 2005, three months before his sentence was handed down. Investor Ivan Boesky was freed without having to post bail at all after pleading guilty in 1987 to insider trading charges. "In a white-collar case, if a guy got bail before being found guilty, he'll almost always be allowed out on bail," says Daniel Alonso, who specializes in white-collar crime as a partner at the New York law firm Kaye Scholer.
So is Madoff being treated to an unfair standard? Legal experts say that's unlikely. Yes, there's immense public outrage and anger about the scheme, which also defrauded numerous charities. Sure the world economy is melting down and many Americans have suffered deep losses in the market. For now at least, Wall Street is not seeing much sympathy or goodwill.
Above the Fray
But federal judges have lifetime tenure and are fairly well insulated from the political tides. It may be impossible to block out the noise completely, but attorneys say public opinion likely didn't weigh on Judge Chin's decision. "It would surprise me if Chin was in his chambers thinking about the outrage," says Jim Cohen, an associate professor at Fordham University School of Law in Manhattan.
Moreover, Madoff is not Skilling, Ebbers, Lay, or Kozlowski. Those four declared their innocence and fought the government's charges vehemently. Because all had stood trial, there remained the possibility of an appeal that would overturn their convictions. Madoff, on the other hand, pleaded guilty and waived his rights to appeal the conviction. After sentencing, he will go to a federal prison, most likely for the rest of his life. With such a set of facts, "there's a virtual certainty that he will go to jail," Cohen says.
Sorkin's argument may also fall short of the legal requirement. Before a defendant is found guilty, prosecutors must demonstrate the risk of flight and if they do, bail is generally not granted. With Madoff's guilty plea, however, the presumption of innocence disappeared, leaving his attorneys the task of proving that he is not a risk to flee before he learns of his precise fate.
While the chance of a flight by Madoff might be slight, his family still has millions of dollars and he has contacts overseas. Says Don Tellock, an attorney with Schiff Hardin: "With the amount of resources he had, he could still leave the country before sentencing." It remains a possibility, even if a remote one.
And in such a high-profile case, Judge Chin clearly did not want to take any such risk.
Before it's here, it's on the Bloomberg Terminal.
LEARN MORE