Indian Retailing Suffers in the Slowdown
Nandini Lakshman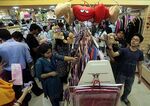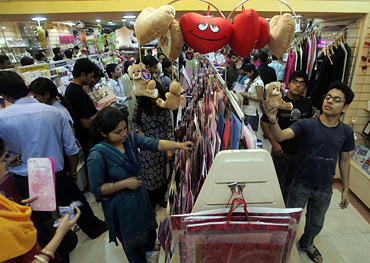 Just a year ago, the retail industry was the next big hope for India's economy. Stores were opening everywhere, with sprawling malls and tony boutiques holding glitzy launch parties across the country. Retailers bought up every inch of space in India's largest cities, sending real estate prices through the roof. Even India's small towns caught mall-mania. But as India's economy feels the impact of the global recession, Indian consumers are cutting back on spending, and retailers are facing a major slowdown.
Even with the weight of America's mighty Wal-Mart Stores (WMT) behind it, Bharti Enterprises is scaling back. Its Bharti Retail chain, for which Wal-Mart provides logistical and distribution support, plans to close 5 of its 28 Easy Day supermarkets in northern India. "Retail is no child's play," Sunil Mittal, chairman of Bharti Enterprises, said on television in early March. Indeed, in February a Wal-Mart-Bharti joint venture announced an extremely cautious plan to roll out just 10-15 of the BestPrice Modern Wholesale banners over the next seven years.
Pantaloon Retail, India's largest merchant, run by Kishore Biyani, the boldest opportunist in the business, is seeing a severe setback. The group—its top brands are retailer Pantaloon, discount supermarket Big Bazaar, and Central department stores—has cut back on expansion plans from 4 million square feet to 2 million between now and June 2010. "We will now look at smaller stores," Biyani. Same-store sales are way down from a year ago, so he is renegotiating rents and working on revenue share deals with his landlords. "I was an eternal optimist, but now I've become a realist," he says. "The current situation is tough, but it will turn around."
Heavy Toll on Jobs
The slowdown is aggravating the already high rate of unemployment in India—7.8% officially, but an estimated 22% unofficially. The Federation of Indian Exporters reckons that job losses could be as high as 10 million this year in industries including textiles, engineering, IT, and gems and jewelry. The Retailers Association of India has slashed growth estimates. The sector, which contributes 12% to the country's gross domestic product, employs 24 million, but only 500,000 work in the "organized sector," or what is modern retailing, according to retail consultant Technopak Advisors. While there are no official numbers on the retail job losses, industry experts say it is around 15%.
Private players and their organized retail chains account for just 4.5% of the $375 billion Indian retail landscape, but the downturn is more obvious in the smaller number of people who shop in branded stores. Shoppers Stop, an 18-year-old department store chain, has had a 15% drop in daily consumers, according to CEO Govind Shrikhande, prompting the company to close some of its airport shops and food outlets. And its two-year-old franchise partner—Britain-based Home Retail Group's Argos—exited India in January. An Argos statement said the trial "had not met the planned performance levels to support the investment required in the current Indian economic climate."
Worst hit is India's largest discount retailer, Subhiksha. The Chennai retail chain had expanded tenfold, to 1,655 outlets, in four years, funding its expansion largely by debt. In early January, a large part of Subhiksha's operations came to a halt: 1,200 stores were closed down, its independent directors resigned, and it is battling the issue of nonpayment of dues to suppliers and 15,000 employees. R. Subramanian, managing director of the cash-strapped company, has ruled out bankruptcy and has asked Subhiksha's lenders, such as ICICI Ventures, to restructure its $150 million debt. He is also willing to sell more equity to raise $60 million to meet operational expenses, but the lenders are not showing any interest in the unlisted company—not least because it hasn't been audited since March 2007 and has grown too fast.
Revised Game Plan
A late entrant into the arena, Reliance Retail, a subsidiary of $35 billion petrochemical giant Reliance Industries, had planned to carpet-bomb the sector with every conceivable store format. A staggering 940 stores across 16 formats, including 640 Reliance Fresh outlets, were opened in the past two years. It also has joint ventures with global names like Apple (AAPL), Marks & Spencer, Office Depot, Hamleys, and Diesel.
But its aggressive campaign hasn't panned out quite as planned. Eight months ago, Reliance restructured operations, shut around 20 Fresh stores, and laid off 13% of its 30,000 people. A Reliance spokesman says that the business is "still at the pilot stage", but senior managers claim that the group's assorted formats are losing between $5 million and $20 million a month. "It's an outcome of scaling too fast," says one manager, who requested his name not be used.
The problems faced by retailers today stem from the frenetic pace of expansion in the past few years. Retailers grew without setting up proper back-end logistics and supply chains, leaving them vulnerable now that hard times have hit. "They all wanted to grow faster than what their balance sheets would have allowed them to," claims Nikhil Vora, managing director of Mumbai's IDFC-SSKI Securities.
Still, the downturn is producing some unexpected winners: the 12 million neighborhood kirana stores, or mom-and-pop outfits, which are the backbone of Indian retail. These 50-to-250-sq.-ft. shops, with low overheads and personalized service, are the survivors. Unlike big retailers that wooed customers with massive discounts, the kirana enterprises continued to sell at retail prices and offer short-term credit to customers.
A Time to Regroup
But bigger players are thriving, too. Tata Group made its retail debut in 1987, but has grown conservatively and has only 570 stores, ranging from bookshops to jewelry stores to hypermarkets. Its Star India Bazar group entered into a franchise agreement with Britain's Tesco in August 2008 to open 50 outlets in the next five years.
The good news is that the downturn has given retail companies a chance to whip their businesses into shape in preparation for better times. The Aditya Birla Group is revising its More branded grocery store chain, which since January 2007 has added 548 stores and 12,000 employees, an expansion Thomas Varghese, CEO of the group's retail business, describes as "a mad rush to put stores on the ground." Varghese, who last August transferred from Birla's viscose-fiber yarn division, has since cut staff by 5% and shut down 55 of the 715 stores.
Competition from multinationals will also increase. The Tata-Tesco partnership is also expected to launch supermarkets soon. Bharti Wal-Mart will commence operations in the second half of this year, while other big and small retailers are moving from frenzied growth to a more normal pace. They are focusing on increasing productivity and revenues, and investing to boost logistics and supply chain. "Just as well. Companies are going back to basics," says Arvind Singhal, chairman of Technopak Advisors.
Before it's here, it's on the Bloomberg Terminal.
LEARN MORE