What Can Tata's Nano Teach Detroit?
Jessie Scanlon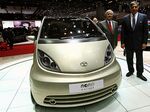 When Tata Motors (TTM) unveiled a prototype of its Nano microcar at the Delhi Auto Show in January 2008, auto executives around the world were aflutter. Quickly, they hustled teams to India to document the planned $2,000 "people's car." And industry watchers and innovation experts soon reported on the engineering and supply-chain breakthroughs behind the car.
Some 14 months later, Tata is set to show off the commercial version of the Nano, on Mar. 23. Today, the U.S. auto industry is struggling to survive, with General Motors (GM), once the world's biggest carmaker, on the brink of bankruptcy. Look beyond the Nano halo and it's clear that Tata Motors has problems of its own, from the $2.3 billion in debt it took on to purchase Jaguar and Land Rover from Ford Motor (F) last year to the sums sunk into the Nano assembly plant in West Bengal that had to be abandoned. On top of that, there are the Nano competitors in development.
Still, no one disputes that the Nano is innovative on multiple levels—from its engineering to its marketing to its manufacturing. So it's hard to avoid the question: What can a humbled Detroit learn from the Tata Nano?
A lot. The lessons start with the vision of Ratan Tata, chairman of Tata Motors' parent, Tata Group, to create an ultralow-cost car for a new category of Indian consumer: someone who couldn't afford the $5,000 sticker price of what was then the cheapest car on the market and instead drove his family around on a $1,000 motorcycle. "Just in India there are 50 million to 100 million people caught in that automotive chasm," says vice-president Vikas Sehgal, a principal at Booz & Co. And yet none of the automakers in India were focused on that segment. In that respect, the Nano is a great example of the so-called blue ocean strategy.
Roads to Greatness
"Great companies are built on creating new markets, not increasing market share in existing ones," says Vijay Govindarajan, a professor at Tuck School of Business at Dartmouth College and chief innovation consultant at General Electric (GE), who quickly runs off 10 lessons for Detroit. Among them: U.S. automakers should focus less on incremental improvements to existing cars or adding a new model to the Cadillac line in order to compete against Lexus, and think more broadly about new market opportunities. Where, in other words, are Detroit's blue oceans?
Understanding your customer, or potential customers, is another. What do your customers need? What do they really want? What can they afford? The customer was ever-present in the development of the Nano. Tata didn't set the price of the Nano by calculating the cost of production and then adding a margin. Rather it set $2,500 as the price that it thought customers could pay and then worked back, with the help of partners willing to take on a challenge, to build a $2,500 car that would reward all involved with a small profit.
The Nano engineers and partners didn't simply strip features out of an existing car—the tack Renault (RENA) took with its Dacia Logan, which sells in India for roughly $10,000. Instead, they looked at their target customers' lives for cost-cutting ideas. So, for instance, the Nano has a smaller engine than other cars because more horsepower would be wasted in India's jam-packed cities, where the average speed is 10 to 20 miles per hour.
The Big Three, by contrast, are insulated. As Dev Patnaik, founder of strategy firm Jump Associates (and someone with family in Detroit) argues in his book, Wired to Care, U.S. automakers are disconnected from even the average American consumer because all of their employees and those employees' friends and family are given steep discounts. A company can't develop successful products if it doesn't have regular contact with customers. And no, focus groups don't count.
Reforging the Supply Chain
For Detroit's Big Three, those first two lessons are easy compared with the third from the Tata Nano: Rethinking the supply chain. Looking upstream, Tata brought in suppliers such as Bosch, a German maker of appliances and motors, and Delphi, a world leader in automotive parts (and onetime subsidiary of GM), in early-stage design, challenging them to be full partners in the Nano innovation by developing lower-cost components.
"Building partnerships with a limited number of suppliers and putting everyone in the same room to work through problems and make suggestions—that has enormous value, it's very efficient," says Xavier Mosquet, a senior partner and head of the U.S. automotive practice at the Boston Consulting Group.
Looking downstream at the manufacturing and distribution chain, Tata plans to build the Nano as a kit, shipping parts to a local business for assembly. This raises quality issues—Tata's brand will suffer if these local assemblers do shoddy work—but it also significantly lowers Tata's capital costs. The company doesn't need to build lots of assembly plants or hire and train assembly workers, or take responsibility for shipping the finished product.
The Challenge Ahead
"A lot of managers in Detroit would say, if we could do it all over again, we'd create a less capital-intensive, less integrated, more flexible model," says John Casesa, partner of Casesa Shapiro Group, a global automotive strategy agency.
The Big Three can't start over, of course, nor should they necessarily want to. They have the technical knowhow, the talent, and a grasp of global distribution networks that few carmakers in emerging markets can claim. On the other hand, they have to figure out how to compete with these developing-world upstarts. Developed markets such as the U.S. are largely tapped out. It's in places such as India and China that carmakers still have great room to expand.
If the big multinationals such as GM and Ford don't go head-to-head with Tata on its on turf, Tata and other emerging players will ultimately come to them, warns Govindarajan. "The Nano shows that a new world order is possible in the auto industry," adds Booz & Co.'s Sehgal. "It shows a glimpse of what's to come."
Before it's here, it's on the Bloomberg Terminal.
LEARN MORE