Equities: Dead, or Just Resting?
The meltdown has left many wondering about stocks. BW Contributing Editor Chris Farrell thinks reports of their demise are exaggerated
Chris Farrell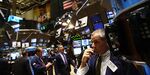 These are truly scary times. The stock market has lost some $11 trillion in value since its October 2007 peak. Blue-chip companies like AIG (AIG) and Citigroup (C) are now penny stocks, while General Motors (GM) and Las Vegas Sands (LVS) trade at less than 2 a share.