Is China's Market Rise a Sucker's Rally?
The Shanghai market is up 20% in 2009, but analysts say the increase is just a consequence of the government pumping in money to rev up GDP
by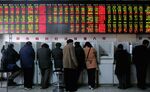 While stock markets across the globe plumb new depths almost daily, China's Shanghai Stock Exchange has been on a tear. Between Jan. 1 and Feb. 16 the Shanghai index raced up 30%, and despite some recent profit-taking, it is still up 20% this year. On the eve of Premier Wen Jiabao's Mar. 5 speech on the state of at the National People's Congress in Beijing, the market jumped 6.1% on reports Wen would announce additional economic stimulus measures. Although Wen didn't announce any new plan, stocks closed up another 1% after his speech, before dropping 1.26% on Mar. 6.
The rally, coming at a time when the Standard & Poor's 500-stock index, Hong Kong's Hang Seng, and Japan's Nikkei are all down sharply for the year, concerns some analysts. This is "hot money at work," says Jerry Lou, China equities strategist at Morgan Stanley (MS). "I think the whole thing is a rally without legs," he adds.
Rather than an expression of confidence in China's economy, analysts say, the Shanghai stock market rally is an unintended consequence of government attempts to rev up gross domestic product by pumping in money. Lending by China's banks (most of which are state-controlled) grew 20% in January alone, and though no hard figures are available, market watchers generally believe investors are using a good chunk of the money to buy shares through corporate trading accounts. "The market's recent outperformance and a surge in new account openings have fueled concerns that new bank loans are finding their way into the stock market," Jing Ulrich, managing director and chairman of China Equities at JPMorgan Chase (JPM), said in an e-mail.
ON SHAKY GROUND
Speculation in the stock market by company treasurers in China is nothing new. During the 2006-07 rally, when the index rose 360%, Chinese companies used profits to invest heavily in the stock market, in some cases boosting their bottom lines by as much as 30%.
What makes the current situation potentially more dangerous is that companies now making stock purchases are using bank credit, so if the market heads south, they'll will be unable to repay the loans. "Clearly there is a problem if they are not doing this right. If you take a punt and cannot get the money back, it could totally go wrong," says Lou.
Indeed, this could well be a sucker's rally. Even in good times, China's market is notoriously volatile. Today, China is headed for its slowest growth in a decade—as low as 6.7%, according to IMF estimates, only about half the 13.1% it grew in 2007 and well off last year's 9%. While some favored sectors such as steel and cement will benefit from the government's $568 billion fiscal stimulus package announced in November, corporate earnings elsewhere will take a heavy beating. China's exports plunged 17.5% year-over-year in January, while at least 20 million migrant workers have lost their jobs in recent months. More than 63,000 factories closed their doors in 2008, and the number of casualties could grow this year. "As I remember, for the past 10 to 20 years this is the worst situation I have ever encountered," says Paul Lin, president of the Chinese Manufacturers Assn. of Hong Kong.
NEW CHALLENGES AHEAD
With Chinese shares rising anyway, what could trigger a market reversal? One catalyst might be disappointing news when fourth quarter corporate earnings reporting begins later this month. David Cui, China strategist at Merrill Lynch (MER), says the market could be in for some nasty surprises. "The consensus for 2009 earnings appears too high to us," he said in an e-mail response to questions. "There has seldom been a bear market that didn't retest lows; I don't see why this time should be any different."
Investment manager Nick Yeo at Aberdeen Asset Management says he believes there could be more bad news ahead. "With global demand collapsing, this means a new challenge Chinese companies have never faced before. What they have seen is boom years and may not know how to manage a down cycle," he says.
Still, not everyone is as pessimistic. JP Morgan China economist Frank Gong says he believes the market has already priced in most of the bad news, and that the bleakest times for China's economy are already over. "The stock market has moved up because of the liquidity story, but the economy has touched bottom, so it's also in line with [improving] fundamentals," he says. "I worry less about that."
Before it's here, it's on the Bloomberg Terminal.
LEARN MORE