China Stimulus Unlikely to Help Neighbors
Moon Ihlwan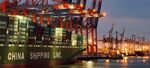 Until recently, South Korea's Hyundai Heavy Industries enjoyed an extraordinary shipbuilding boom that lasted for several years, thanks largely to orders from the fast-growing economy in China. As Chinese factories consumed more and more raw materials from abroad, demand soared for Korean-made bulk carriers that could ferry iron ore and coal from faraway places like Australia. At the same time, China's export machine required ever-more container ships to carry Chinese-made shoes, clothes, electronic gadgets, and other products to the U.S. and other markets. Indeed, the demand was so great that a would-be customer of Hyundai had to wait for three years before the Korean shipbuilder would even begin building a vessel.
Recession in the U.S., Europe, and Japan has now put a damper on China's exporters, and the impact of the Chinese slowdown is rippling outward to Korea and neighboring countries. Hyundai Heavy, which used to secure new orders for more than 100 ships annually, has had virtually no new orders in the past four months.
You might think, therefore, that Hyundai executives would be excited about Chinese government efforts to spend massive amounts of money to rev up the economy. On Mar. 4 a senior Chinese official said Beijing is planning another big economic stimulus package, on top of the $586 billion plan the government announced in November. Chinese Premier Wen Jiabao will provide more details when he opens the annual session of China's National People's Congress on Mar. 5, said Li Deshui, former head of China's statistic bureau, Bloomberg reported. The news cheered investors, who pushed up shares in Shanghai 6% on Mar. 4.
Hyundai Heavy Needs the U.S.
Investors are hopeful, driving up stock markets in Japan, Korea, and Taiwan on the news of Wen's planned announcement. But others aren't so confident. With the Chinese government spending so much to stimulate the economy, could Hyundai Heavy and other companies from China's neighbors stand to win back some orders? "No way," says Kim Jung Gwee, Hyundai's vice-president in charge of global sales. If the Chinese are going to be ordering any ships, he says, they'll make sure to give the business to Chinese shipbuilders. Recovery will only come, he says, when the U.S. economy picks up. "The shipbuilding market will remain nonexistent until American consumers start spending again and banks begin lending," Kim declares.
During the early days of the subprime crisis many people in Northeast Asia thought Chinese demand could immunize the region from a downturn in the West. Today, though, Japan, Korea, and Taiwan are among the hardest hit by the collapse in global demand—and they're not getting a hand from their giant neighbor. "China appeared the last resort until four months ago," says Cho Hong Rae, chief global strategist at Korea Investment Holdings, which controls a number of financial institutions. "In fact, it will pose the biggest risk for the next year or two."
The about-face reflects a U-turn in exports in Northeast Asia. Shrinking consumer demand in the West triggered a sharp fall in China's exports, creating a turbocharged knock-on effect in its neighbors. China is the No. 1 trader for all three, and recently their shipments to China have been plummeting even faster than they had been growing over the past several years. In January exports fell 46% in Japan and 44% for Taiwan, while in Korea exports fell 26% in the first two months of this year. (Japan and Taiwan have yet to release trade statistics for February.)
The shock wave from China is worsening misery in the region. Consider what happened in Korea. As China's gross domestic product growth slowed to 6.8% in the last three months of 2008, the Korean economy shrank by 5.6% from the previous quarter. Its exports to China sank 32.2% in January, 35.4% in December, and 33.3% in November.
Taiwan and Japan Suffering
Repercussions were no less dramatic in the other two. In February the Taiwanese government announced the country's GDP shrank by an unprecedented 8.36% year-on-year in the fourth quarter. In Tokyo, the government warned Japan's economy was in the deepest crisis since World War II, after contracting at an annualized pace of 12.7% in the fourth quarter; that's the worst performance since the 1974 oil crisis and three times the fall in America's GDP in the same three months.
The woes are unlikely to end soon. Although the Chinese government is about to unveil its second huge stimulus package, economists see limited benefits for non-Chinese companies. That's because spending plans so far have focused on infrastructure projects that favor domestic companies. Some foreign manufacturers of construction equipment such as excavators and bulldozers could benefit from projects building railways, airports, and power plants, but China watchers reckon purchases from foreign providers are expected to be reduced to areas where supplies can't be made sufficiently from local sources. "With China's leadership trying to stop economic difficulties developing into social instability, all the priority will be given to local players," says Cho at Korea Investment.
China's "Buy Chinese" Stimulus
The Chinese-first policy was underscored in a separate plan for industrial development. Since January China has singled out 10 key sectors, including the steel, auto, machinery, electronics, and shipbuilding industries, to offer aid and regulations giving preferential treatment to local companies for three years to help them sharpen their competitiveness against foreign rivals. In the shipbuilding sector, for example, the government calls for the use of local ships for transporting local cargoes and the local building of those vessels.
The impact on China's neighbors could be enormous. China specialist Daniel Li at Hyundai Research Institute, a private think tank, figures the 10 key sectors in the Chinese stimulus (comprising nine major manufacturing sectors and logistics) account for some 90% of China's industrial output. "China's stimulus plans are largely a 'Buy Chinese' campaign," says Li. "Relief for exporters in this region will come only when U.S. consumers start loosening their purses again."
Before it's here, it's on the Bloomberg Terminal.
LEARN MORE