Algeria Is OpenSort of
Investors are making strides despite curbs
Stanley Reed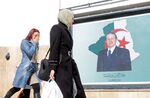 Algiers - In a spartan six-story building on a muddy side street in Algiers, Nadia Derafa and Mohamed el Aasar have grown accustomed to working late into the night. The pair represent El Sewedy Cables, an Egyptian company aiming to grab a piece of the $190 billion in energy and infrastructure projects being planned by Algeria. For more than two years they have spent nearly every waking hour finding a site, getting permits, and lining up contractors to build a factory. While it has been a slog, the $50 million plant some 100 miles west of the Algerian capital will be churning out electric cables at full capacity this spring. "You have to learn the system and show you want to invest," says el Aasar, a 38-year-old Egyptian who heads El Sewedy's operations in Algeria. "But there is lots of demand."
El Sewedy is in the vanguard of companies seeking to open a potentially lucrative new market. Until recently, Algeria has been almost impenetrable to international business. While foreigners still face a host of obstacles, they're making gains as they pursue opportunities in agriculture, energy, banking, power generation, and more. "There is everything to be done in our country," says Issad Rebrad, chairman of Algiers-based Cevital, a $2 billion conglomerate with businesses ranging from food processing to construction.
Algeria has seen more than its share of turmoil over the past half-century. A brutal war of independence ended French rule in 1962. Then, in the 1990s, a vicious struggle with Islamists left some 100,000 Algerians dead. By 1999, when the army engineered the election of President Abdelaziz Bouteflika, the government had gained the upper hand. While extremists continue to pose a threat, Bouteflika has reestablished security while seeking to steer the economy away from its reliance on oil and gas exports.
The effort has left Algeria in far better shape. Growth has averaged nearly 5% annually in recent years, and foreign reserves have surged to some $140 billion. While oil giants BP (BP), ENI, and Anadarko Petroleum (APC) have invested in Algeria, enticed by its 41 billion barrels of reserves, foreigners are putting down roots in other sectors, too. France's BNP Paribas has built a banking operation with a staff of 500. French cement maker Lafarge (LR) owns two big plants in Algeria, and the company says it expects growth of 5% to 10% this year as construction of new roads and apartment buildings continues apace. Egyptian telecom king Naguib Sawiris won a mobile license in 2001. Now his Algerian network, Djezzy, has 4,000 employees and revenues of nearly $2 billion for 2008. When Algeria "opens up further, it will really boom," Sawiris says.
FOREIGN "PROFITEERING"
The change is tangible in Algeria's cities. The culture of Algiers and Oran, 200 miles to the west, is far closer to that of France than to Muslim countries farther east. At Melomane, a legendary music club in Oran, the house band performs anything from Chaabi, a kind of Algerian salsa, to Frank Sinatra's My Way. Algiers, with its elegant white stone buildings perched above a vast bay, offers French brasseries and atmospheric hole-in-the-wall bars along its narrow lanes and alleyways.
Problem is, Bouteflika may be pulling up the welcome mat. Last fall the 72-year-old President orchestrated a constitutional change that allows him to seek a third five-year term in an April vote. Bouteflika has laced his campaign with nationalist rhetoric that accuses foreign investors of profiteering. In August he introduced restrictions on foreign investment, requiring majority Algerian ownership of new ventures—a tack apparently calculated to maintain the support of the military and intelligence bosses.
Algeria has the advantage of entering the downturn in solid financial shape. With only about $4 billion in debt, it can afford to modernize rundown infrastructure and build tens of thousands of apartments and houses this year. Businesspeople in Algeria say the economy will continue to expand, although more slowly than the 5% pace set last year.
If oil prices don't bounce back, though, Bouteflika will have to figure out how to keep unemployment from rising dangerously. The official jobless rate is 13%, but it's far higher than that among young Algerians. And projects such as an $11 billion superhighway aren't creating many jobs; the road, spanning the country from east to west, is being built by Chinese companies with Chinese workers. So many young men hang out on the streets that they have earned the nickname hittists—a play on the Arabic word for "wall," as in what they spend their days leaning against. Many of them might once have gone to France in search of work, but that's getting harder to do as Europe tightens immigration regulations.
Algeria continues to present challenges for business. One major complaint: a bureaucracy that hobbles legitimate activity but does little to stop illegal imports or the hiring of unlicensed workers. The U.S. Embassy estimates that the black market makes up half of Algeria's economy, and executives grouse that bureaucrats pressure them for bribes. "The business environment is very difficult," says Slim Othmani, CEO of Rouiba, an Algerian fruit juice maker. "But the opportunities are huge."
While oil has clearly fueled the economy, it has proved to be a mixed blessing. Algeria supplies roughly 10% of Europe's gas and plans to boost its exports by about a third by 2012. But the sector is dominated by a state-owned enterprise, Sonatrach. Critics say the company employs relatively few people, and the huge revenues it generates—$76 billion in 2008—let the government drag its feet on economic reform. "We are too dependent on petroleum," says Réda Hamiani, president of the Forum des Chefs D'Entreprises, a business group. For most Algerians, he says, oil "doesn't create wealth."
Return to the Emerging Markets in North Africa Special Report Table of Contents
Before it's here, it's on the Bloomberg Terminal.
LEARN MORE